Amid Australian property prices experiencing the worst decline since the global financial crisis, Aussies are reaching out to stylists, who can stage their homes to help secure a sale – and potentially a higher return.
The major cities were the hardest hit by the weakening housing market, with Sydney house prices plunging 8.9% and Melbourne by 7%, followed by Perth (4.7%) and Darwin (1.5%).[1] Simultaneously, property stylists are reporting growing demand for home staging in capital cities.
Karla Fawcett, national operations manager of Coco Republic Property Styling, which operates in Sydney and Brisbane, said the slowing property market was driving vendors to think about how to make their homes stand out from the pack.
'When the market was at its peak two or three years ago, we found a lot of agents and vendors [i.e. sellers] were taking properties to market without styling,' Fawcett said.
'Why? Because they could sell them unfurnished and didn't really need a point of difference to achieve results.
'Now it's a different story; the market has slowed and, as a result, we are busier than ever. With stagnating prices and properties sitting for a longer time on market, vendors and agents really need to differentiate their product in the marketplace.'
A survey by LJ Hooker real estate revealed 98% of agents believe styling a property can help fetch higher sales and increase value by over 2.5%. It also found most agents agree that styling leads to a quicker sale and multiple offers through both private treaty and auctions.[2]
'A property we styled late last year in Putney for Belle Property sold for the suburb record of $4.3 million,' Fawcett said.
'During October in Seaforth, we styled a property that had been sitting on the market without styling, unsold.
'After we came in, the vendor received an offer that was $350,000 higher than the previous offer. The property was sold within 48-hours.'
How much does it cost to stage a home?
Styling a home can cost between $2,000 and $15,000 depending on:
the size of the property
the number of rooms that need staging
the amount of furniture needed.
So essentially the bigger the home, the more it will cost to style. Now that the property market has cooled, vendors are increasingly seeing this spending as a worthy investment to appeal to a broader target market and attract more buyers.
David McLean, general manager of Brisbane and Sydney-based Furnish & Finish Property Styling, said vendors were looking at home styling to sell their properties quickly and at the best price.
'Our agents consistently tell us that properties best styled get their money 10 times back,' McLean said.
'So, let's say you spend $3,000 on styling; our agents believe it generally adds a minimum of $30,000 that a vendor would otherwise get.'
In Australia, properties stay on the market between 66 and 77 days on average before selling. However, staging a home can speed up a house sale.
'What we also found is that styled properties are selling four weeks faster than properties on average,' McLean said.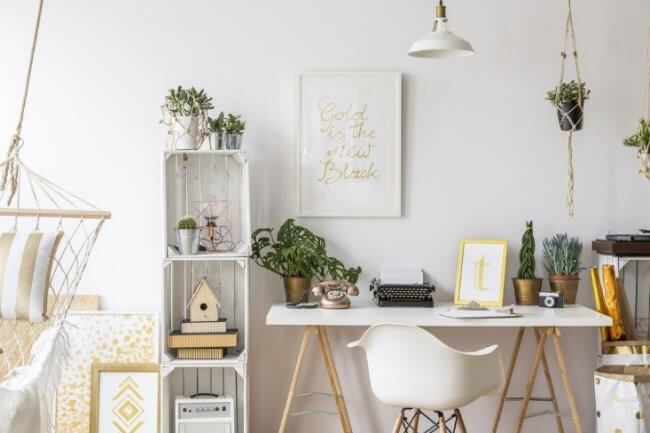 How does home styling help sell a home?
Karla Fawcett said home staging tapped into potential buyers' emotions, leading them to form a strong attachment to a property.
'Our stylists know how to take a house and make it a home, and in a tough market, these emotional triggers can be the key in closing a sale,' she said.
'We see the property with an objective eye, able to strike balance between the property's strengths and weaknesses in a way the vendor won't be able.'
According to David McLean, home styling also helps paint a property in the best light.
'If you've got a really small apartment, you want small compact furniture that make it look bigger,' he said.
'If you've got a hideous green feature wall that you think is fantastic but is hated by everyone who walks in, you can use different accessories and cushions to soften it and make it blend in so it doesn't look as hideous as it actually is.'
18 cheap home staging hacks
While home styling is a craft in itself and is best left to the professionals, there are ways you can help prep your home to make the most out of home staging.
Choose a neutral colour palette for your walls and floors. Goodbye green feature wall!
De-clutter and get rid of any junk around your home. Mess doesn't mesh well with home staging.
Spring clean your home. You don't want potential buyers visiting your home being put off by dog hair, stained carpets or the lingering stink of your rubbish bin.
Make your home smell amazing. Strategically place some candles or fragrance diffusers around your property to appeal to potential buyers with one sniff.
Add mirrors on the walls. Mirrors reflect natural light, open up spaces and instantly add appeal to a room.
Depersonalise your home. Pack away your family photos and personal items, and remove your personal taste from the décor.
Make your home look bigger. Position all your furniture in a way that will make each room look larger and more open. No one wants to feel like a sardine in their home.
Use bright light bulbs that will make your home look full of light and livelier.
Add some fresh blooms and greenery to your property. Who doesn't like a nice flower centrepiece on the dining table?
Create more storage space, or at least the impression of more storage space, by partially emptying your cupboards, closets, shelves, draws etc.
Get crafty in the kitchen. Polish chrome fixtures and hardware, replace old door knobs or handles, wipe down cabinets and hard surfaces and remove everything from the sink counter.
Set the tables and serving areas. Give potential buyers a glimpse of what life would be like in your home by setting up the dinner table with your best dinnerware, some matching wine glasses and cloth napkins.
Layer your bedroom with love. Invest in a good quality bedspread and layer it with a blanket and throw pillows to create a cosy atmosphere.
Go for gender neutral in the master bedroom. You want the master bedroom to appeal to both sexes, so remove gender-specific features and accessorise the room with more neutral furnishings.
Dress up your laundry room. Make this more than a space where you keep your dirty clothes and cleaning products. Cover your ironing board in a pretty cover and add some wall art to spruce up the room.
Give your bathroom some TLC. Replace any old shower curtains, add soaps and polished metal ornaments to your bathtub and get some fresh white linens and towels to make prospective buyers feel at home. Hanging some bathrobes can also be a nice touch.
Make the entrance of your home inviting. Roll out a nice welcome mat, add some potted plants to the doorway and give the front door and entrance walls a fresh coat of paint.
Boost your property's street cred. Make your home stand out from the outside by mowing the lawns, trimming the hedges and giving the fence and any outdoor furniture a fresh lick of paint.
Sources:
[2] LJ Hooker- Agents Say Styling Wins When Selling Real Estate (2017).
Did you find this article interesting or helpful?