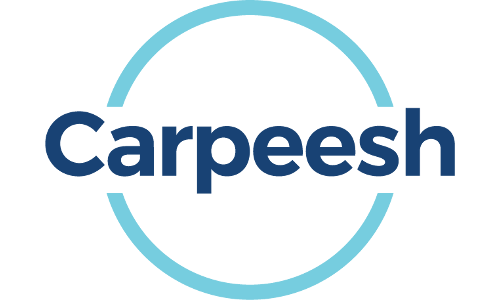 Carpeesh car insurance at a glance
Comprehensive car insurance for different lifestyles
Data-driven app that rewards safe drivers
Underwritten by RACQ
About Carpeesh
Not afraid to do things differently, Carpeesh is a fairly new insurance brand shaking things up in the car insurance industry, backed and underwritten by RACQ Insurance.
Carpeesh's innovative app has some handy features, like the ability to update your policy details, report an incident and make a claim right there and then. It also has a tool to track your driving trips and earn rewards for good driving.
Carpeesh understands that modern drivers use their cars for all kinds of different reasons – from commuting to ridesharing – and offers relevant insurance products for different types of drivers and car owners.
Car insurance options with Carpeesh
Carpeesh has a unique approach to car insurance. They offer one level of cover (comprehensive), but provide six policies to choose from under that umbrella. All policies require the use of Carpeesh's driver safety app, which tracks a host of factors about how the vehicle is driven.
The key differences between the policies are how customers use the car and what age the driver is. Young Driver policies apply to anyone age 25 or less, while other policies cover drivers 26 and over.
The table below details which policies suit which drivers and uses.
Policies
Private use
Commuting to work
Work purposes
Ridesharing
Good Driver (private use)
✓
✗
✗
✗
Good Driver (private and commuting)
✓
✓
✗
✗
Young Driver (private use)
✓
✗
✗
✗
Young Driver (private and commuting)
✓
✓
✗
✗
Worker
✓
✓
✓
✗
Rideshare
✓
✓
✓
✓
Information is accurate as of October 2022 and is subject to change. For all the details of the policy benefits and exclusions, read the Product Disclosure Statement (PDS).
All of Carpeesh's car insurance policies include the following comprehensive coverage:
Accidental damage to your car
Damage to a third party's car or belongings
Hire car after theft
Emergency repairs after an incident
Towing after an accident
Emergency travel and accommodation
Personal effects damaged in a collision
Replacement keys
Damage to trailers
New car replacement after total loss if the car is less than two years old.
Optional extras
Carpeesh offers a few optional benefits for customers to add to their car insurance policy at an extra cost.
Hire car cover

Windscreen excess reduction

This benefit pays for a hire car for a set period while your car is repaired or replaced following an accident.
Included as standard on Worker and Rideshare policies.
If the only loss or damage to your car is a window or the windscreen, this optional extra reduces the excess.
Terms and conditions apply.
Why choose Carpeesh for car insurance?
Australians choose Carpeesh car insurance for a number of reasons. Some of those reasons might be:
Receiving rewards for driving safely
Accessing flexible excess options
Having the choice to insure at market or agreed value
The ability to choose between various comprehensive insurance options that suit different lifestyles
Carpeesh's use of innovative technology.
Compare and switch with ease
You can compare policies from Carpeesh alongside a range of Australian insurers with ease. We make it easy to compare policies with information about their coverage, prices, excess payments, optional extras and more.
It only takes a few minutes to compare, so why not see what we have to offer today?