That big ol' ball of gas in the sky is useful for more than just giving you some sweet tan lines – it's also an excellent source of energy. Significantly better for the environment than conventional sources of electricity, solar power has steadily become a more feasible option for conscientious energy customers across Australia.
As solar panel prices continue to drop in line with uptake in demand and advances in technology, there are many things you should consider before deciding whether to make the switch to solar power.
Read on to discover how it all works and what you need to make the transition.
First of all: What is solar energy?
Solar energy is created by the heat and light emitted by the sun.1 We can harness this energy and convert it to electricity, use it to heat water or air and even create solar fuels (like hydrogen); doing any of these produces solar power.
How does solar power work?
Solar power systems harness energy from the sun and convert it into electricity. There are two primary solar energy technologies used in Australia:2
Solar thermal: Takes sunlight and turns it into thermal energy, used for heating or producing electricity via steam and turbines. This type of energy generation is typically reserved for large-scale systems.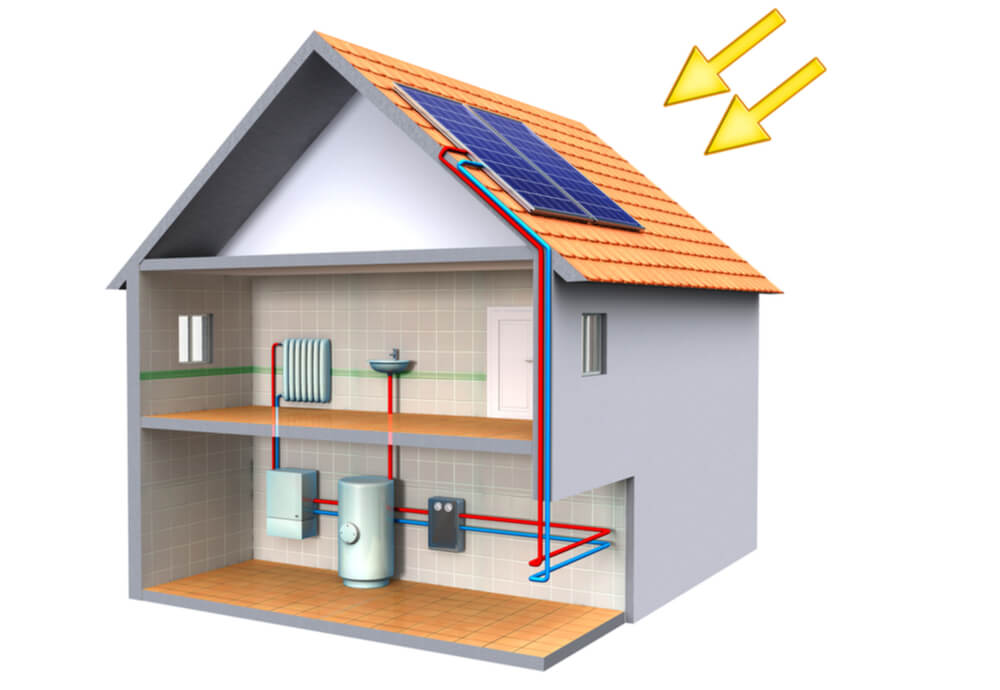 Solar photovoltaic (PV): Converts solar radiation into electricity through PV panels, which can be installed on a variety of different surface types. Solar PV systems can be augmented with mirrors and lenses in larger systems to boost generation.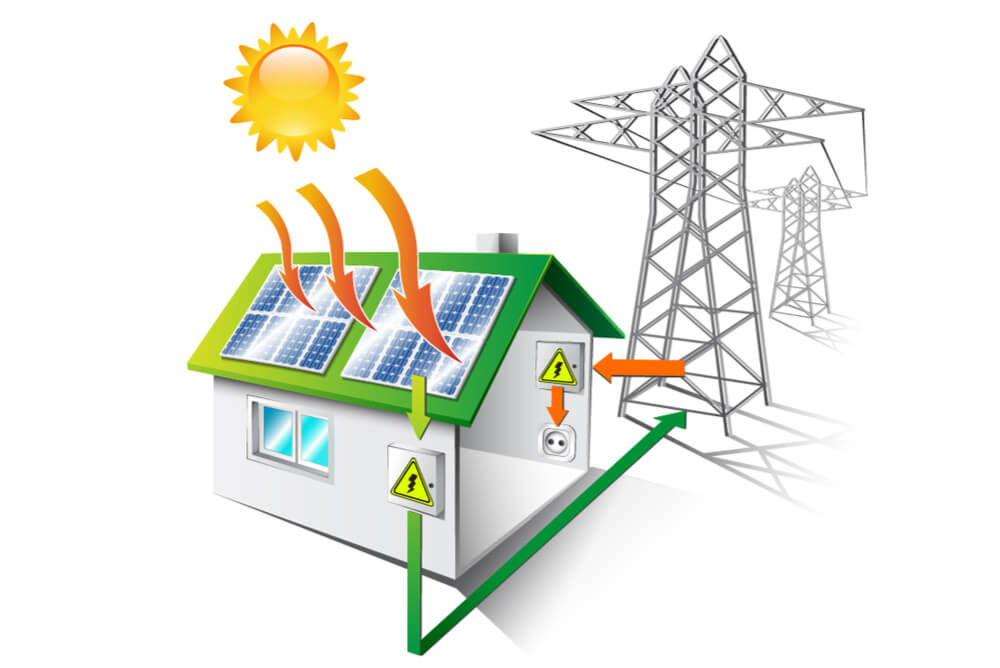 Naturally, the effectiveness of these technologies is entirely dependent on the weather. However, as you probably know all too well, that isn't too much of an issue in Australia.
While climates do vary between regions, by and large, the country is a fairly sunny place. In fact, Australia receives enough solar radiation per year to power the entire country 10,000 times over, according to figures collated by Geoscience Australia.2
Types of solar power systems
There are three main types of solar power systems available in Australia:
On-grid. These systems draw on the electricity generated from your panels and switch to grid power once that energy is used up. They'll also feed any excess electricity you generate back into the grid; this is where you can consider a solar feed-in tariff (FIT). On-grid systems don't come with battery storage, and so don't continue to power the household when the sun isn't out.
Off-grid. Off-grid systems operate as their name suggests: completely disconnected from the grid. These systems come equipped with batteries, as they're generally suited to properties that are too remote and too expensive to connect to the main grid. Because of this, off-grid systems need to have a bigger solar array (arrangement of panels) to both power the household and keep the batteries fully charged.
Hybrid. Hybrid systems are on-grid systems that also have battery storage; any electricity generated by the panels and not used by the household is then stored in the batteries for those times when the sun isn't shining (e.g. at night). If the batteries run out, you can still draw electricity from the grid.
Components of a solar power system
It's all well and good to understand how solar power works and how it becomes electricity, but you should also understand a system's makeup. We've outlined some of the main components of a solar power system below.
| | |
| --- | --- |
| Component | What it does |
| Panels | Arguably the most recognisable part of a solar power system, the solar panels are responsible for capturing the light emitted by the sun.3 |
| Inverters | Inverters are the key element in a solar power system. They convert the direct current (DC) electricity captured by the solar panels into alternating current (AC) electricity, which is what our homes run on.3 |
| Monitoring | Your inverter may come with a monitoring system, or you can choose to add one to your solar power setup. A monitoring system allows you to track your system's electricity generation, consumption and operations.3 |
| Batteries | Any excess energy generated by your solar panels can be stored in batteries to be used when the system powers down during sun-less times (e.g. night or overcast days).3 |
How common is solar energy in Australia?
Australians are slowly warming to the idea of solar energy. As of December 2020, around 2.6 million households in Australia have been equipped with rooftop solar PV installations.3 All these PV systems have a combined capacity of more than 18.5 gigawatts (GW)4 To put that into perspective, it's enough to power around 5.5 million Australian homes at once.
As renewable energy continues to play an important role in Australia's electricity production, Australians are moving to take charge of their utility bills and save cash in the long run with solar. That means that many are happy to pay the (sometimes) significant upfront costs to install panels in their home.
Regardless of the costs involved, it seems many Australians believe that solar power is the way of the future, since Australia currently has the highest uptake of solar power in the world.3
It appears as though the future may be powered by the sun, but what exactly are the benefits of solar energy, and how might they impact you as an electricity customer?
The benefits of solar energy
It goes without saying that solar energy is substantially better for the environment than conventional sources of electricity. Reducing greenhouse gas emissions and minimising fossil fuel dependency are critical targets for Australia and countries around the world, and solar and other renewable sources will likely play a key role in meeting these objectives.
A cleaner, greener environment is better for everyone, but perhaps more noticeable – at least in the short term – is the impact moving to solar energy will have on your power bill. In fact, solar power customers could recoup the initial up-front costs of PV systems (without batteries) within three to five years.3
Considering that such systems have a 20-30-year life expectancy,5 generating your own electricity could mean you enjoy reduced electricity bills for 15-17 years. Of course, you're still required to pay supply charges for being on the grid and need to pay for panel servicing and maintenance. Before switching electricity providers or moving to solar energy, be sure to weigh up the costs involved to identify which option is best suited to your specific household.
Frequently asked questions
How do I compare solar electricity plans?
If you're in the market, you stand a good chance at finding the best solar compatible electricity plan by doing your research, shopping around and, most importantly, comparing your options.
When comparing such electricity plans, keep an eye out for the following:
if/how much you'll be paid through the solar feed-in tariff (FIT)
how much your daily supply charge and general usage rates will be
any discounts or special offers available (e.g. discounted rates for the first six months of your plan) for any usage you need from the grid
the fees that might be applied to your contract (e.g. connection and exit fees)
other plan features, like the billing options.
It sounds like a lot to remember, doesn't it? Luckily, our energy comparison service can do this for you. Just enter in a few details about yourself and your property, and our service will present you with a range of energy plans to compare and choose from. Simples!