Did you know that over two million Aussies households have solar panels?1
The good news is they're eco-friendly and save you money in the long term. The not so good news is installation costs can go into the thousands.
Fortunately, financial help from the government is available. So, whether you need information about the solar rebate for Queensland, Victoria or any other part of the country, we've got you covered.
How does the government solar rebate work?
While the rebate amounts may vary, the government initiative typically comes in two forms:
Small-scale technology certificates. A federal government initiative, the Small-scale Renewable Energy Scheme offers small-scale technology certificates (STCs) to eligible households and businesses for installing a solar panel system. STCs act like currency and are used to recoup some of the set-up costs. How many STCs you receive is based on several factors, including how much energy your new system will generate (megawatts per hour).
State government grants and incentives. Depending on where you live, you may be eligible for a range of incentives, including grants and interest-free loans. Unfortunately, Tasmania, Western Australia and Northern Territory don't offer any rebates or incentives beyond the federal STCs.
N.B. You can also discuss rebates and what you're eligible for with retailers and installers when you're shopping around.
What about the feed-in tariff?
Once your solar panel system is installed, you can sell some of the excess electricity you generate back to the grid and receive a credit on your electricity bill. This process is known as a feed-in tariff (FiT) credit. The FiT is an ongoing rate which varies with providers – so it's worth comparing energy plans to see if you can find a competitive rate.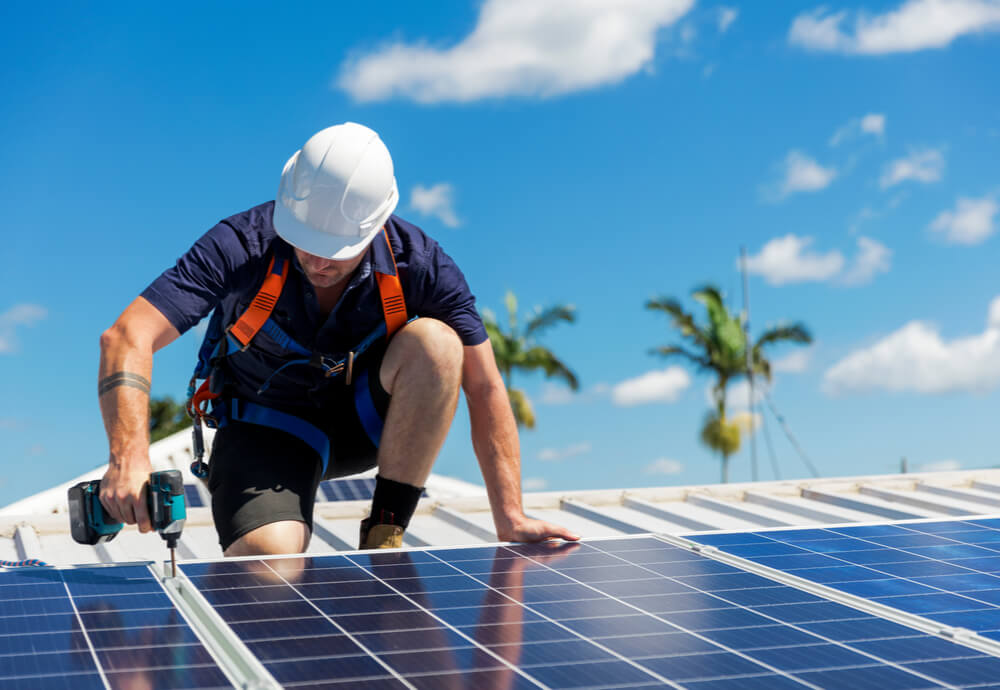 How do I apply for the solar rebate and install a solar panel system?
First, you'll need to check you meet the eligibility requirements. In Victoria, for example, you must be the owner of the property, it must be valued at less than $3 million and the combined taxable income of the household must be below $180,000 per annum.2
You can check your eligibility for STCs via the Australian Government's Clean Energy Regulator website. Check your state's eligibility requirements via their government website.
Learn more about energy rebates and concessions.
Second, you need to find a retailer or installer. They can also confirm eligibility, rebates, system sizes, connecting to the grid and overall cost.
Which retailer should you choose? The clean energy council recommends you choose an Approved Solar Retailer.3
Gather multiple quotes (many companies offer prices with rebates) and compare before you select. Most Approved Solar Retailers will offer an additional warranty on the whole system.
The eight steps to install a solar panel system with the government solar rebate
Check rebate eligibility with the federal government and your state government.
Do your research and ask yourself: is a solar panel system right for me?
Use our free comparison too and compare energy providers for a suitable energy plan and feed-in tariff.
Apply for STCs via the Clean Energy Regulator website and apply for other incentives via your state's government website.
Get multiple detailed quotes from Approved Solar Retailers (installers) via the clean energy council website. Select an option you find suitable.
Installation day – your installer will install the racking/mounting, panels, inverter and a new metre.
Connect to the grid – discuss this with your installer before installation day.
Enjoy your new solar panel system!
The benefits of a solar panel system
Solar energy is renewable. Using solar power instead of fossil fuels, e.g. coal power, reduces carbon emissions which is great for the environment.
Long-term money saver. How much you save will depend on the size of your system and your electricity usage.
Reduce dependence. Rely less on the power grid where the majority of Australians still receive their electricity supply.
Increase home value. A product that's worth thousands of dollars and reduces your energy bill could be very attractive to potential buyers in the future.
The disadvantages of a solar panel system
Set-up costs. The initial cost of buying a solar energy system – even with the government kickbacks – are high. For example, some can cost around $4,000 to set up.
Aesthetic. Depending on your tastes, you may not like the 'look' of solar panels on your roof or the amount of space they inhabit.
Ongoing maintenance costs. An annual or bi-annual maintenance inspection is advisable to ensure all parts of your solar system are in good working order.
Compare solar energy plans
In our eight steps above, step three is compare energy providers (the company that sends you bills periodically). Through our free online comparison tool, you can compare plans from a range of energy retailers.
Simply enter a few details, compare options and if you decide to switch, we'll handle the paperwork.