Energy bills can often read like a road map. However, if you want to stay on top of your household budget, it's an important skill to have. After all, you'd want to make sure all the charges are accurate.
In this article, we'll outline the key features you should look out for when reading your power bill to help minimise the confusion.
The basics: how to read your electricity or gas bill
The content in your utility bill can be categorised into three different sections: essential information, usage costs and payment details.
Find out about ways to keep track of your energy usage.
Essential information
The essential information can usually be found at the very top of your energy bill. It usually includes details regarding your:
account reference number
account name
tax invoice number
date of the bill and billing period
supply address
retailer's phone number
distributor's phone number
You'll need these basic account details and account reference number on hand if you want to discuss your energy plan, bill or account details with your retailer. Note that you can only discuss your account details with your retailer if you're the primary account holder.
The supply details, including the property address and billing period, will be outlined in this section. This section will detail what energy plan you're on.
Tip: If the supply address is your business location, keep a copy of the invoice filed away for taxation purposes.
Your retailer's* contact information should also be listed on the bill to discuss any general queries or lodge complaints. You can also contact your distributor*, whose name and contact number are listed on the bill, to report any faults or emergencies affecting your energy service.
*Energy retailers buy energy from energy generators, package it into plans and sell it to customers. Distributors are responsible for delivering energy and connecting homes and businesses to the grid.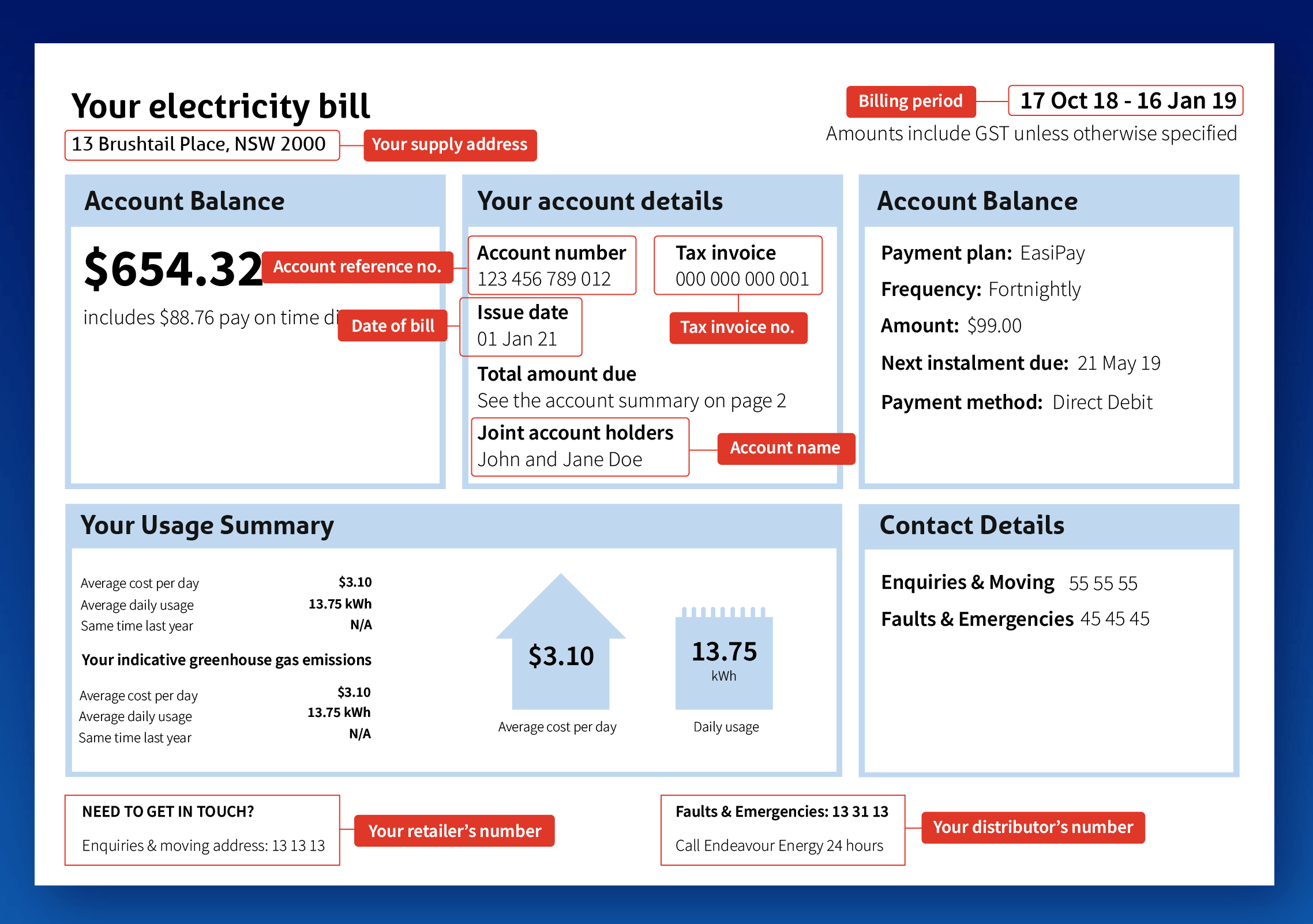 Usage costs: how to read an electricity bill
Charges for your electricity bill are broken down into various structures and rates. The section detailing your usage costs will normally be broken down into two subsections: meter details and usage calculation.
Meter details
The meter details will outline:
your supply address
your meter number; National Metering identifier (NMI) for electricity and Meter Identification Reference Number (MIRN) for gas.
billing period
meter reading (the period covered, and whether it's the actual or estimated read)
Usage calculation
This section of the bill will explain how your energy bill has been calculated. It will outline:
Daily supply charges. The cents per day charged for the property to be connected for electricity or gas.
Usage charges. The cents per kWh or cents of MJ for the amount you use for electricity or gas.
Your provider (also referred to as retailer) will calculate the usage charge with any peak rate, off-peak rate, shoulder and controlled load rates (see table below) that may apply to your energy plan.
In each row of your bill calculation table, you'll be able to see the amount of energy you've used and how much you've been charged for each applicable rate during that bill period. Keep in mind that the type of meter you have will also affect your bill.