Below the meter details and usage, you'll find any discounts, fees and concessions (if applicable). Some common items in this category may include:
A guaranteed discount, which doesn't require you to meet any conditions and is applied to your account during a specified benefit period.
Rebates for eligible concession card holders.
A sign-up bonus, once-off incentive or loyalty credit (e.g. $50 for staying with the retailer for 12 months).
A credit card fee, for paying your previous bill via credit card.
If you've recently moved to a new house, there may be a connection fee added to your first bill. This is a fee charged by the distributor for connecting a property to power. If you've switched plans or retailers since your last bill, you won't be charged for this as your home will already have been connected.
If you have solar, the feed-in tariff (an amount you get for sending excess electricity back to the grid) will also be included in this section.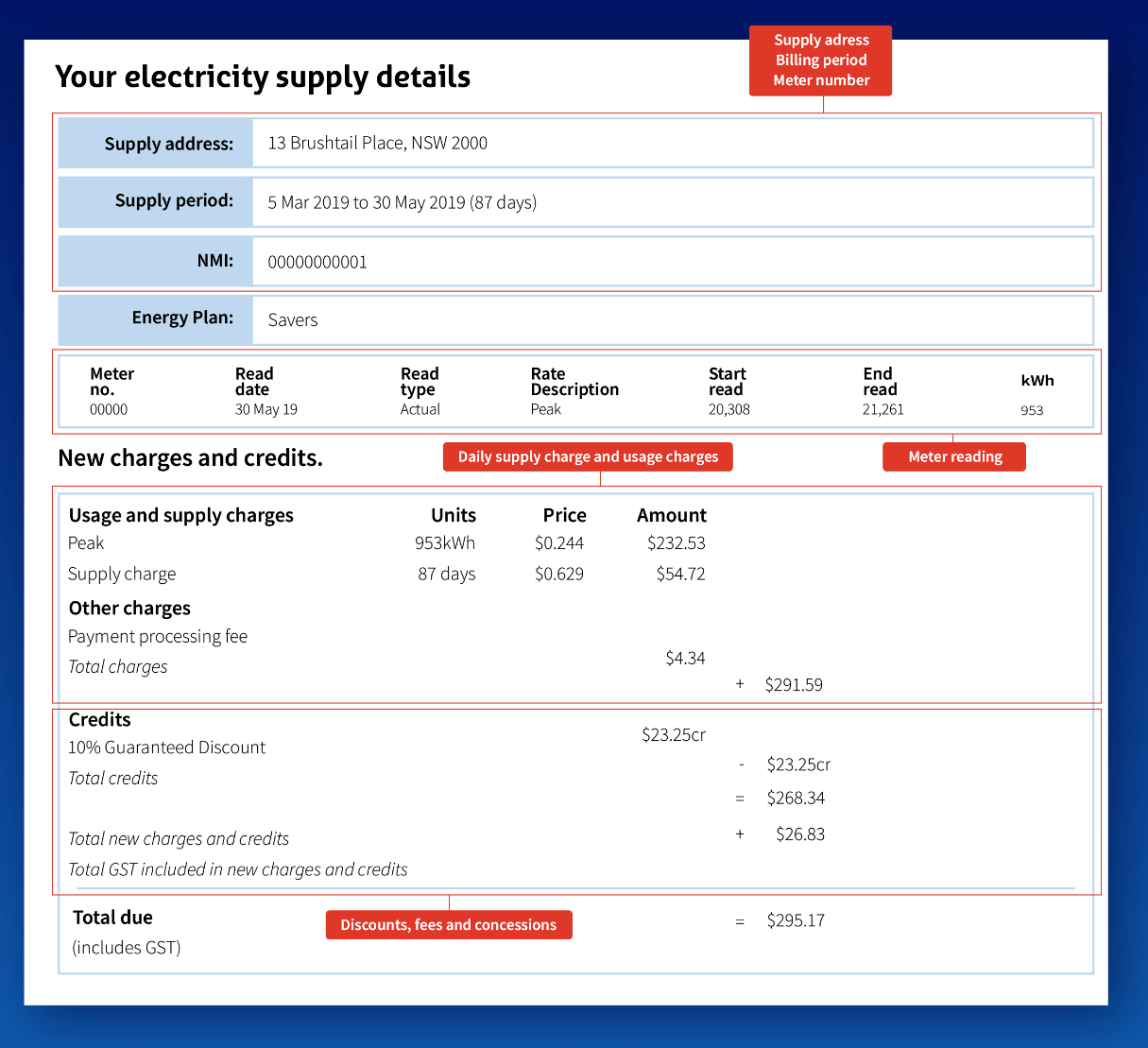 Electricity bill a little too high? Check out our article on how to save electricity!
How to read a gas bill: Usage costs
With a natural gas bill, your usage will be calculated in megajoules (MJ), or units if you live in Western Australia (WA). Unlike an electricity bill, a natural gas bill has only two types of usage that can be charged: peak and off-peak. Natural gas bills are detailed in the much same way electricity bills are, but we'll break down a typical natural gas bill and how LPG differs from being connected to the pipeline.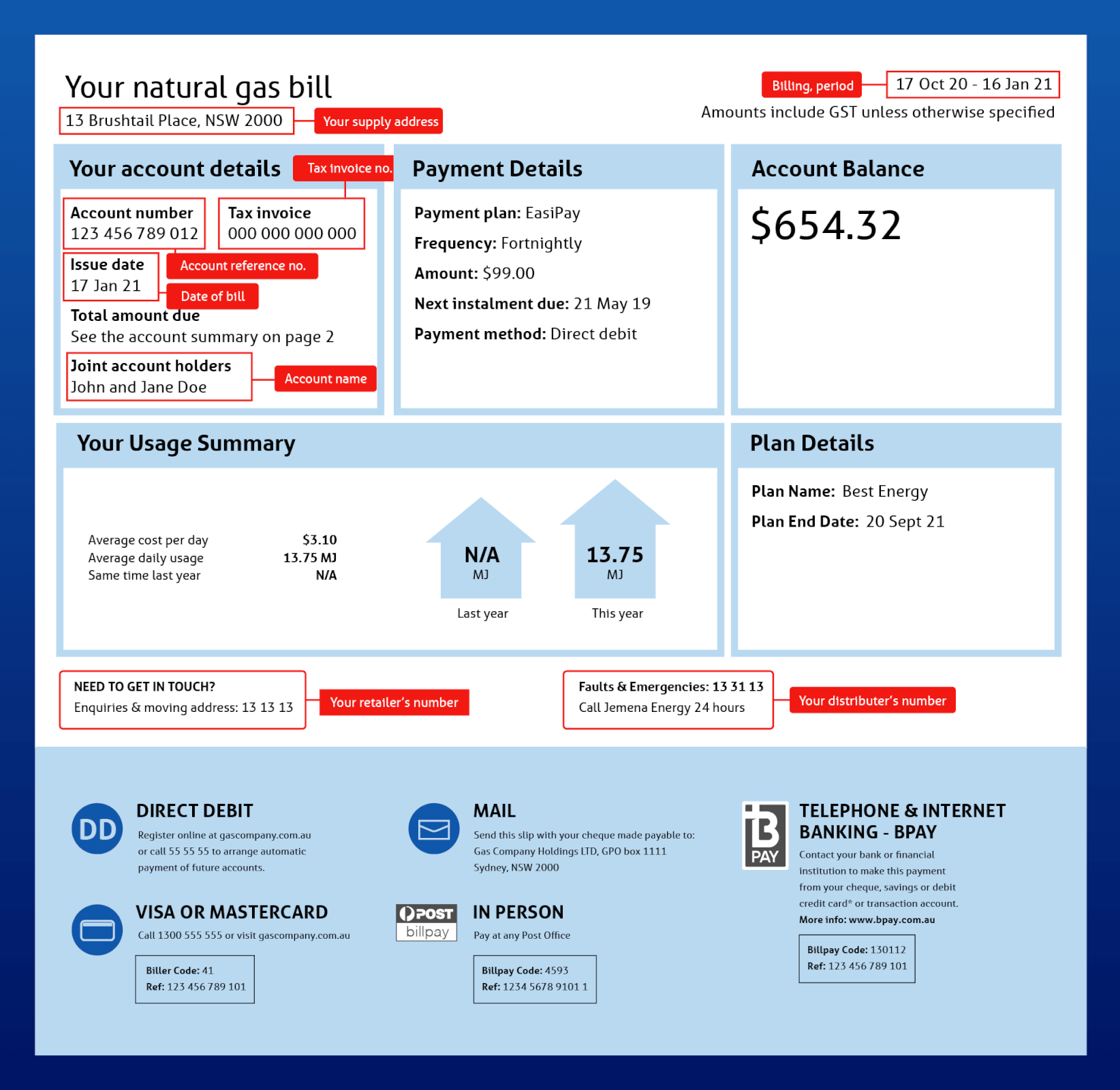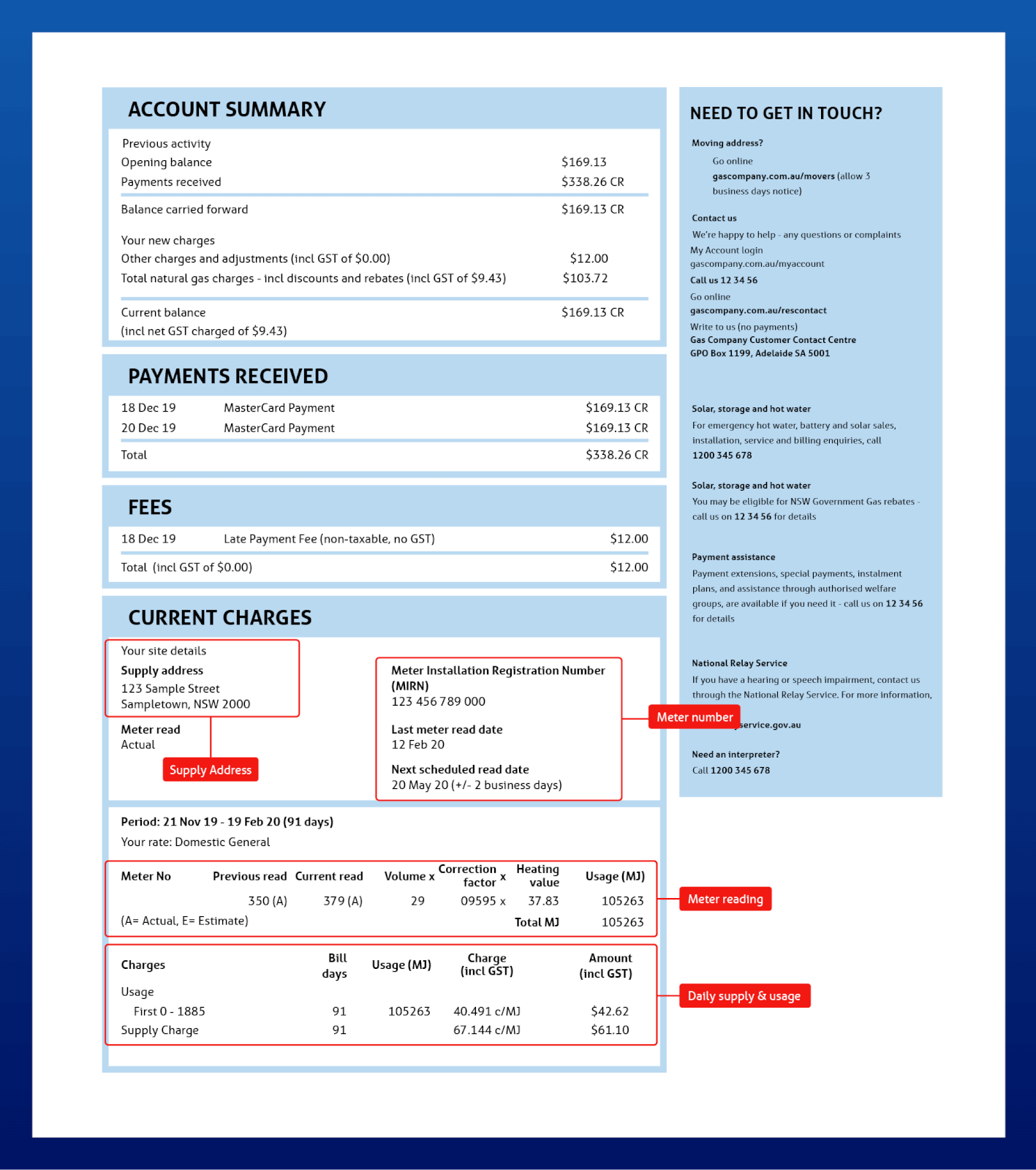 When it comes to your gas bill, charges are broken down by structures and rates. The usage costs section of your bill is typically split into two subsections: meter details and usage calculation.
Meter details
The details of your meter will include:
Your supply address
Your gas meter number (Meter Identification Reference Number [MIRN])
Billing period (total number of days charged)
Meter reading (the billing period covered and if it's an estimated or actual meter read).
Estimated bills take into account your past energy consumption and calculates an amount based on previous bills and other factors. Estimated bills are usually only issued if your distributor can't gain access to your property to read the gas meter.
There are two types of gas meters that can measure your power usage: a metric meter or an imperial meter. A metric meter (also known as a digital meter) records gas usage in cubic meters, while an imperial (or clock face) meter measures in cubic feet. Find out how to read your gas meter here.
Thinking about changing gas retailers? We suggest making sure your meter details are close by when comparing your options; usually, switching retailers involves submitting an application online and including your meter details may give your application process a faster turnaround. If you want a faster method, we recommend contacting us over the phone if you want to sign up for a new plan.
Usage calculation
This section on the bill will outline how your retailer calculated your charges. It will contain:
Daily supply charges. This will detail the cents per day you're charged for your residence to be connected to the gas pipeline.
Usage charges. This is the cents per MJ or unit (if you live in WA) for the amount you use for gas.
Unlike an electricity bill, a natural gas bill has only two types of usage that can be charged: peak and off-peak.
In your bill calculation table, the rows will show your total gas usage for the billing period and the amount your retailer has charged you for each applicable rate during that time. The amount owed for your gas usage in that billing period is known as your total amount due (includes GST).
Usage charges
On your bill, there will be a peak charge line item(s), no matter which tariff you are on. The other charge type for gas (off-peak), may be on your bill if you are on a seasonal tariff.