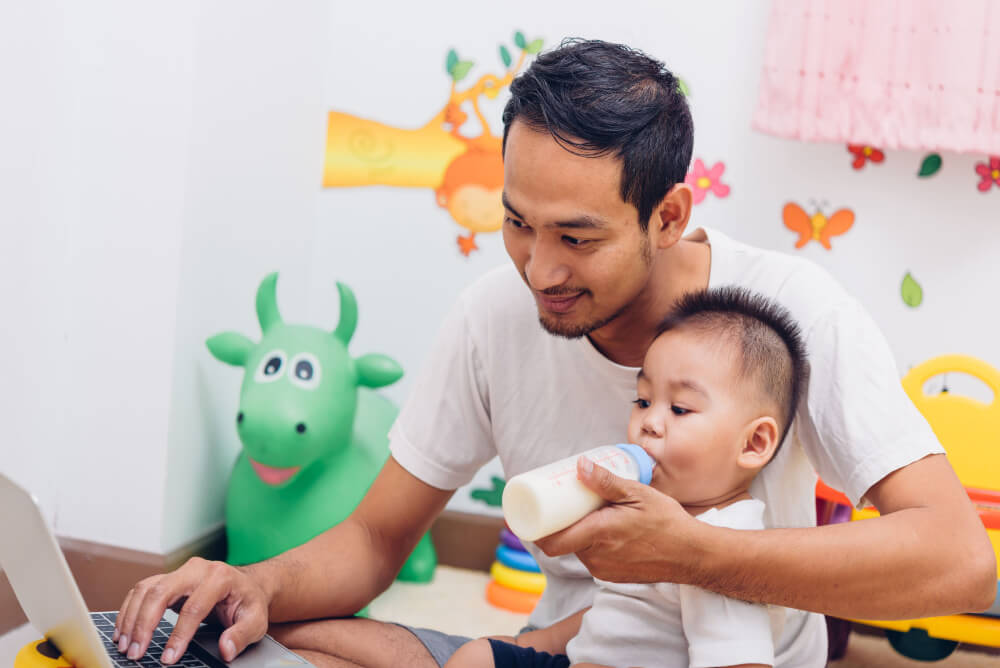 The great Australian dream of homeownership has become a hurdle for couples hoping to start a family, with new Compare the Market research revealing one in ten people would delay having children to get a foot on the property ladder.*
But Compare the Market's Economic Director David "Kochie" Koch says that needn't be the case for people still struggling with their house hunt.
"When Lib and I were getting ready for our first child, I remember being asked, 'can you afford it'? The truth is that hadn't even crossed our minds," Mr Koch said. "In retrospect, we were pretty naïve not to consider the financial impact… but we had starting a family as our top priority ahead of money. We figured we'd make it work by sacrificing in other areas."
"If starting a family is an aspiration for you and your partner, buying a home shouldn't be a roadblock. There's nothing wrong with having a baby in a rental and there's no reason you can't keep working towards your long-term goals.
"The path to homeownership isn't a race… if you treat it like one you'll burn out pretty fast and might regret missing out on some really important experiences. Ultimately, you have to do what's right for you."
Not everyone was willing to put major life goals on the backburner. Most survey respondents said they would save by forgoing travel plans (37.2%), socialising (30.9%) and big-ticket purchases (22.2%) to save for a house deposit.
One in 10 said they would sacrifice a job that they loved for one that pays more and around 15% of people said they would go without a car and use cheaper modes of transport.
Baby Boomers were less inclined to give up anything to save for a deposit (35.6%), compared to just 17.2% of Millennials, 19% of Zoomers and 27.8% of Gen Xers.
One in six are living with their family longer to save for a deposit, which is a good tactic for those lucky enough, according to Mr Koch.
"If you're afforded the luxury of staying with your parents, family or friends for longer, it can be an easier way to squirrel away for a deposit," Mr Koch said.
"Even if you end up paying board, covering groceries or contributing to other utility bills, these costs can often be less than if you rented or lived alone. And, you'd also be helping your loved ones during the cost-of-living crisis. It's a win-win."
However, there may be other ways to save money without returning to the coop, putting your baby plans on hold or sacrificing the things you like.
The first step is putting your savings "to work for you" by storing them in a high-interest account.
"Chances are, if you've had your savings the same account for a while, the introductory interest rate may have lowered significantly.
"Speak to your bank and shop around to make sure you're on a competitive rate. If you're prepared to tuck your money away for a while, a term deposit could help accelerate your savings.
"Then consider setting up automatic transfers to ensure you're saving a percentage of your salary every pay day."
Once your accounts are in order, it's time to squeeze savings out of everyday bills.
"We know that far too many Australians are paying more than they need to for their electricity supply right now," Mr Koch said.
"Australian households who are on standing electricity offers could save as much as 17% annually by switching to the lowest market offer available. This can add up to hundreds of dollars a year in savings for a small amount of time."
Similarly, Mr Koch said there may be cases where people's circumstances have changed over the years and they are currently over-insured, which means they could be paying for cover for items or services they don't need.
"For example, we know that in health insurance, a gold policy provides you with the most comprehensive coverage, but you could be paying for things you don't require," Mr Koch said. "There may be cheaper policies available that cover your needs without a big price tag."
And when it comes to groceries and essentials, preparation is key, with a recent Compare the Market survey revealing 64.2% of Australians have been throwing out food every week.
"It sounds so simple but ensure you're making a list the next time you go shopping and hunt around for the biggest savings," Mr Koch said.
"The money is better in your pocket and with a bit of discipline, you'll soon start to see those savings grow."
*Survey of 1,004 Australian adults, conducted in August 2023.
For more information, please contact:  
Natasha Innes | 0416 705 514 | [email protected]
Compare the Market is a comparison service that takes the hard work out of shopping around. We make it Simples for Australians to quickly and easily compare and buy insurance, energy, and home loans products from a range of providers. Our easy-to-use comparison tool helps you look for a range of products that may suit your needs and benefit your back pocket.
Did you find this article interesting or helpful?