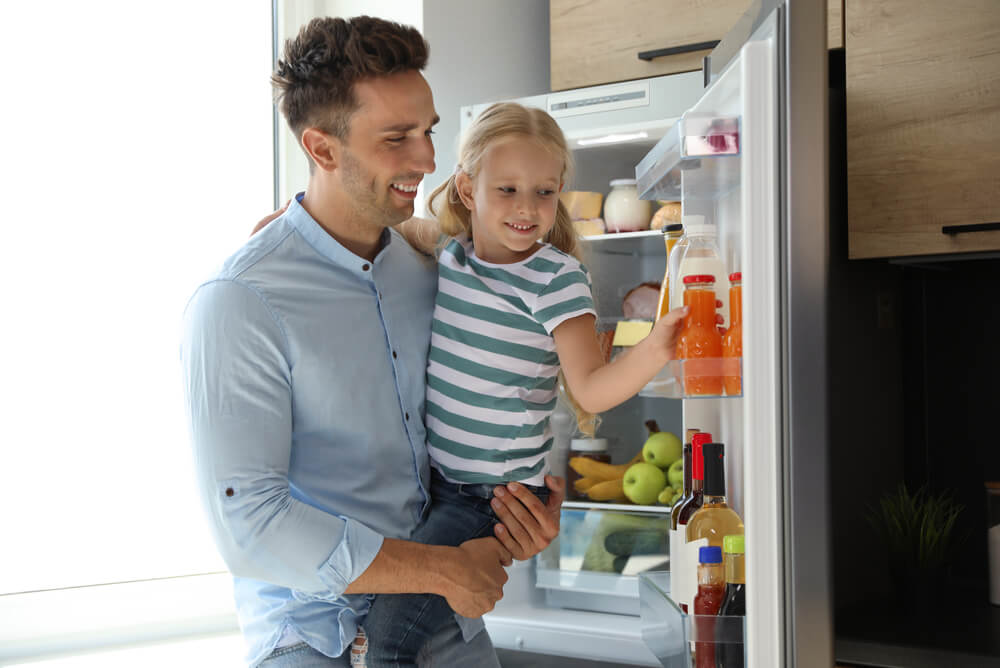 Despite households across Australia buckling under the pressure of the current cost-of-living crisis, alarming new research from Compare the Market has revealed that more than two-thirds of Aussies throw out food each week.*
Compare the Market's latest research found that 64.2% of Australians admit to throwing out food every week because it doesn't get used or goes out of date. According to Compare the Market's Natasha Innes, it's a worrying statistic, given that the average Aussie spends $199.46 on groceries and more than a third of people say the grocery shop is their biggest financial burden.
"More than 40% of Australians say they're spending less on their weekly grocery shop, but it's quite shocking to see that so many people seem to be buying food items that end up in the trash," Ms Innes said. "While there's no denying that prices are rising at our supermarkets, our data shows that people may be blowing money each week on food they don't need.
"If you're getting to the end of your week and finding that you're throwing out food or have an abundance of fruit, salad or veggies that you'll never use, it could be time to rethink your approach to the weekly grocery shop."
Compare the Market's research shows that vegetables are the most likely to go unused, with 29.4% of Aussies throwing produce away each week. Millennials are the generation most likely to waste their veggies, with 42% of the cohort admitting to throwing their greens out.
Meanwhile, nearly an equal percentage of people (29.1%) are binning leftover meals, while bread (23.9%), milk (21.1% and salad (19.9%) aren't far behind. The data showed that Gen Z is most wasteful when it comes to bread and milk, while Millennials are again the most likely to toss their salad in the trash.
"People appear to be overestimating how much food they'll eat in a week and unfortunately, it's those healthier items like vegetables and salads that are going to waste," Ms Innes said. "We know that items like lettuce and potatoes have seen massive price hikes in recent times and fresh produce doesn't always come cheap.
"It's also surprising to see so many people chucking out their leftover meals. If you overcook, you could consider taking the food to work the next day for your lunch or even freezing the meal to eat down the track."
The data showed that the waste doesn't stop there, with a high percentage of Australians ditching fruit, cheese, yoghurt, butter, chicken, eggs, red meat and seafood on a regular basis.
| | |
| --- | --- |
| Items | Percentage of Australians throwing item away at end of each week |
| Milk | 21.10% |
| Bread | 23.90% |
| Vegetables | 29.40% |
| Salad | 19.90% |
| Fruit | 16.30% |
| Eggs | 6.90% |
| Red meat | 5.80% |
| Chicken | 8.50% |
| Seafood | 6.30% |
| Baked goods | 7.40% |
| Leftover meals | 29.10% |
| Dairy foods (cheese, yoghurt, cream, butter, etc) | 12.60% |
"When it comes to meat, poultry or even seafood, it could be worth only purchasing these items as you need them to avoid waste," Ms Innes said. "If you're purchasing these items fresh, you may also want to prep them into smaller portions to freeze so you can use them as needed.
"The cost-of-living crisis is likely going to get worse before it gets better and the last thing we want to see is food going to waste unnecessarily and for Aussies to throw away their hard-earned cash."
Food wastage aside, Compare the Market's research also asked Australians how they were trying to combat skyrocketing prices at the grocery store. Interestingly, two-thirds (62.2%) of respondents said they were planning cheaper meals, more than half (55%) said they were looking harder for discounts, while 42.2% were switching to home brands.
Worrying though, one in five claimed they were skipping meals, a third (28.1%) said they were relying greater on frozen foods, while 31.4% said they were eating less meat.
"We don't want to see anyone going without meals amid these rising costs, especially given that so many of us are throwing away food each week," Ms Innes said. "Whether it's switching to a different brand, shopping for items that are on sale or spreading your shop across multiple stores, there are many little changes people can make that can have a big impact on their budget."
Ms Innes' top ways to make your dollar stretch at the supermarket and avoid food wastage
Research and plan. Before shopping, take note of the food items you threw away the week before and make note of where you could make cuts. Also, try shopping where the discounts are, as supermarkets run weekly specials. It may even pay to shop at multiple stores to maximise your savings.
Switch brands rather than going without. There's never been more competition in stores and chances are you'll be able to find a similar product for cheaper if you switch to a different brand.
Don't let the labels mislead you. Want to work out if you're getting the most bang for your buck? Always look at the unit price rather than the bigger price or special that's displayed. This will help you determine whether buying in bulk or at a smaller quantity is cheaper.
Always flash your reward cards. You can earn points for every dollar you spend in store, which you can later redeem for discounts on your shop, frequent flyer points and more. You may also be able to earn more points by boosting or taking advantage of specials that are available within the shopping apps.
Maximise your savings. You may be entitled to discounts on groceries through your insurance policies, energy plans, mobile phone deals and more, so it's worth checking what you're entitled to.
*Survey of 1,004 Australian adults, conducted July 2023
For more information, please contact:
Phillip Portman | 0437384471 | [email protected]
Compare the Market is a comparison service that takes the hard work out of shopping around. We make it Simples for Australians to quickly and easily compare and buy insurance, energy, travel and personal finance products from a range of providers. Our easy-to-use comparison tool helps you look for a range of products that may suit your needs and benefit your back pocket.
Did you find this article interesting or helpful?