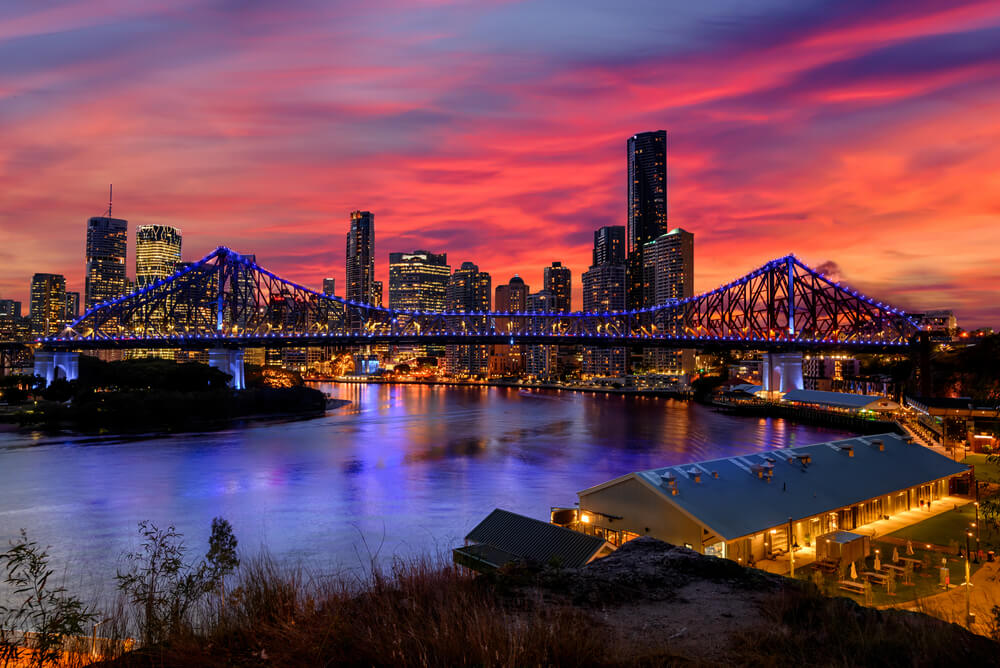 Most of Brisbane (and Australia) rejoiced as the home of the brown snake was named the host of the 35th Olympiad in 2032.
Brisbane became the third Australian capital to be named a host city, following in the footsteps of Melbourne (1956) and Sydney (2000).
The Games are expected to deliver economic and social benefits of around $8 billion1, supporting 91,600 full-time equivalent jobs in Queensland and more than 122,000 nationally.
"Only global cities can secure the Olympic Games – so this is fitting recognition for Brisbane's standing across our region and the world," Prime Minister Scott Morrison said after the announcement was made2.
"We know the impact on Sydney more than two decades ago was transformative. We can now expect a repeat for Brisbane and communities across Queensland."
But as with most things these days, the question needs to be asked: How will this affect the property market and property prices?
We can forecast roughly what impact the Olympics will have on house prices in Brisbane and surrounding areas by looking to the past.
How did the 2000 Olympics impact Sydney house prices?
Real estate services and research firm PRD Research analysed the impact of the previous Sydney Olympics, one of the largest sporting events ever hosted in Australia3.
" It required one of the largest recreational, cultural, and residential developments in Sydney's history; with the total cost estimated at $6.6 billion," PRD Chief Economist Dr Diaswati Mardiasmo said.
"Since then the Olympic Park has undergone over $2.7 billion worth of development to continue the success of the area.
"The athletes' accommodation was reconfigured to offer 900 townhouses and 700 apartments. Newington and surrounding suburbs sales activity rose by 58.0% between 2000 and 2001 (the year after Olympics), and median house prices grew by 13.4% in the same period."
According to PRD Research, median house price growth continued, with prices rising a further 38.5% in the two years after and 66.4% in the next three years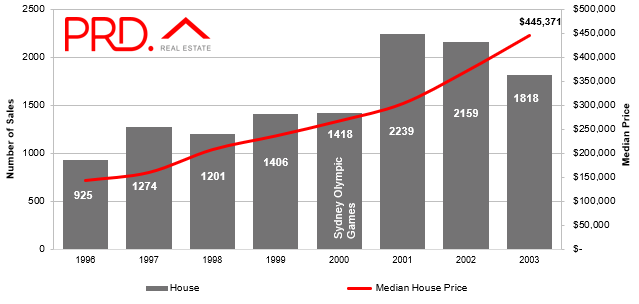 Source: PRD Research
Buyer's agency Propertyology has also analysed Sydney's property market in the years leading up to and after the Olympics4, during which there was an enormous price boom of 88% over the five years ending 2001.
But Propertyology Head of Research Simon Pressley said this isn't just due to the Olympics.
"The reality is that the start of this century is etched in history as one of Australia's most prosperous eras," he said.
"Property markets right across Australia benefitted from long-term political stability, major tax reform (GST implementation), the biggest ever government grants and incentives for property buyers, free-flowing credit, large-scale privatisation, a global technology boom and unprecedented economic development."
How about the Brisbane World Expo in 1988?
Brisbane has previously hosted significant global events, most notably the World Expo in 1988 and G20 Summit in 2014.
PRD Research compared the median house prices for the 11 years (how far away 2032 is) prior to each of these events and found Brisbane LGAs (local government areas) recorded median house price growth of 278.8%.
During this timeframe, median house prices in South Bank where the expo was held and its surrounding suburbs grew by an average 335.3%.
For the G20 meanwhile, Brisbane LGA median house prices grew by 112.7% from 2003 to 2015.
"It is clear from the above key findings that hosting both Expo 1988 and G20 Summit has served the Brisbane property market well," Dr Mardiasmo said.
"That is both in the short term of one year after the event, and the long term throughout the 12 years' time frame of preparation, hosting, and post-event."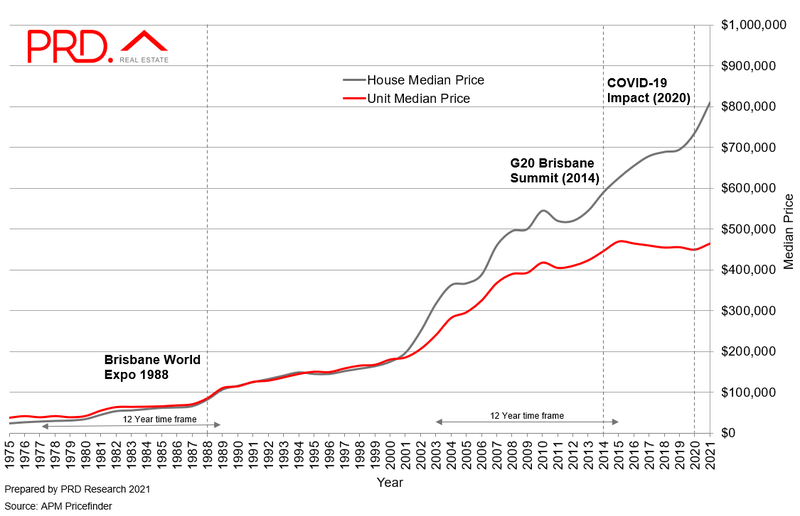 Source: PRD Research
How the Olympics may affect Brisbane house prices
Last week's Domain House Price Report for the June 20215 quarter found that, among a near-20% annual growth in median house prices nationwide, Brisbane house prices reached a new record high of $678,236.
The report revealed there are now three cities – Sydney, Melbourne and Canberra – with median prices of more than $1 million, and PRD's research says Brisbane could soon join that club thanks to the Olympics.
In fact, when applying the same level of growth seen in the 11 years before (and on after) the 2014 G20 summit, PRD found Brisbane's median house price would grow to $1.7 million by 2033.
Even Ipswich could be a $1 million city by then, thanks to the glut of infrastructure planned in support of the Olympic bid.
"There is a potential that Brisbane's median house price will not travel as far (as G20 growth). That said, even if we go at "half strength", metaphorically speaking 56.0% (112.7% divided by 2), that still takes us to $1.2M by 2033," Dr Mardiasmo said.
"As seen in previous international events there is a multiplier effect to the property prices in surrounding suburbs.
"Bearing in mind Olympics 2032 is still 11 years away and based on how the Brisbane market is travelling, the potential to eclipse this price point is high. Regardless of the calculation method, the conclusion points us to Brisbane becoming a $1M median house price city sooner rather than later."
Similar research from CoreLogic6 agreed with PRD's assessment, saying the "most significant positive influence on the housing market is likely to be seen in the years leading up to the Olympics".
"Large infrastructure projects tend to have a positive influence on housing prices, with the extra requirement for workers creating additional demand for housing during the construction process," CoreLogic Research Director Tim Lawless said.
"The proposed billion-dollar overhaul of the Gabba stadium is set to be the epicentre of Olympic activity. Along with the Cross River Rail terminal and plaza, this precinct is likely to see a lift in desirability.
"Other areas set to benefit would be the proposed sites for athlete villages, earmarked for Hamilton and Robina, along with areas set to benefit from transport infrastructure upgrades including the Gold Coast and Sunshine Coast via upgrades to the M1 Pacific Motorway and Bruce Highway which could be accelerated."
There's more to it than just a two-week sporting event
The key takeaway is that it isn't just the Olympics on its own that boosts house and unit prices, but rather a myriad of other variables involved in hosting such an event.
"A sporting event is not a property market growth driver. It is a sugar fix," Mr Pressley said.
"Sugar is not a sustainable energy source. Generally speaking, the direct benefit to property markets from hosting such a big international event comes from the bringing forward of investment in big-ticket infrastructure."
According to Mr Pressley, other factors with bigger influences on property include:
The broader economy at the time
Credit and monetary policy
Local housing supply
Political stability
Broader local economic conditions
While it's impossible to tell what property prices will be in 11 years' time, the lead-up to the Olympics could make a $1 million+ property market in Brisbane a real possibility – it just won't be the only reason why.
---
Sources
Photo by DinoPh on Shutterstock
KPMG 2032 Olympic and Paralympic Games summary report, June 2021.
Prime Minister of Australia, 'History made as 2032 Olympics secured for Queensland', 21 July 2021.
PRD Research, 'Olympics to create a $1M median house price in Brisbane', 3 August 2021.
Propertyology, Simon Pressley, 'How will the Olympic Games affect property markets?', 24 March 2021.
Domain, June 2021 House Price Report, 29 July 2021.
CoreLogic, 'What the 2032 Olympic Games means for Brisbane's property market', 22 July 2021.
Did you find this article interesting or helpful?