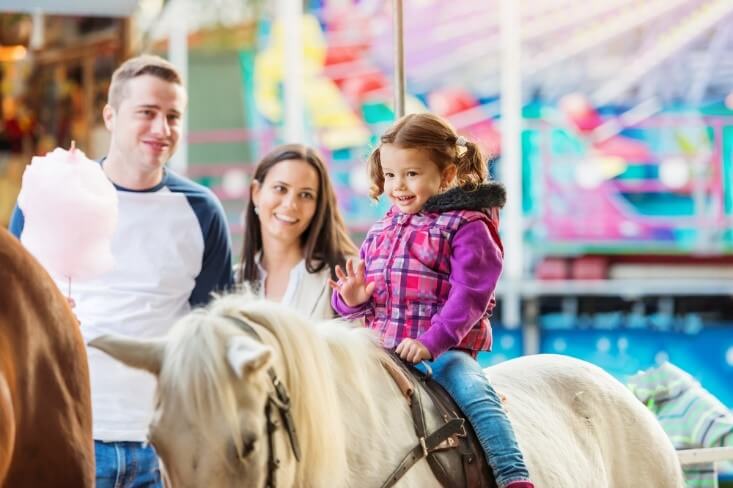 With rising costs continuing to hurt the hip pocket of South Australians, Compare the Market warns that showbags may not be exempt from the cost-of-living crisis at this year's Royal Adelaide Show.
Compare the Market analysed the price of the contents of 10 popular bags that will be available at this year's show and found that in 30% of cases, it may work out more expensive to nab a bag at the show.
The analysis found that showgoers would see no difference between the price of showbags in the famous showbag hall and the supermarket in 20% of cases, while half of the bags analysed would work out dearer if you were to purchase the identical contents at the supermarket.
Compare the Market's Natasha Innes said it was vital that families headed to the show this year put prices under the microscope.
"South Australian families have been hit with repeated mortgage rate rises, higher energy prices, soaring costs at the grocery store and higher insurance premiums, so it's been an expensive 2023 so far," Ms Innes said. "While many of us want to let loose and enjoy our day at the show, the last thing we want to see is anyone throwing money away needlessly.
"We know South Australians have become experts when it comes to comparing prices and the Adelaide Show should be no different. It's easy to be distracted by the buzz of the showbag hall, but you need to make sure you're not getting royally ripped off."
Of the 10 bags analysed, the Fantales was the biggest rip-off. At $40, you'd be paying $25 more at the show than you would at the supermarket.
"We know that Allen's is discontinuing the beloved Aussie Fantale, so this could be one of the last chances you have to nab some before they enter the confectionary graveyard," Ms Innes said. "However, it will come at a marked-up price. Should you still be able to get your hands on some Fantales at the supermarket before they're discontinued for good, you'd be paying 62.5% less. That's quite a significant price difference."
The Big Kit Kat bag was another that could leave you feeling short-changed, with the same contents costing 10% less at the supermarket. The Smarties bag was also marginally smaller (0.50%) compared to the show.
Meanwhile, punters would pay the exact price for the Allen's Lollies bag and Skittles Family Sharing Bag, but Ms Innes said there were savings to be found.
"It's great to see that there are a number of popular bags that will actually save showgoers at this year's show," Ms Innes said. "In fact, half of the bags we analysed came with a smaller price tag at the show.
"With hundreds of different bags available, the key to sniffing out the savings is to do your research. Before hitting the show, go in with a game plan of what you want and how much you'll be prepared to pay. If you can save by shopping at your supermarket, save those bags and buy one that'll give you more bang for your buck."
The Kinder Bueno bag packed the biggest savings of the bags analysed. In fact, you'd pay 53.84% more at the supermarket to purchase the same content. The Wagon Wheels bag would cost you -25.92% less at the show, while you'd save around $5 on both the Darrell Lea Liquorice Lovers and Arnott's Biscuits bags.
Ms Innes said there were many other ways for families to claw back cash at this year's show.
"You may be able to bundle several bags as a way to save, which could prove a lifesaver if you're taking a few little ones to the show," Ms Innes said. "Also see if you can stretch your with bags that include goodies you're most likely to get use out of, such as backpacks, tote bags, water bottles, toys, makeup and more.
"Also check the price of lollies, chocolates, biscuits and chips at the supermarkets before heading to the show. If there are specials, you may be better off buying those items at the store and nabbing a different bag at the show.
"Consider purchasing your tickets to the show online ahead of time and you may receive a discount on your admission price. Also remember that you don't have to pay an arm and a leg for food, so consider packing your own lunch and take water bottles that you can refill throughout the grounds.
"There are also plenty of free events at the show, so prioritise these attractions to get the most value out of your entry ticket."
Ms Innes' top tricks for doing the show on the cheap.
Buy your tickets online ahead of the event. Depending on when you purchase tickets, you may receive a discount for buying your entry online.
Take your own lunch and water bottle. If the thought of the sugar rush and festival food is too much, consider packing your own lunch, snacks and a water bottle that you can fill up at the event.
Plan your day around free events. While rides, games and showbags are popular, there are plenty of free events at the Show. Plan your day around these events to maximise the value of your entry ticket.
Score a freebie. Plenty of freebies are on offer, ranging from food samples and toys to goodie bags and more.
Showbag name and contents
Royal Adelaide Show price
Price at the supermarket
Price difference at supermarket
Percentage difference at supermarket
Allen's Lollies

·         Allen's Party Mix Family Size 420g x 1

·         Allen's Frogs Alive 420g x 1

·         Allen's Drumstick 170g x 1

$15
$15
–
–
Arnott's Biscuits

·         Monte Carlo Original 250g x 1

·         TeeVee Snack Malt Sticks 175g x 1

·         Chocolate Mint Slice 200g x 1

·         Scotch Finger 250g x 1

·         Shortbread Cream 50% Less Sugar 232g x 1

$15
$19.80
+$4.80
+32%
Big Milky Bar

·         Milkybar 15g x 40

$20
$22
+$2
+10%
Big Kit Kat

·         Kit Kat 17g x 50

$20
$18
-$2
-10%
Darrell Lea Liquorice Lovers

·         Batch37 Soft Liquorice 260g x 1

·         Black Liquorice Twists 280g x 1

·         Chocolate Liquorice Balls 160g x 1

·         Milk Chocolate Bullets 250g x 1

·         Milk Chocolate Liquorice Block 180g x 1

·         Liquorice Allsorts 270g x 1

$25
$30
+$5
+30%
Fantales

·         Allen's Fantales (Bulk Size) 1kg x 1

 

$40
$15
-$25
-62.5%
Kinder Bueno

·         Kinder Bueno Classic x 6

·         Kinder Bueno Mini's Pack of 20 x 1

$13
$20
+$7
+53.84%
Skittles Family Sharing Bag

·         15g Skittles Fruits x 12

·         160g Skittles Sours Giants x 1

·         170g Skittles Fruits Giants x 1

$16.50
$16.50
–
–
Smarties

·         Smarties Hanging Bag 160g x 2

·         Smarties Carton 50g x 2

·         Smarties Mini 11g x 11

$20
$19.90
-$0.10
-0.50%
Wagon Wheels

·         Wagon Wheels Chocoate Biscuits Original 190g x 1

·         Wagon Wheels Original Biscuits Mini 24g x 16

$10
$13.50
+$3.50
+35%
Prices taken from Royal Adelaide Show website and Woolworths, Coles and Big W online stores. Prices are reflective of full retail price and don't include discounts. Prices accurate 22/08/2023.
For more information, please contact:
Phillip Portman | 0437384471 | [email protected]
Compare the Market is a comparison service that takes the hard work out of shopping around. We make it Simples for Australians to quickly and easily compare and buy insurance, energy, travel and personal finance products from a range of providers. Our easy-to-use comparison tool helps you look for a range of products that may suit your needs and benefit your back pocket.
Did you find this article interesting or helpful?