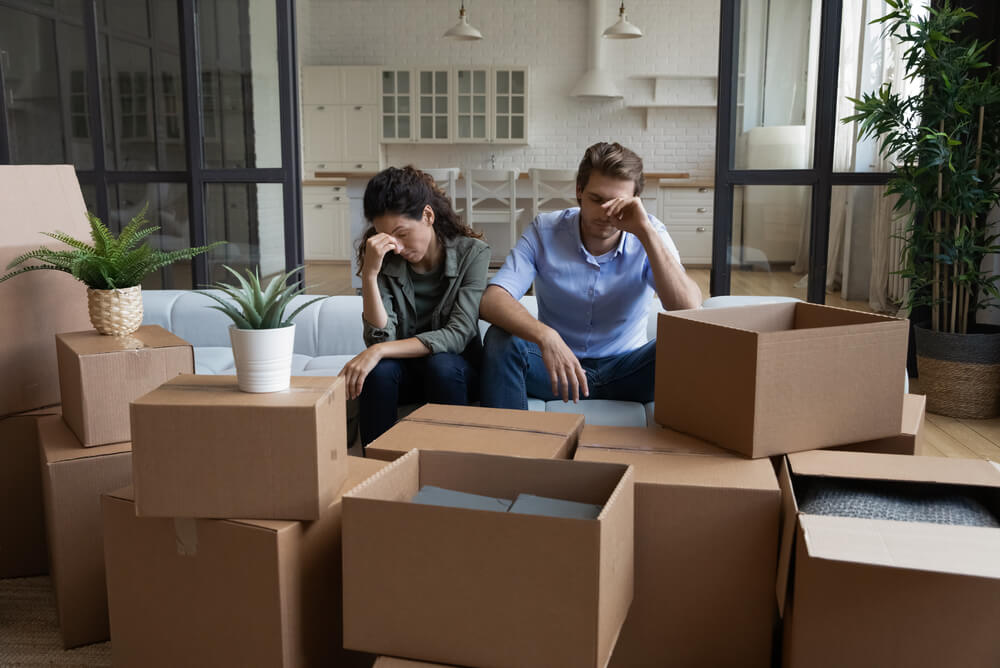 Nearly half of Australians experience buyer's remorse after purchasing a property, with lifestyle compromises hurting the most, according to new research from Compare the Market.
A survey of more than 500 people who bought property between 2017-2021 revealed 45% regretted something about their purchase, with about a fifth (21%) lamenting lifestyle changes or having to cut back on spending to afford repayments.
Since moving in, 14% of buyers had realised the location of their property was not as convenient or nice as they had expected. Meanwhile, 16% discovered their property needed more repairs or renovations than first anticipated.
Over half of respondents (61%) said they felt pressure to buy as soon as possible because of increasing property prices. That sentiment was strongest among respondents aged 25-34.
"I bought a property as soon as possible because of increasing property prices"
| | | | | | | |
| --- | --- | --- | --- | --- | --- | --- |
|   | 18-24 years | 25-34 years | 35-44 years | 45-54 years | 55-64 years | 65+ years |
| Agree | 70.30% | 72.10% | 68.20% | 61.40% | 55.90% | 35.90% |
| Disagree | 29.70% | 27.90% | 31.80% | 38.60% | 44.10% | 64.10% |
Survey of 510 property buyers carried out by PureProfile for Compare the Market.
Despite some misgivings, the vast majority of buyers felt confident they made the right decision to enter the market, according to Compare the Market spokesperson William Jolly.
"Not everyone can afford a 'perfect' home. Whether it's cutting back on spending or moving to a less desirable area, buying a house often requires some sacrifice and compromise," Mr Jolly said.
"Getting your foot in the door is the most important thing; buying a bit further out might be challenging for a while, but you could always upgrade to a better home in a few years. Building equity in a property makes upgrading a lot easier.
"The same goes for financing renovations. Homeownership is a powerful tool so it's usually worth toughing it out for the long-term benefits.
"Our research shows that nearly 90% of recent buyers are either 'confident' or 'very confident' about their property purchase, so it seems most other comforts are secondary to homeownership for most Australians."
Could rate rises lead to more regrets?
Despite property prices surging at the fastest rate on record,1 just 12% of buyers felt they paid too much for their property, and only 5% worried they would not be able to afford their property in the long term.
However, with numerous cash rate increases potentially on the horizon in the next few months and years, home loan affordability could place a lot of pressure on Australians' budgets.2, 3
"Four standard cash rate increases of 25 basis points each could equal a 1% increase in the average home loan's interest rate," Mr Jolly said.
"Given we could end up seeing the first of these cash rate increases as early as mid-year, it's possible that hundreds of dollars could be added to some households' mortgage repayments each month before long.
"Only 5% of recent home buyers being worried about affording their property in the long-term might be a tad optimistic if we do end up seeing interest rates increase.
"Homeowners can do a home loan 'health check' to review their ability to meet their mortgage repayments on higher interest rates."
According to the Reserve Bank,4 the average interest rate for an existing owner-occupied home loan is 2.75% p.a, which would grow to 3.75% p.a (assuming a 1% increase to the cash rate, passed through in full).
Here's how that could influence mortgage repayments on the average mortgage of $574,427:5
Current monthly repayments at 2.75% p.a
New monthly repayments at 3.75% p.a
Home loan: $574,427
$2,345
$2,660

$315 more per month
For more information, please contact:
Sarah Orr | 0401 044 292 | [email protected]   
Compare the Market is a comparison service that takes the hard work out of shopping around. We make it Simples for Australians to quickly and easily compare and buy insurance, energy, travel and personal finance products from a range of providers. Our easy-to-use comparison tool enables consumers to find products that best suit their needs and back pocket.
Notes to editors
This release references the below sources:
Australian Bureau of Statistics, 14 September 2021. Residential Property Price Indexes: Eight Capital Cities.
Commonwealth Bank, 28 October 2021. Exceptional vaccine take-up means stronger economic outcomes in 2022 and RBA policy tightening.
Reserve Bank of Australia, 02 November 2021. Statement by Philip Lowe, Governor: Monetary Policy Decision.
Reserve Bank of Australia, Lenders' Interest Rates. Accurate as at September 2021.
Australian Bureau of Statistics, Lending Indicators, September 2021.
Did you find this article interesting or helpful?