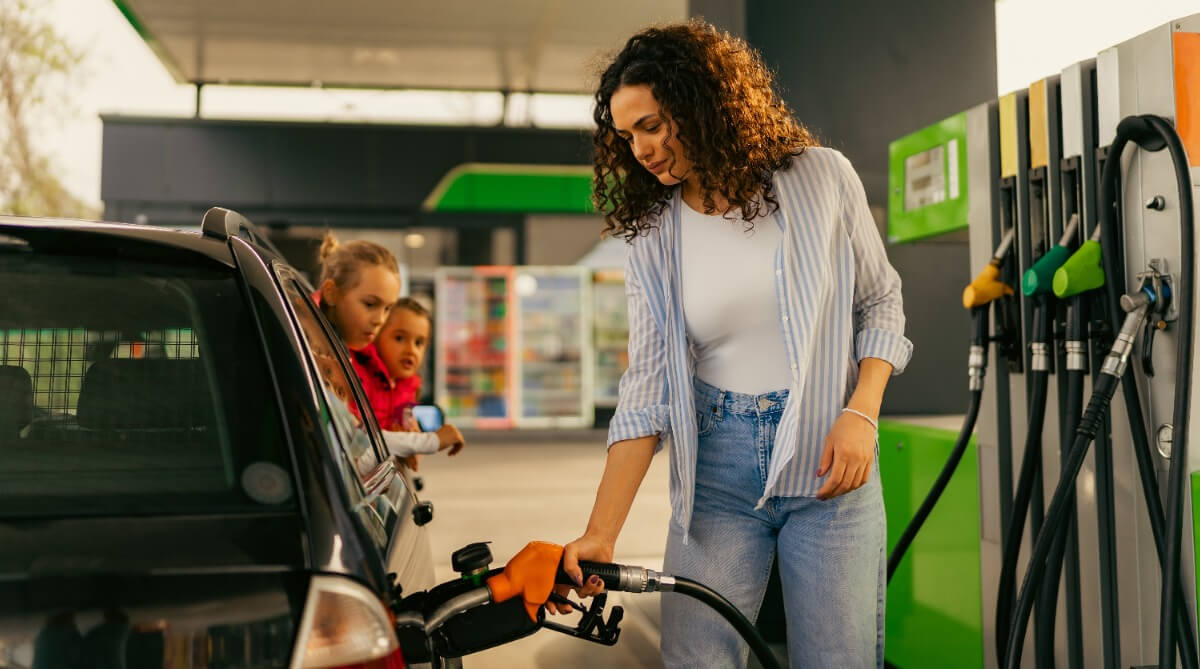 Motorists across Australia looking to hit the road this long weekend could be in for a shock, with prices for Unleaded 91 soaring past $2/litre in many locations. With school holidays just around the corner, it's looking like these prices could hurt the hip pocket of families already doing it tough.
However, Compare the Market warns that there are still ways to nab a bargain if you're planning on heading away for the King's Birthday long weekend.
The national retail average for Unleaded 91 across Australia's capital cities is currently $1.91 per litre, however, new research from Compare the Market shows that the difference between the cheapest price and most expensive can be significant in cities celebrating the long weekend.
Across Greater Sydney, there's currently a 38-cent difference between the cheapest fuel on offer and the most expensive. Motorists in the Harbour City are seeing lows of $1.69/litre, but highs of $2.07. Compare the Market's Chris Ford said that while many fuel stations in Sydney have increased prices, there's still time to fill up for less than $2/litre.
"We know that more than 125 different locations across Greater Sydney have increased their prices above that painful $2/lite mark, but there are still bargains to be found," Mr Ford said. "In locations like Ermington, West Ryde, Eastwood and Toongabbie, prices are still sitting comfortably below $1.70/litre.
"However, motorists are encouraged to get in quick, with Greater Sydney already in their latest price cycle and the city-wide average sitting at $1.95/litre."
Greater Sydney cheapest prices
Greater Sydney most expensive prices

 

1.       Metro Fuel Ermington: $1.69

2.       Apex Petroleum West Ryde: $1.69

3.       Speedway Petroleum West Ryde: $1.69

4.       Enhance Eastwood: $1.69

5.       Metro Petroleum Toongabbie: $1.69

1.            Ampol Woolworths Kellyville: $2.07

2.            BP Quakers Hill: $2.07

3.            Ampol Carlingford: $2.07

4.            7-Eleven Guildford: $2.07

5.            Ampol Merrylands: $2.07
It's a similar story in Greater Melbourne, where there's currently a 45-cent difference between the price at the cheapest station and the price at the most expensive location.
"Around 80% of stations in Melbourne are putting their prices up in the latest fuel cycle and as we can see, there are a handful of stations still offering low prices," Mr Ford said. "However, we don't expect these prices to stick around, with the city-wide average for Unleaded 91 currently sitting at $1.98."
Greater Melbourne cheapest prices
Greater Melbourne most expensive prices

Dayef Petroleum Maidstone: $1.62
Puma Truganina: $1.65
Metro Doncaster East: $1.66
Liberty Reservoir: $1.67
Metro Petroleum Reservoir: $1.69

1.       Ampol Wantirna South: $2.07

2.       BP South Morang: $2.07

3.       7-Eleven South Morang: $2.07

4.       7-Eleven Epping: $2.07

5.       Coles Express Wollert: $2.07
Meanwhile, drivers across Greater Adelaide are enjoying lower fuel prices than other major cities, but a new pricing cycle is imminent, which may cause pain at the petrol bowser.
"Prices are slowly creeping up to that $2/litre mark, but there's currently an opportunity to fill up for less," Mr Ford said. "There's still a difference of 44 cents between the cheapest prices and most expensive, which can be significant when filling up a tank. In fact, it's a saving of $22 if you filled up with 50 litres of fuel."
Greater Adelaide cheapest prices
Greater Adelaide most expensive prices

United Rosewater: $1.55
United Ottoway: $1.55
United Woodville: $1.55
Liberty Port Adelaide: $1.56
Liberty Taperoo: $1.56

1.       Ampol Mt Barker: $1.99

2.       Coles Express Golden Grove: $1.99

3.       Coles Express Fairview Park: $1.99

4.       OTR Hillbank: $1.99

5.       Ampol Elizabeth Vale: $1.99
"The national wholesale average for Unleaded 91 is around $1.69/litre, so there's quite a discrepancy between these prices and what motorists are paying at the pump. Oil prices are currently steady but are down substantially from their highs in April, and have remained relatively flat since the news that Saudi Arabia would be cutting its oil output by around 1 million barrels a day.
There's also been a 37% dip in crude oil prices since the same time last year.
"We won't see relief at the pump straight away, but we should expect to see prices drop by a cent or two a day over the next couple of weeks," Mr Ford added.
Mr Ford said there are many ways Australians can track down cheaper fuel prices.
"Using fuel comparison apps like Compare the Market's Simples Fuel App is an easy way to compare fuel prices in your area and look for a better price near you," Mr Ford said. "You may be able to claw back some cash by driving a few minutes up the road. These apps can also be a lifesaver if you're heading out of town for the long weekend, where you may not be as familiar with fuel prices.
"Consider taking advantage of fuel deals that are available through the major supermarkets, roadside assistance programs and other initiatives. It may be a discount on the back of your shopping receipt, a coupon within a reward program or even the ability to lock in prices through other apps. Every dollar counts as we continue to feel the crunch of the cost-of-living crisis."
Mr Ford said how you drive may also impact how far your fuel lasts when hitting the open road.
"People may not be aware that accelerating quickly can chew through your petrol quicker and heavier loads could reduce your car's fuel efficiency," Mr Ford said. "Blasting the heating on those chilly days can also see your fuel drop quicker, while underinflated tyres can increase your overall petrol consumption."
The average wholesale (Terminal Gate Price) right now:
Sydney: $1.69
Melbourne: $1.68
Brisbane: $1.68
Perth: $1.66
Adelaide: $1.69
Hobart: $1.73
Darwin: $1.71
The average price for Unleaded 91 fuel right now:
Sydney: $1.95
Melbourne: $1.98
Brisbane: $2.02
Perth: $1.94
Adelaide: $1.92
Hobart: $1.83
Darwin: $1.81
Prices accurate as of 08/06/2023. Source: Fuelprice.io
For more information, please contact:  
Phillip Portman | 0437 384 471 | [email protected]
Compare the Market is a comparison service that takes the hard work out of shopping around. We make it Simples for Australians to quickly and easily compare and buy insurance, energy and travel products from a range of providers. Our easy-to-use comparison tool helps you look for a range of products that may suit your needs and benefit your back pocket.
Did you find this article interesting or helpful?