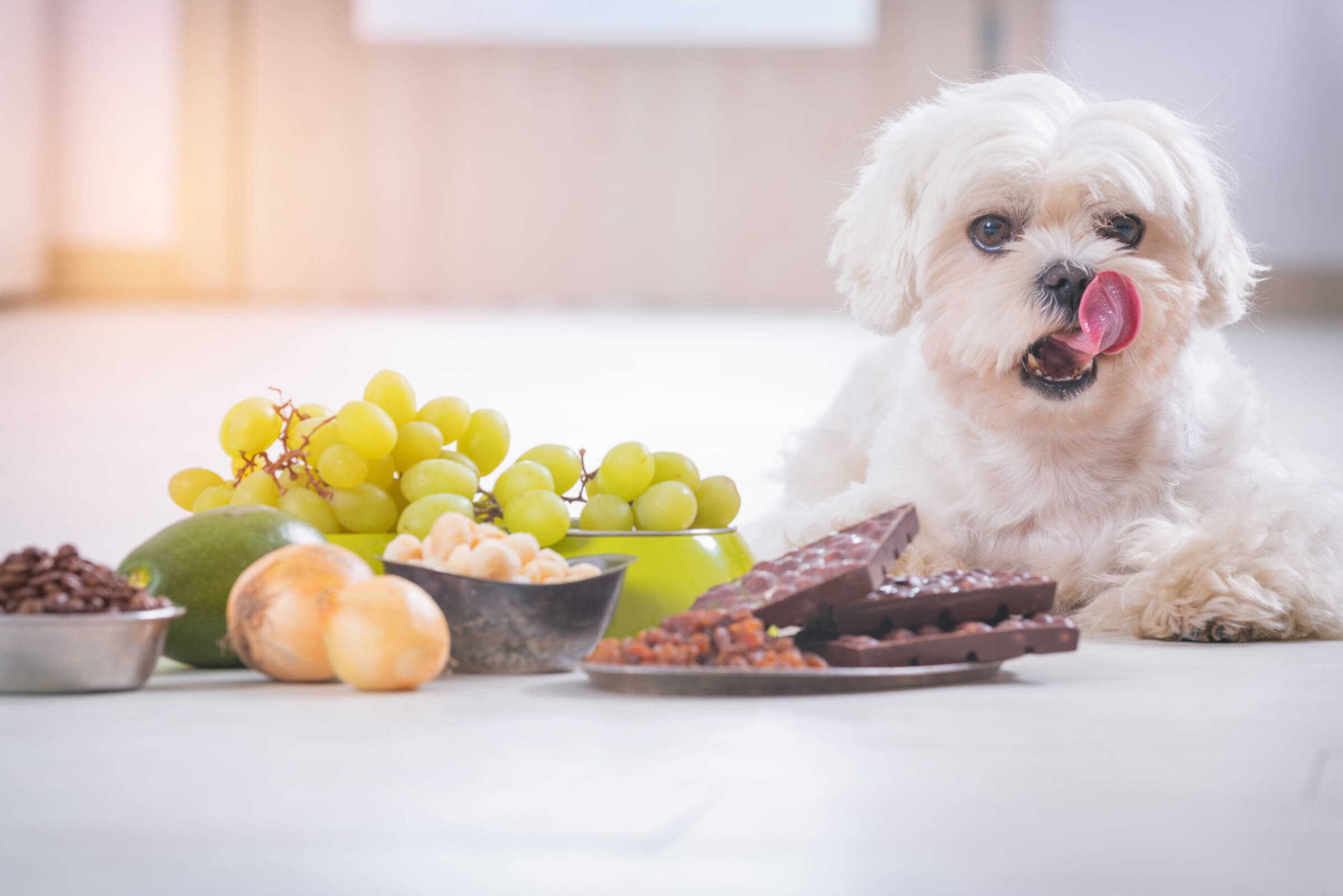 It's "double, double, toil and trouble" for pets this Halloween, with the latest research from pet insurance comparison site Compare the Market revealing that many people aren't aware of foods that can be a nightmare for their pets. The survey, which gave respondents to choose from 16 foods, varying from toxic to safe pet treats, found that 29.2% of people thought all items listed were toxic to pets.*
Of the foods that should never be given to pets, one in 14 people would give avocado to pets, while one in twenty people stated grapes, sultanas and raisins (5.5%), and chocolate and lollies were okay to give to pets (5%). People were more likely to identify onions and alcohol as toxic for pets, yet some still thought these items were safe for pet consumption.
| | |
| --- | --- |
| Toxic foods for pets | % of people who thought it was safe for pets to consume |
| Avocado | 7.7% |
| Grapes, sultanas and raisins | 5.5% |
| Chocolate/lollies | 5.0% |
| Alliums (onions, chives, garlic etc) | 2.7% |
| Alcohol | 1.3% |
Regarding the foods that need more nuance, only 15.7% said that dairy was safe for pets to consume. While dairy is an okay once-in-a-blue-moon treat, as many animals can be lactose intolerant, it's usually the sweeteners used in these products that cause the worst trouble for our dear pups and kittens. Nuts can also be nuanced as peanuts or cashews, completely unseasoned, are okay as rare treats, while macadamia nuts are an absolute no-go for any pet.
| | |
| --- | --- |
| Semi-toxic foods for pets | % of people who thought it was safe for pets to consume |
| Dairy (ice cream, yoghurt, cheese, milk, etc) | 15.7% |
| Yeasted goods (i.e. bread, doughnuts, cakes, etc.) | 6.7% |
| Any sort of nut | 4.7% |
| Citrus fruits | 2.8% |
There were also some misconceptions about the foods that are safe to give to pets as a treat. Almost nine in 10 people said that berries were a toxic feed, while both cats and dogs are completely safe to consume berries. Eight in 10 people also said feeding pets porridge is a no-go, yet it is completely fine for pets to consume if it's cooked with water.
Even cooked chicken became a contentious answer, with just under half of respondents stating that cooked chicken wasn't pet-friendly.
| | |
| --- | --- |
| Safe foods for pets | % of people who think these foods are toxic for pets |
| Berries (blueberries, strawberries, raspberries) | 87.3% |
| Porridge | 85.4% |
| Apples | 79.0% |
| Peanut butter | 78.3% |
| Sweet potato | 77.6% |
| Carrots | 62.7% |
| Cooked chicken | 46.7% |
Speaking on the intricacies of feeding pets, Compare the Market's General Manager for General Insurance and pet insurance expert, Adrian Taylor said that while there are obvious no-go foods, pet owners should keep an eye on what their pets like, as just like humans, they could have allergies to common foods that otherwise may pose no harm.
"While it may be hard to resist those puppy dog eyes begging for food, people should keep strict rules about what they give their pets, especially with all the treats around for Halloween," Mr Taylor said. "There may be many treats that begin to lie around, from chocolate and lollies to fruit bowls, all of which pose a silent threat to our furry friends.
"Pet owners should also keep an eye on how their pet reacts to different food, as they could also have underlying allergies, which may be triggered. We've heard of cases where pets show symptoms of coeliac disease and can't stomach even normal treats without some gastro problems.
Mr Taylor said it's quite alarming to see so many people not knowing what is safe for pets to eat.
"Clearly, there's a lack of general knowledge of what everyday foods are and aren't okay to feed to pets. While the media has showcased some good examples of an acceptable treat, such as peanut butter or carrots, it doesn't appear to have sunk into the general population's psyche.
"And because people have such a lack of understanding, they may be feeding their pets, or their friend's pets something that could cause serious problems.
"We know that the most common claim on pet insurance is gastro-related issues, with some of these treatments costing upwards of $2,000 depending on when the issue was caught. Something simple that can be done to reduce such financial burden on the off chance something like this does occur to your pet is to get pet insurance.
"So, if you're heading out trick or treating with your pet, rather than handing them a few treats from your pumpkin basket, consider dressing them up as a treat or pumpkin instead."
Mr Taylor's top tips for protecting your pets this Halloween
Vets may not be open on Halloween night. Knowing which 24/7 emergency clinics are located nearby, in case the worst happens, is a good idea. While Halloween isn't a public holiday, vets will likely operate to their usual operating hours, which may not include evenings.
Telehealth options may be available. An array of vet initiatives designed to keep their pets healthy and reduce veterinary expenses have been rolled out in recent times, including Dial A Vet, Webvet and more. These services allow you to pay a small fee for a video consultation with a certified vet. Keep in mind that if your pet is in life-threatening danger, you should always visit a vet in person.
Understand the limits and excesses that apply on pet insurance.If you need to claim on your pet insurance, do you know how much money will be reimbursed and how much you may need to pay? Be sure to read your PDS carefully, as you could still be left out-of-pocket – even with cover.
*Compare the Market surveyed 1,005 Australians aged 18 and over in October 2023.
-ENDS-
For interviews and more information, please contact:
Noémi Hadnagy | m: 0433 377 252 | e: [email protected]    
Compare the Market is a comparison service that takes the hard work out of shopping around. We make it Simples for Australians to quickly and easily compare and buy insurance, energy, and home loans products from a range of providers. Our easy-to-use comparison tool helps you look for a range of products that may suit your needs and benefit your back pocket.
Did you find this article interesting or helpful?