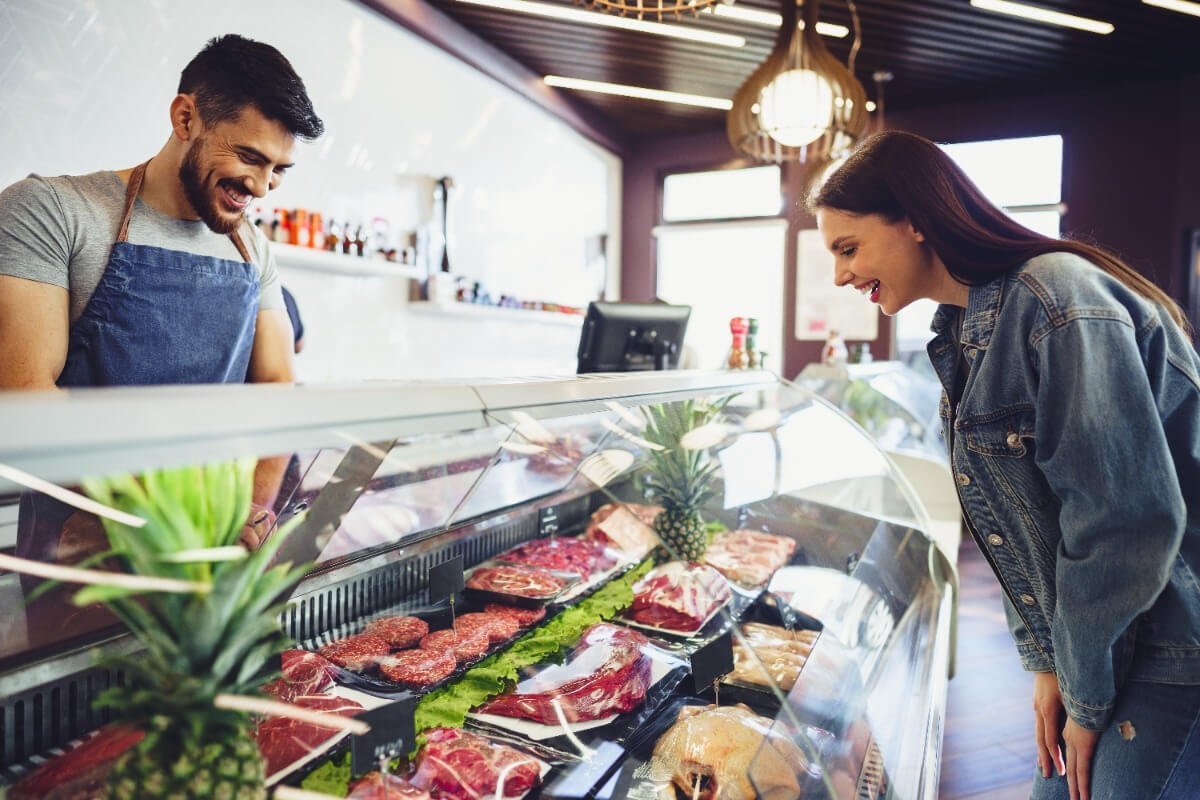 The carnivore diet days are numbered, with more than 60% of adult Australians ditching meat in a bid to save money.
According to Compare the Market's latest survey, Aussies are cutting back primarily on chocolates and lollies (58%), savoury snacks (44%), soft drinks (43%) and cleaning products (31%).*
Worryingly, a quarter of Australians are also cutting back on fruit and vegetables.
Compare the Market's Phillip Portman said almost half of the adult Australians surveyed said they were forced to cut back on groceries to afford their bills within the last three months.
"We know the cost of groceries, gas, and electricity are all on the rise," Mr Portman said.
"After 10 consecutive rate rises, mortgage repayments and rental payments have increased for many households.
"So, for many homes, the candle is being burned at both ends, which is why we can see many Aussies ditching meat and sweet treats to save money."
| | |
| --- | --- |
| Grocery item Aussies have cut back on or given up | % |
| Meat | 61.80% |
| Confectionery | 57.90% |
| Savoury snacks | 44.40% |
| Soft drinks | 43.10% |
| Cleaning products | 30.90% |
| Juice | 25.80% |
| Coffee | 24.20% |
| Fruit | 24.00% |
| Pantry staples | 23.20% |
| Vegetables | 21.70% |
| Sauce and marinades | 20.40% |
| Cereal | 17.60% |
| Pet food/treats | 14.60% |
| Eggs | 14.40% |
| Herbs/spices | 14.40% |
| Baking supplies (flour, sugar, etc) | 13.30% |
| Bread | 11.20% |
| Milk | 9.40% |
| Pasta/rice | 9.00% |
| Sanitary products | 7.70% |
*Compare the Market survey of 1003 people, April 2023.
Mr Portman said there might be more than one reason why 44% of Aussies are ditching savoury snacks like chips.
"There's recently been a national frozen potato chip shortage, so we know when there is limited supply and an increase in demand, prices can increase," Mr Portman said.
"So, the increased price for chips could be another factor as to why almost half of Aussies are giving up their savoury snacks like chips.
"While it's probably good for our health to cut back on chips and soft drink, we don't want to see Aussies giving up the little luxuries or treats they enjoy to pay the bills.
"But not all Australians are solely cutting back on the 'bad' food to pay the bills.
"A quarter of Australians are giving up or cutting back on vital nutrients like vegetables and fruit.
"My advice to that 25% would be to buy frozen fruit and veggies because it can often be cheaper.
"Maybe spend a bit more time looking at the discounts and deals in the supermarket catalogue before you head into the shops. The savings are there if you compare."
Mr Portman's tips to claw back cash at the supermarket:
1. Make a list: and stick to it.
2. Shop around: Different stores can set their own prices for the exact same item. Before shopping, check the catalogues for discounts that are available. It could even be worth shopping at multiple stores to maximise your savings.
3. Avoid the aisle deals: Stores will place lucrative-looking deals at the beginning and end of each aisle, but question if you really need these items. If you buy something you don't need, you aren't saving money; you're spending extra.
4. Eye-level is buy-level: Look to the lower and higher shelves for the same products, as different brands may be priced cheaper.
5. Use reward cards effectively: If you plan on using reward cards, ensure you 'boost' within the apps to maximise the points you can earn. Also, ensure you can use any points accrued throughout the year on your Christmas shop.
6. Shop alone: You can't be pressured into buying stuff that's not on your list if you shop alone. If you can't leave your kids at home, try putting them in the trolley and distracting them with an episode of Bluey.
For more information, please contact:  
Natasha Innes | 0416 705 514 | [email protected]
Compare the Market is a comparison service that takes the hard work out of shopping around. We make it Simples for Australians to quickly and easily compare and buy insurance, energy, travel and home loans products from a range of providers. Our easy-to-use comparison tool helps you look for a range of products that may suit your needs and benefit your back pocket.
Did you find this article interesting or helpful?