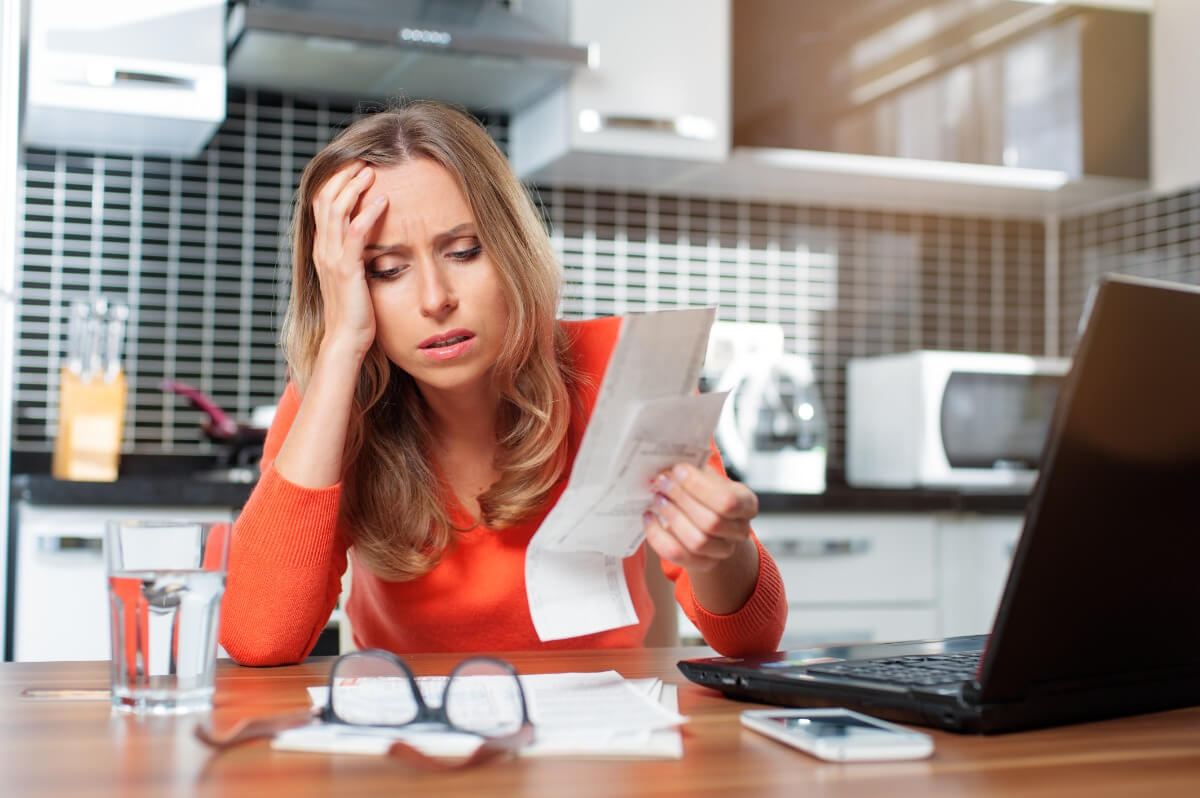 While all Australians are feeling the cost-of-living crisis, new research has revealed that more women are feeling the stress of higher prices than men.
New Compare the Market research reveals that 93.10% of women have been shocked by rising bills over the last three months, compared to 78.9% of men.*
In fact, nearly 80% of women regularly feel stressed about finances, compared to just over half of men.
The rising cost of fuel is causing the most concern for women, with three quarters admitting that they've been shocked by rising prices at the pump. Meanwhile, soaring grocery prices have shocked 70% of women, followed by water bills (28%), mortgage repayments (26%) and car insurance premiums (25%).
Compare the Market's Natasha Innes said that it's hardly surprising that these costs are causing concern for women across the country.
"Motorists enjoyed lower petrol prices thanks to the temporary halving of the fuel excise last year, but the average price of fuel has soared past the $2 per litre mark in many parts of the country since the excise was fully restored last September," Ms Innes said. "Whether it's driving to work every day, doing the school run or simply getting from point A to B, it's costing more than it has in the past.
"Compare the Market research also shows that we're paying nearly 10% more for common groceries than we were just six months ago, while those with variable home loans have been slugged with nine consecutive rate rises since last May. It's a real concern and we know that in many Aussie households, women are the ones dealing with these bills."
Other costs of concern for women include council rates, car registration fees, home insurance prices and health insurance premiums. Women are also more likely than men to feel the pinch when it comes to internet prices, school fees, gym and fitness fees and streaming prices. Conversely, men are more likely to feel stressed about energy bills and credit card costs.
Over the next six months, the data shows us that around a third of women (30.1%) are worried about the cost of groceries, 18.6% are anxious about their mortgage repayments and 16.8% are concerned about rising energy bills. According to Ms Innes, these costs will likely get worse before they get better.
"The Reserve Bank of Australia has hinted that more interest rate rises are on the horizon, we know that supermarkets are continuing to hike the price of many essential items and we're paying more than we have for energy than we have in the past," Ms Innes said. "While interest rate rises should ease towards the middle of the year and energy prices should stabilise amid government interventions and the wholesale market plateauing, we won't feel the effects overnight."
The survey results show that many women have struggled to pay bills over the last three months, with a quarter of women struggling to pay more than one bill (compared to just 12% of men) and 15% finding it difficult to pay one bill on time (4% higher than men).
As a way to claw back cash, 65% of women say they've cut back on eating out and ordering takeaway meals in the last three months, nearly half (48%) are spending less on groceries and 42% aren't spending as much on clothes and shoe shopping.
Meanwhile, three-quarters of women say they are shopping around to save money at the grocery store, more than half (52%) are searching for better fuel deals while one in five (21%) are looking for better offers on their insurance products.
"In most cases, women are more open to the idea of shopping around to save money than men," Ms Innes said. "While prices are on the rise, it doesn't mean you should pay more than you need to. Whether it's a big expense like a mortgage repayment or something smaller like a subscription to a streaming service, ensure you're paying as little as possible. It can have a big impact on the hip pocket."
Ms Innes' top ways to keep household bills under control.
Shop around. Regularly compare the price of things like groceries, energy plans, insurance policies and more. Switching energy or insurance plans is easier than you think and you could take advantage of better rates sooner.
Understand the rebates and concessions available to you. You may be entitled to a range of rebates or concessions that can help lower bills. Always let your provider or retailer know If your circumstances change, so you continue to receive discounted rates.
Search for discounts or hidden rewards. Make the most of hidden rewards or discounts that are available through your insurance policies, energy plans, mobile internet deals and more.
Wake up to waste. If you've been with the same provider or retailer for more than a year, ensure you're still on the best possible deal. If not, you may benefit from moving to another plan or product.
*Compare the Market survey of 1,000 people, conducted in November 2022.
For more information, please contact:  
Phillip Portman | 0437 384 471 | [email protected]
Compare the Market is a comparison service that takes the hard work out of shopping around. We make it Simples for Australians to quickly and easily compare and buy home and contents, car, pet and travel insurance along with energy products from a range of providers. Our easy-to-use comparison tool helps you look for a range of products that may suit your needs and benefit your back pocket.
Did you find this article interesting or helpful?