Antarctica travel insurance: exclusions to watch out for
All travel insurance policies have specific exclusions that may not be covered. Exclusions will vary depending on your insurer and policy, but in general, some common exclusions may include:
If you didn't disclose any pre-existing conditions. If you try to claim because of an incident related to a pre-existing condition that you didn't disclose, you may not be covered.
If you leave your belongings unattended. Your belongings will only be covered if you took the necessary precautions to keep them safe.
If you go skiing off-piste. Although you should get snow and ski cover if you plan on doing snow activities, most insurers won't cover you if you go skiing on an off-piste slope. All ski slopes in Antarctica are off-piste and may not be regulated or have the equipment to keep you safe.
If you go against the advice of your activity guide. If you ignore your cruise or activity guide's advice, your insurer may not cover you in the event of an accident.
If you were intoxicated when you were injured. Drug or alcohol-related injuries usually aren't covered.
Find out more about what's not commonly covered by travel insurance policies and visit our page on common travel exclusions. Your policy's Product Disclosure Statement (PDS) will specify any exclusions applicable to your cover.

Enjoying the adventure of a lifetime
Sea kayaking with whales
Go sea kayaking in the icy blue waters of Antarctica. Admire the humpback whales, penguins, leopard seals and other animals in their natural habitat as you navigate the tranquil seas. If you're not one for kayaking, you can also go on a zodiac cruise (a guided tour on a small inflatable boat) to explore the majestic seascape.
You can see pods of whales break up the surface of water and ice right next to you at almost any time of day. Kayaking is one of the best ways to whale watch.
Camping by starlight
If you love the outdoors, you'll love camping in Antarctica. You may have to wait until the weather clears up, but once you go, it'll be an unforgettable experience. You'll have the opportunity to get your hands dirty and build your campsite on a glacier.
Keep in mind that your tour guide may ask you to be environmentally responsible and stay at least two metres away from wildlife. However, the curious penguins in Antarctica may waddle right up to you while you camp.
The lack of people living in Antarctica means there's no pollution clouding the skies. Watch the sky change colours as it hits dusk and a speckled milky way lights up your night. It's possibly one of the best places in the world to stargaze.
Have a drink at the Vernadsky Research Base
The only bar in Antarctica exists in the Vernadsky Research Base. Scientists at the research base, who've taken up the hobby of distilling vodka, supply this bar. It's the southernmost bar in the world and a great place to have homemade vodka!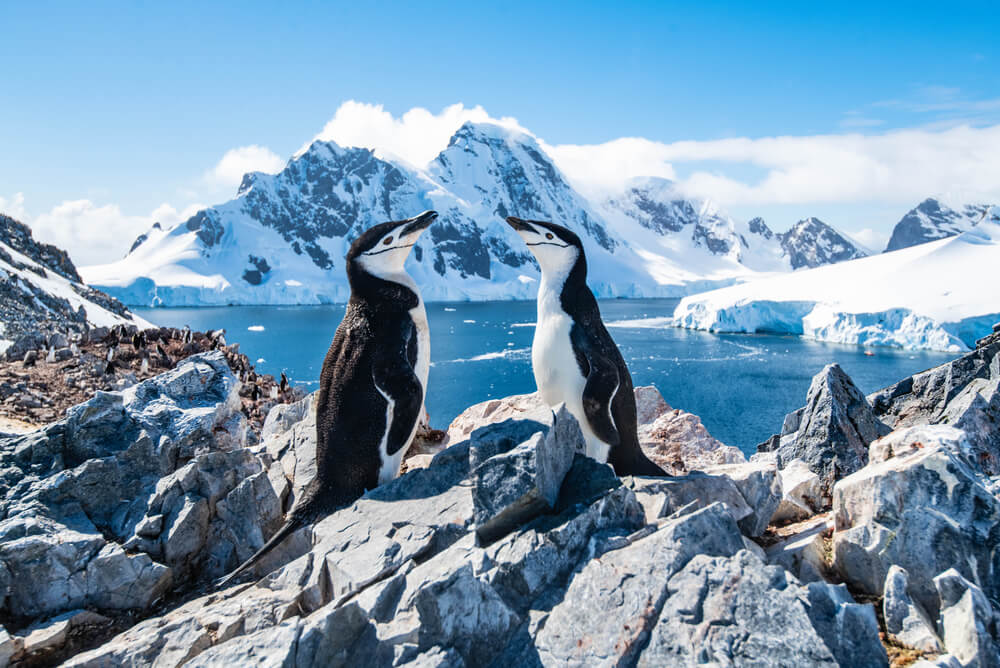 Is Antarctica safe?
While between 1,000 and 5,000 scientists live in Antarctica depending on the season, there are no permanent residents, towns, cities or commercial industries.
While it can be very safe if you go with a guide, it's the coldest place on earth. In fact, the top of Antarctica's ice sheets can reach -100 degrees Celsius. Extreme cold can put travellers at risk for hypothermia and frostbite.2
Antarctic operators may provide you with some safety equipment, such as proper boots and warm jackets. However, you shouldn't rely on this, and make sure you bring warm clothing. You should also take care to keep any gear and camera equipment warm as the extreme cold can freeze expensive equipment.
While severe weather can delay cruises, they'll still travel in moderate weather conditions. The journey from Australia to Antarctica can go over rough seas, which can put travellers at risk for seasickness. If you're prone to seasickness, make sure you bring sea-sickness pills prescribed by your doctor.
Top travel tips for Antarctica
1. Plan ahead
The best months to travel to Antarctica are in the summer months (between November and March) when the sun rises above the horizon to melt the ice for safe passage. These warmer months are ideal for penguin chicks, whale calves and seal pups, not to mention you'll enjoy it more as well, considering that you won't be travelling in freezing temperatures.
Make sure you have extra coverage for all activities that you intend to enjoy. Unlike other countries, many cruise operators won't allow you to travel unless you have travel insurance for Antarctica. So, it's a good idea to look up how much travel insurance you'll need to be able to board your cruise.
Make sure you have extra coverage for all activities that you intend to enjoy (i.e. adventure sport cover and cruise cover).
2. Pack well
Even though you're likely going in the summer months, it's still going to be extremely cold. Make sure you pack enough warm clothes and grip shoes. If you get seasick, prepare for the long ride to the Antarctic glaciers by getting everything you need to ease your seasickness.
Don't forget to bring a good camera as well – you're about to head on the adventure of a lifetime!
3. Be mindful of the environment
Antarctica's biodiverse environment and ecosystem can be destroyed quickly by human impact. While cruise operators and scientists work hard to educate visitors and minimise their environmental footprint, it's ultimately everyone's responsibility to protect this vulnerable natural reserve.
Antarctica is also the largest wilderness area on Earth and it remains relatively pristine.3 Littering is strictly monitored and regulated, and you may be asked to take other precautionary steps to minimise your impact on Antarctica.
4. Travel visa-free!
You won't need a visa to travel to Antarctica, but you'll need a valid passport and a permit. Your cruise operator will normally organise this for you; however, it's a good idea to double check with them just in case.
If you're considering a holiday somewhere other than Antarctica, check out our guide to travel cover for other countries.
Compare travel insurance for Antarctica
If you're looking to get travel insurance for Antarctica, try our travel insurance comparison service! You can compare a variety of policies from some of Australia's top insurers in minutes.
Simples!