Aussies appreciate a good thrill when they're abroad. Take the Nevis Swing in Queenstown, for example. It no doubt gets its fair share of Aussie visitors, who want to hit crazy speeds as they drop straight towards the ground, before being slung skywards on the upswing.
But you don't attempt any of this without a harness, do you?
Travelling requires bravery and smarts in equal parts, and you need to protect yourself as best you can – even if you have the wildest of hearts. Here's how you can experience all the thrills of adventure travelling, while still enjoying the peace of mind that comes with being covered by a travel insurance policy.
Do I need travel insurance?
Yes, we believe that every traveller – regardless of who you are, where you're going, or for what you plan on doing – needs travel insurance. Life is unpredictable, even more so when we're overseas in an unfamiliar setting.
Perhaps you plan on trekking to Everest Base Camp. Travel insurance could ensure you're covered if the unexpected happened on this once in a lifetime adventure. On the other hand, such a product could also protect you even if you slip and fall in a restaurant in Nepal before you set off on the trek!
No matter how experienced you may be in your choice of risk-taking or extreme sports, travel insurance can help if something goes wrong on your trip. It may not even be an accident on the ski slopes or the hiking trail; your flight may be cancelled due to bad weather, or you might fall ill before you can even get stuck into your adventure.
Travel insurance can help you prepare by covering these events and more. With the right policy, you can be covered for many things that could go wrong.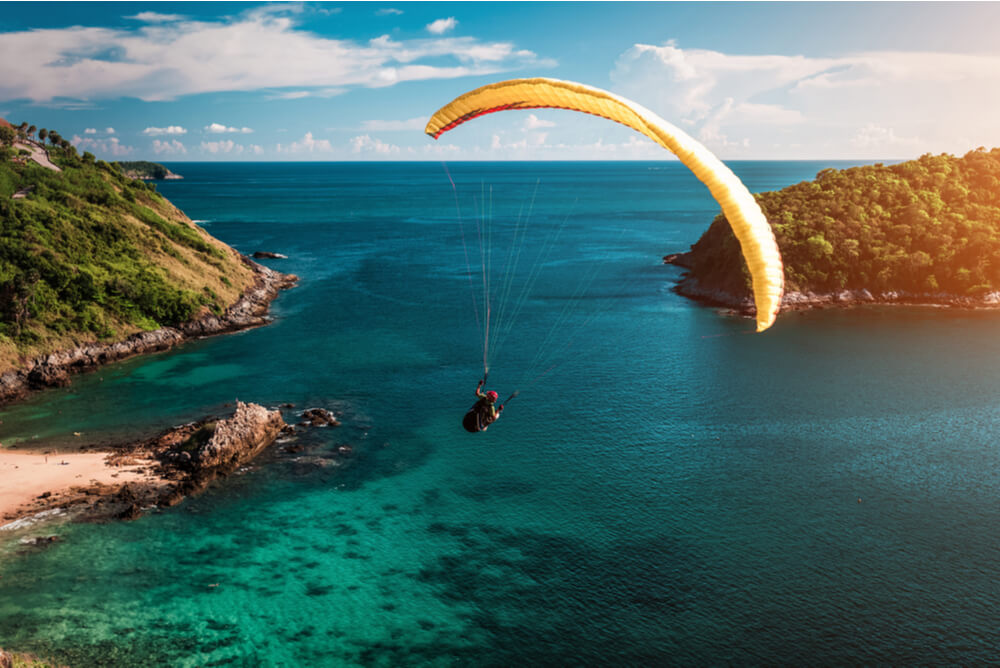 What should an adventure travel insurance policy include?
Some travel insurance policies may offer coverage for some adventure activities, like:
Different insurers and policies will cover different activities. While some insurers may happily cover you for some or all of the above while others may not. It's important to find a provider that offers insurance for all of your planned overseas activities.
Adventure travel insurance: exclusions and extras
Some activities may not be covered under your travel insurance policy, or the insurer may offer coverage as an optional extra on your policy. While these may differ between policies and insurers, here are a couple of activities that may fall under this umbrella:
Base jumping
Hang gliding
Hunting
Mountaineering / abseiling
Parkour
Professional and contact sport
Rodeos
Ski acrobatics
Wingsuit gliding
Your insurer may exclude all these activities, or they may exclude none of them. To make sure you're not barred from doing something you truly have your heart set on, you should look carefully at excluded activities in your Product Disclosure Statement (PDS).
It's not just sports and activities that can be excluded, either. Some scenarios and incidents are usually excluded from cover, including:
Unlicensed scuba diving. Your policy may not cover you if you're scuba diving without a license or a properly-licensed supervisor
Failure to wear headgear. If you weren't wearing the proper headgear, like a helmet when riding a motorcycle, at the time of the incident you're claiming for, your claim might be rejected.
Intoxication. If you were under the influence of drugs or alcohol when you were injured, even if the incident wasn't your fault, your injury and medical expenses may not be covered.
Pre-existing medical conditions. Depending on your health status, your insurer may restrict your ability to claim. Check with the insurer before getting covered to find out for sure.
Are there certain countries I can't travel to?
Some insurers may not cover travel to certain countries, and there are circumstances where you won't be able to claim. For example, if the Australian Government has issued a travel warning for a particular country after a terrorist attack, an act of war, a pandemic, or a severe weather event, any travel insurance claim you make could be denied if you knowingly travel there after the warning was issued.
Your ability to travel to any country will depend on a variety of factors (e.g. your passport, criminal history, visa status, etc). We are not able to advise you on what impact these factors might have on your individual circumstances. Once you have made the necessary arrangements, our area of expertise is helping you find travel insurance.
Top tips for adventure travel
Stay up to date with the weather
If your adventure is set in the great outdoors, it's probably a good idea to keep an eye on the weather through your destination's government meteorological service. You don't want to be out on the slopes or hiking through the wilderness during a storm.
Check for visa requirements
Check whether your destination has any entry requirements, including visas. There's no point planning an overseas adventure if you won't be allowed into the country.
Be aware of tourist scams
Some places are home to criminals who target tourists. According to the Australian Government's Department of Foreign Affairs and Trade (DFAT), these scams can include unlicensed airport taxis, pickpocketing and credit card skimming.1
Check Smartraveller's crisis page
The government no longer requires you to register your overseas trip with Smartraveller.2 However, the DFAT will activate a crisis page if situations abroad could affect Australian travellers. If the situation impacts you, you can contact Smartraveller for assistance.
Insure your next adventure today with us
If you're jetting off to your next adventure soon, you can get covered right here and now with our free travel insurance comparison service. Our tool is quick and easy to use. Simply enter in a couple of details and within minutes, you can compare and choose from a selection of insurance policies from a range of providers.
Get covered for travel insurance no matter what type of cover you're looking for.