Fancy a spot of adventure? New Zealand may be the ideal locale for you. Picture it – breakfast in the morning in a cosmopolitan cafe, then at midday you're driving across rolling green hills. By night, you reach mountains that stretch well beyond the horizon.
More than 1.4 million Australians made the trip across the Tasman to visit this lovely country in 2018-19¹. But even though it's our number one overseas destination, it would still be foolish to travel there without some protection.
Do I need travel insurance for New Zealand?
Even when you travel to a country as close to Australia as New Zealand, travel insurance is a smart idea. For example, out of the 1,444,200 Aussies who travelled to New Zealand in 2018-19, there were 126 cases of missing or stolen passports.¹
While this is still proportionately quite low, it could still happen to you.
In fact, there are a wealth of things that can go wrong on your trip that travel insurance can help you with. You might injure yourself out on the ski slopes or catch an illness and need to see a doctor.
Let's take a closer look at what travel insurance can offer you.
N.B. Coverage differs per policy. Read your Product Disclosure Statement (PDS) to determine what is and isn't covered.
Unforeseen medical expenses
You have access to subsidised healthcare if you incur medical costs for essential treatment, thanks to the Reciprocal Health Care Agreement (RHCA) between our country and New Zealand; you just have to show your Australian passport and Medicare card.
However, this agreement does not cover you for all medical expenses, just essential ones like hospital care and maternity services. If you incur any additional expenses for accommodation, evacuation or repatriation (i.e. transport back to Australia), you may have to pay those yourself, unless you have a suitable travel insurance policy.
For broader coverage, a travel insurance policy is your best bet to avoid significant costs. It'll mean you can visit a doctor to treat a stomach bug, pick up prescription medications, and more – at little to no cost. You should be mindful, however, that your insurance policy may not cover any pre-existing medical conditions and medical coverage varies from policy to policy. Find out more about coverage for pre-existing medical conditions and always remember to read the product disclosure statement (PDS).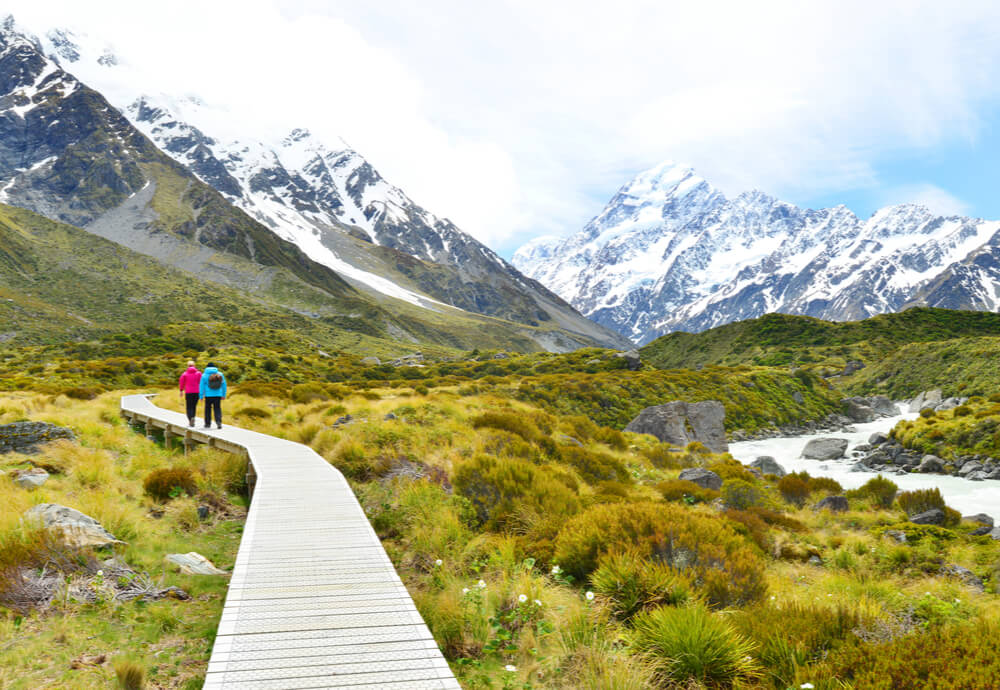 Guilt-free adventuring
While you're in New Zealand, you may want to try jumping off an Auckland tower tethered only to a cord or jump on the world's biggest swing near Queenstown. Perhaps you want to be truly daring and go white water rafting or attempt some mountain climbing. Whatever it is, you'll need to ensure the activities on your itinerary are covered by your travel insurance policy, just in case. Many policies offer optional coverage for adventure sports that you can add on to your policy (for an additional premium).
New Zealand is skiing and snowboarding nirvana. If you choose the right time of the year, you can spend days in the mountains racing down pristine white slopes with the sky forever surrounding you. Skiing is a somewhat risky activity, which is why insurers usually single it out on their policies as such, and some policies may outright exclude it from coverage. Because of this, you'll need to be certain that yours does cover this activity – even if it's as an extra feature you need to pay for. Find out more about skiers insurance.
If you're not sure whether your policy will cover your activities, check your PDS or call your insurer and ask.
Lost/stolen luggage and belongings
Losing your belongings can quickly ruin a perfect holiday, but if you take out insurance before you leave, you should be able to get reimbursed for your loss (usually up to a limit). That being said, keep in mind there are circumstances where you'll be unable to claim; for example, if you leave your luggage unattended and it's stolen.
If your passport is lost or stolen, you'll need to contact your insurer as well as the Australian consulate in New Zealand, as the consulate may be able to issue you with a replacement passport.²
Vehicle mishaps
New Zealand is blessed with some truly outstanding scenery across the north and south islands, as well as equally awesome driving roads for you to access. Hiring a car is a popular option for tourists wishing to explore as much of the country as possible. In the event you're in an accident and have to pay an excess to your rental car company, your travel insurer may cover the excess payment. However, this will depend on the circumstances and your level of cover.
Can you drive in New Zealand with an Australian licence?
Driving in New Zealand with an Australian licence is perfectly fine for your first 12 months in the country; after that, you'll need to apply for a New Zealand licence.³ Conditions may apply, though, so make sure to check this before you go.
Just be careful of ice, snow and other weather conditions you may not typically experience in Australia, and make sure you learn New Zealand's road rules before you get behind the wheel.
Learn more about international drivers licences.
Travel delays or cancellations
If your airline cancels or delays your flight and you miss a bunch of tours, you would normally be out of pocket with no recourse for getting your money back. Provided your delay was out of your control (e.g. a snowstorm in Otago, or an uncovered vehicle defect that means the airline needs to put you on a new flight), your insurer may be able to cover those costs for you. This will only be up to a certain value, though, and only if your airline hasn't already reimbursed you.
In the event you have to cut your trip short, you may be covered for losses you incur, such as cancellation fees or lost deposits. The chief reasons an insurer will consider this will be:
you or a close family member develops a serious medical condition
your business or home in Australia has been seriously damaged or destroyed
Natural disasters
New Zealand does experience its fair share of natural disasters, having been badly hit by earthquakes over the last few years, such as the 2011 Christchurch and 2016 Kaikoura earthquakes. The country experiences thousands of earthquakes every year, although only around 150-200 are actually strong enough to be felt.³
Volcanic eruptions can also be a risk in New Zealand. Major volcanos include Mount Ruapehu, Mount Tongariro and Whakaari (White Island), which erupted in December 2019.³
In addition to geological activity, you may also experience severe weather like snow, heavy rainfalls, fog and high winds at certain times throughout the year.
If you do run into issues abroad because of the weather or natural disasters, your policy may pay for medical expenses and lost luggage. It's not something you can plan for, but hopefully, this will give you a little peace of mind.
Check the Smartraveller.gov.au website before you leave to make sure there aren't any current travel warnings for the region you plan on travelling to.
What should my travel insurance policy for New Zealand include?
Hopefully, you're now aware of the importance of travel insurance, which – as we talked about earlier – can help you out of some sticky situations you may find yourself in when travelling. Allow us to impart a couple more bits of information about travel insurance for New Zealand.
As we mentioned above, extreme and winter sports may not be automatically included in travel insurance policies. However, you may find that some insurers offer cover for these sports as an optional extra on top of your standard policy.
If you're planning to participate in an extreme or winter sport, you should check if your insurance covers that sport. Simply contact your insurer to discuss this with them.
Travelling with kids?
The good news is you may not need to take out an additional policy to cover them. Many travel insurers include coverage for your kids under your policy (provided they're younger than a certain age) – just let your insurer know they're coming with you.
If they're travelling by themselves, however, you'll need to get them insured with their own policy.
What to do in an emergency
If you have an accident, do as you would in Australia and contact emergency services. The number is 111 in New Zealand.³
Once the situation has been resolved, get in touch with your travel insurer (ideally within 24 hours of the incident) and let them know what happened to begin the claim. They may even be able to help you get on top of the situation (like directing you to the nearest hospital or putting you in contact with an embassy). However, you may need to provide your insurer with a copy of the police report or medical bills to make a claim, so make sure you ask for one when reporting the incident.
You can also contact the Australian High Commission or Consulate-General in New Zealand for consular help (e.g. you've lost your passport, or you require emergency legal representation). Just be aware that consular assistance is limited. You can find out what the government can and can't help you with, as well as the details of the High Commission and Consulate-General in New Zealand, on Smartraveller.
Top travel tips for New Zealand
Be prepared for any weather
New Zealand's climate is known for changing at the drop of a hat, and can be severe with heavy rains and flash floods.³ You can stay up to date with the weather through New Zealand's MetService.
Australians don't need visas
Provided you're (a) travelling on your Australian passport or current Australian resident return visa, and (b) don't have any criminal convictions or haven't been deported from any country, you can visit New Zealand without a visa or permit.³
However, if you're an Australian permanent resident (i.e. don't have an Australian passport), you'll need to apply for a New Zealand Electronic Travel Authority to enter the country.
You need more than a driver's licence to purchase alcohol
Unfortunately, an Australian driver's licence isn't an acceptable identification by New Zealand law.³ If you want a cheeky drink across the Tasman, you'll need to provide your passport or a current New Zealand driver's licence.
You still need to check customs before entering New Zealand
Like Australia, New Zealand has strict customs rules. You can check what you can and can't bring into the country on the New Zealand Customs Service website, and it can't hurt to double-check Australia's own customs rules before you return.
Confused? Compare travel insurance for New Zealand with us!
What is and isn't covered can vary significantly from insurer to insurer, which is why it pays to compare travel insurance policies. Don't worry; we'll help you do just that in minutes with our simple travel insurance comparison service.