What is travel insurance for families?
While 'family travel insurance' isn't an individual product, you can still get travel insurance for families that covers you, your partner and your dependent children under the same policy. This type of travel insurance typically has higher cover limits due to the number of travellers it covers.
Most travel insurance policies will cover dependent children at no extra cost if they're under a certain age limit (typically 21 to 25 years of age), named on your policy, are financially dependent on you and not in full time employment. These conditions usually apply to both international and domestic travel insurance.
Be sure to check the full details in your Product Disclosure Statement (PDS) to understand the inclusions, sub-limits and exclusions of your level of cover.
Do I need travel insurance for families?
If you're taking the kids on a family holiday, there's always a chance that things can take an unexpected turn. One of the kids could break a bone on a water slide in Bali and need to go to the hospital, your luggage could get lost in transit on your way to New Zealand, or another driver could dent your rental car.
Travel insurance for families gives you the peace of mind that everyone on the trip is covered if things don't go as planned. Plus, taking out travel insurance for families is often cheaper than buying a separate policy for each person travelling.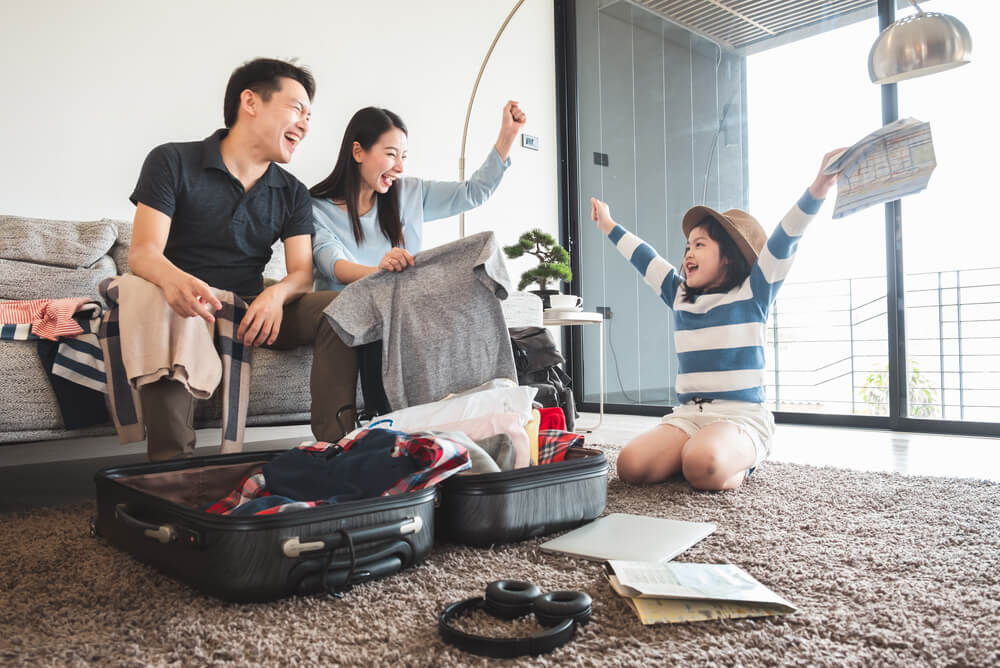 How much does travel insurance for families cost?
The cost of your family's travel insurance is affected by factors including (but not limited to):
The level of cover you choose
The number of travellers on your policy
Where you're travelling
Your trip's duration
The activities on your itinerary.
As travel insurance automatically covers dependent children under their parent's policy, the cost rarely differs between those who travel with or without children, though be mindful of age limits.
However, if a minor is travelling alone they'll need to be covered by their own single policy.
Just as you should shop around when buying flights, it's important to do the same when purchasing travel insurance. Thanks to our free service, you can compare a range of travel insurance policies in one place.
Which situations should my policy cover?
From comprehensive cover for families to policies that just cover overseas medical expenses, there are different levels of cover for any kind of trip.
To help ensure your travels run smoothly, it's a good idea to have cover for the following.
Medical expenses
Without proper cover, you'll need to pay the medical bills yourself if anyone in your family falls ill or is injured during the trip. Medical treatment overseas can be costly (particularly in countries like the USA), not to mention the cost of a medical evacuation or repatriation.
Including medical cover in your travel insurance is a good idea, even when you're visiting a country with a Reciprocal Health Care Agreement with Australia. These agreements are often limited to emergency treatment only and may not cover the full cost of your medical expenses.
Travel insurance can be crucial when it comes to providing cover when you're sick or injured, so you aren't left with major out-of-pocket expenses. Be sure to thoroughly check your policy's PDS to know exactly what you're covered for before purchasing.
Theft or loss of belongings
With the right insurance in place, if your belongings are stolen, lost or damaged, you can claim on your policy and you may be reimbursed for the value of your lost luggage. This includes your valuables, cash, credit cards and travel documents. Just make sure you report the incident to your insurer, the airline and local police within 24 hours. However, if you leave your belongings unattended in public, you won't be covered.
Your policy will also have limits and sub-limits, so read the PDS to understand how much you can claim.
Cancellations and delays
Postponed flights and missed tours are common. However, in many cases, you can be compensated for this misfortune by ensuring your travel insurance policy covers lost deposits and cancellations if you aren't compensated by your airline, or accommodation or event booking provider.
Travel insurance for families: Exclusions and what to watch out for
Travel insurance policies come with common exclusions, including things like:
Pre-existing medical conditions (though some insurers do offer cover for certain pre-existing conditions)
Lost, damaged or stolen belongings that were left unattended
Claims due to unlawful or reckless behaviour, intoxication or drug use
Unapproved high-risk sports or activities (e.g. snowboarding without snow sports cover)
Travelling against government advice (refer to the Smartraveller site for travel warnings)
Acts of war, terrorism or civil unrest.
Cover for certain pre-existing medical conditions and high-risk sports or activities can be added to most travel insurance policies at an extra cost. Before purchasing any policy, ensure you read and understand all exclusions on the PDS.