Expert tips for choosing the right travel insurance for the USA for you
Our travel insurance expert, Adrian Taylor, has insider knowledge on choosing the right travel insurance for the USA.
Declare your pre-existing medical conditions
Make sure you declare any pre-existing medical conditions so your travel insurance company can assess your application and whether your conditions can be covered. Medical treatment in the USA is incredibly expensive, so understanding any limits of your cover is vital.
Check if you're covered for COVID-19
Many insurers will include cover for COVID-19 (coronavirus) as part of their top tier policies. However, always check the PDS to understand a policy's inclusions, exclusions and limits regarding COVID-19 cover so you don't get caught out if you fall ill.
Frequent travellers should consider annual cover
If you plan to visit the USA or other international destinations multiple times in a single year, it could be worth taking out annual multi-trip cover instead of a single trip policy. Travellers who venture overseas more than three or four times a year may experience greater value from annual cover.
All about travel insurance for the USA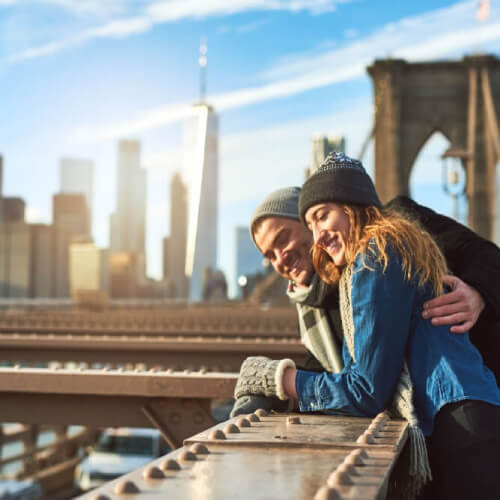 Do I need travel insurance for the USA?
Travel insurance is a great idea for every trip you take overseas, no matter the destination. However, in 2021-22 the USA saw the third highest number of Aussies needing consular assistance and the fifth highest for illness and hospitalisation cases.1
Smartraveller recommends a comprehensive travel insurance policy for the USA due to the high cost of medical treatment, even for minor issues.2 However, even a basic level of cover can provide benefits for medical costs, as well as personal liability cover in the event you injure another person or damage their belongings.
What should my travel insurance policy for the USA include?
As mentioned above, medical care is expensive in the USA, so you should consider including medical cover in your travel insurance policy, even if you don't think you'll get sick or injured.
If you're planning to get active during your visit to the USA, consider adding cover for extreme and winter sports as an optional extra, as insurers may not automatically cover these activities.
To know what your policy covers, including its limits, sub-limits, inclusions and exclusions, read the PDS before purchasing a policy. Here are a few other ways travel insurance plans can help you during your visit to the USA.
Dealing with theft and lost belongings
Petty theft and pickpocketing are ongoing issues in the USA. In 2021-22, there were 253 cases of lost or stolen passports in the USA, the highest in any country for Australian residents.1
It's important keep a close eye on your valuables; however, luggage cover may protect you from the cost of replacing stolen, lost or damaged belongings, including your electronics, passport, credit cards, cash, travel documents and other personal effects.
Medical treatment and medical expenses
While the USA has a reputable healthcare system, receiving treatment in a medical emergency can be incredibly expensive. Australia and the USA don't have a Reciprocal Health Care Agreement, nor are you covered by Medicare or private health insurance overseas. But travel insurance may help to cover the cost of medical bills and overseas emergency assistance.
Travel insurance may also cover you if you need medical evacuation or repatriation from the USA, which could cost hundreds of thousands of dollars out-of-pocket.
Driving in the USA with an Australian licence
If you plan on driving across America, you'll need a valid Australian or international driver's licence.
If you've hired a rental vehicle, you need to be careful to observe the road rules of whatever state you're in. A travel policy may help you pay the rental car insurance excess in the event of an accident, provided rental vehicle excess cover is included in your policy.
Trip cancellations and delays
Flights that don't arrive on time are a common reason for travel delays and cancellations. Appropriate travel insurance could mean the difference between getting reimbursed for travel delays and swallowing the cost of cancellation fees, lost deposits and missing important activities.
It can pay to get travel insurance as soon as you make any deposits or pre-book accommodation so you'll be covered for events which could disrupt your travel plans.
Natural disasters
Natural disasters have been known to occur in the USA, including earthquakes, hurricanes, tornadoes, floods and wildfires. Check Smartraveller regularly before departure in case of a disaster, and while overseas keep an eye on local media and travel alerts. When you buy travel insurance, consider choosing a policy that includes natural disaster cover.