The key to enjoying a healthy relationship often involves doing things together – and travelling with one another is no exception. Whether it's your husband, wife or partner, exploring the world alongside your significant other can strengthen bonds while sharing some treasured memories together.
Not only is pairing up a great way of seeing the sights abroad, but it's also a good way of exploring affordable travel insurance options. Joint travel insurance policies are designed to cover travellers who may be faced with unexpected emergencies, which can often lead to hefty expenses.
Whether it's a quick getaway, a multi-trip holiday or your honeymoon, finding the right cover for the two of you is important, and it may save you money.
What is travel insurance for couples?
Travelling as a couple is unlike roaming the globe solo. You'll have company, and you're both responsible for keeping your trip on track. Travel insurance for couples is intended to cover two people under one policy and can often work out cheaper than two single policies.
Travel insurance for couples isn't just an option for lovebirds; it's also available to travel companions sharing the same itinerary on their trip. Most insurers will allow family or friends who are travelling together for the entire trip to purchase just one policy to cover both individuals.
You may also opt for annual travel insurance for couples – which allows you to be covered for a 12-month period, for any number of trips up to a certain maximum trip duration.. For example, you may purchase an annual travel insurance policy with a maximum trip duration limit of 30 days, and then travel as many times as you like in a 12-month period and be covered by this policy as long as the trip length isn't over 30 days for any trip.
Choosing the right level of cover is a smart step for travelling pairs, and can provide assurances on your health, plans, and possessions. Like other types of travel insurance, travel insurance for couples can typically be broken down into three levels of cover:
| | | |
| --- | --- | --- |
| Basic/saver | Mid-range/Essentials | Comprehensive |
| Covers you for medical costs up to a limited amount, limited dental treatment, basic luggage and travel documents cover (capped). | Additional coverage costs for medical (capped), standard dental treatment, standard luggage and travel documents cover (capped). | Premium cover for medical costs (capped), high-level cover for dental treatment, top luggage and travel documents cover (capped). |
Depending on what level of cover you and your acquaintance choose, common claims on travel insurance policies relate to medical expenses, theft/loss of property, and cancellations/delays.
Medical expenses
Theft/loss of property
Cancellations and delays
If you become unwell or injured on holiday, having cover for medical expenses can include hospital accommodation, surgery, dental (up to certain sublimits) and prescription medication.
Reimbursement for damaged, lost, or stolen luggage and personal possessions. You should always report an incident to your insurer, the airline and local police within 24 hours.
Generally covers expenses related to travel plans that are affected by illness or unforeseen circumstances. Postponed flights, missed holiday tours and cancellations are common occurrences with travel.

You may require cover for unanticipated accommodation, food, and transportation when things don't go according to plan. Always check the Product Disclosure Statement (PDS) to ensure you have all the cover you need.
What's the difference between a single and couples travel insurance policy?
The main difference between acquiring a travel insurance policy for two people and purchasing two single policies is the costs involved. Couples are likely to save money and time for choosing to be under one inclusive policy, rather than two separate policies.
Depending on what level of cover and insurance provider you choose, selecting a couples travel insurance policy may ease the burden of having two separate policies. You can both know exactly what you're covered for and there will be no surprises if you need to make a claim overseas.
Benefits of travel insurance policies for couples
There are many advantages of being under one policy, particularly if you choose a higher level of cover, such as comprehensive. For example, your policy could potentially have a cheaper premium and you could save time by dealing with just one policy. Some common comprehensive policy benefits may include:
Cover for medical and hospital expenses: Peace of mind in case you or your partner fall ill or injure yourselves overseas.
Cost/time effective: Save time and money under one policy. Less stress with cover documents as one policy number applies for the both of you.
Accidental death benefit: An amount paid if you pass away during your travels.
Rental vehicle excess: Excess fees paid for by insurer in case of a car accident.
Loss of income and permanent disability: Some policy brochures offer benefits if you are injured abroad and can't return to work for some time.
Transportation arrangements: Generally paid if your flight or transport is cancelled or delayed and will arrange the necessary transportation to get you where you are heading.
Optional cover for adventure sports and activities: Handy for couples venturing to places where the risk of injury is heightened (i.e. snowboarding and adventure holidays).
Interesting facts about Aussies abroad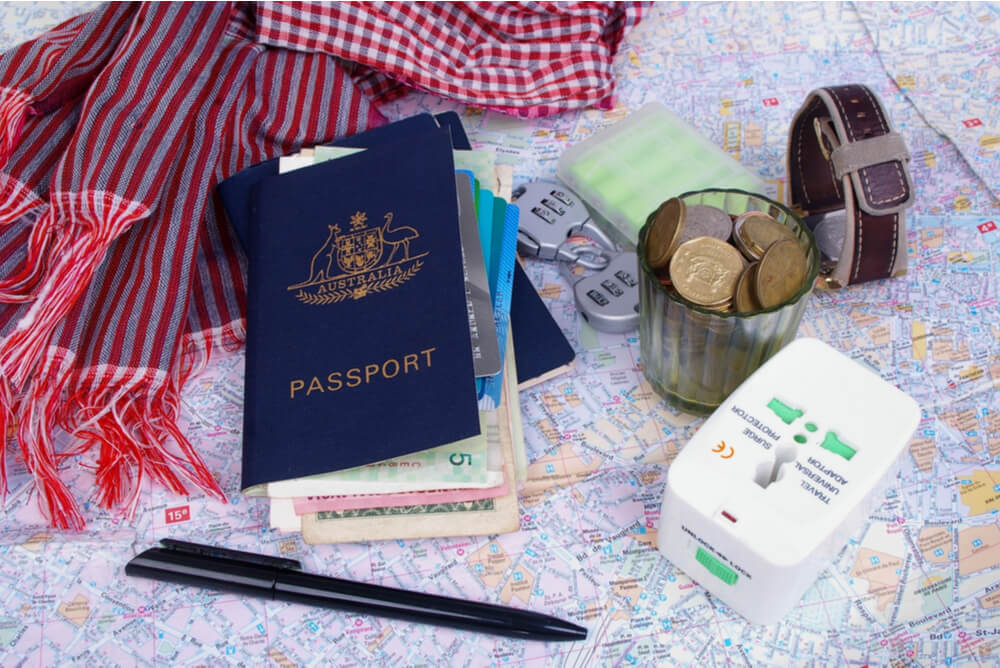 In 2018 and 2019, the Australian Government's Department of Foreign Affairs and Trade assisted 1,506 Australians who were hospitalised overseas.1 The top countries where people were hospitalised abroad included the United States, Thailand, Vietnam, Indonesia and New Caledonia.1
What's more, results from the Insurance Council of Australia & DFAT Smartraveller Advisory Awareness Report found that in 2018 and 2019, 10% of Aussies who travelled abroad weren't insured.2 Around 75% of these people said they didn't take out insurance because they thought they'd be safe.
According to tourism research Australia, the top-visited countries by Australians in 2019 were:3
But in terms of countries Aussies were searching for online, based on country pages for the Department of Foreign Affairs and Trade, were:1
In 2019, 39,790 passports were reported lost or stolen.3 The countries overseas where most passports were reported lost included the United States, United Kingdom, New Zealand and China.  These figures tend to highlight the importance of having travel insurance and the number of people reliant on such an essential aspect of travelling.
Common exclusions and helpful information
While having the appropriate level of cover for you and your beloved half is a step in the right direction, there are some exclusions you should be aware of when taking out travel insurance. Similar to other policies, there are activities and circumstances that may affect your cover. As such, the importance of reading and understanding your product disclosure statement (PDS) to know exactly what you are and aren't covered for is paramount.
Common exclusions include:
base jumping;
injuries while partaking in winter sports (usually you'll need to pay extra for winter sports cover);
riding a motorcycle or driving without a licence; and
your hotel/tour operator goes into financial receivership.
You will also not be covered if you:
undertake in illegal activities (break the law);
are under the influence of drugs and alcohol;
ignore official government warnings (natural disasters or civil unrest); and
leave your possessions unsupervised.
Be aware that pre-existing medical conditions can impact the cost of your desired insurance cover. Couples should ensure they always disclose and declare a pre-existing medical condition to their insurer.
Frequently asked questions
Compare couples travel insurance with us
Travelling as a couple shouldn't have to be worrisome. Let's face it; more important things like trekking the Andes or visiting that favourite spot in Bali should be the only thing on your mind when holidaying.
However, if plans do take a turn for the worse, seeking the right level of cover is a wise decision, and it gives you the peace of mind you'll need to fully appreciate your trip away.
If you and your partner, you and your best friend or even your cousin are travelling abroad, it's a good idea to obtain quotes for a variety of different policies. With our free travel insurance comparison service, you can find policies in just minutes, from a range of providers. Simples.