When lava spews and ash clouds form, your travel plans may be affected.
On this page, we'll explain what travel insurance for volcanic eruptions is, what it covers and how it could save you money.
Does travel insurance cover volcanic eruptions?
Travel insurance that covers volcanic eruptions reimburses some of your financial losses if there's an eruption that sends your travel plans into a tailspin. This type of cover comes standard in some travel insurance policies. For other policies, you'll need to purchase it as an add-on.
Volcanic and ash cloud travel insurance generally covers:
flight delays and cancellations, including tours
travel delay expenses, like accommodation and food
medical expenses incurred while overseas
overseas emergency evacuation.
A common scenario:
You're sitting in Australia, and news filters through that a volcano has erupted near your upcoming travel destination. Naturally, you're a little dismayed and decide to cancel the trip. Are you covered?
If you have travel insurance for volcanic eruptions and there's a relatively short delay due to volcanic activity, it's unlikely that you'll be covered because you can just re-schedule.
However, your insurer should cover you in cases where your flights are cancelled or significantly delayed, your activities and tours are cancelled, or you lose travel deposits and accommodation booking. Your insurer may also cover you if you can't reschedule.
Volcanoes are unpredictable in most parts of the world, which is why insurance is so important. In recent history, eruptions in Iceland and Bali wreaked havoc on holiday-goers and international travellers.
Disclaimer: Check your Product Disclosure Statement (PDS) as policies differ between insurers.
Case study: Bali in November 2017
In 2017, Mount Agung (an active Volcano in Bali) erupted. As a result, Bali's airport was closed, leaving thousands of tourists unable to fly in or out of the iconic tourist hotspot.
Many impending holiday-goers had their holiday cancelled while Bali tourists were left stranded amongst the chaos with extra costs (e.g. flights, accommodation, food, transport) added to their travel expenses.
Fortunately, the tourists who purchased travel insurance that covers volcanic eruptions (before the volcano erupted), were covered for these added expenses.
N.B. Not all policies will cover all related costs from a Volcano eruption. You can find out more about a travel insurance policy through its PDS. When you compare travel insurance online with us, you can browse the PDS of each policy before you decide to buy.
When won't your travel insurance cover volcanic eruptions?
Look out for exclusions (events or incidences that aren't covered) in your policy, when it comes to volcanoes this may include:
voluntarily cancelling your trip. Unless you're at medical risk, your flights have been cancelled or significantly delayed, you usually can't cancel your trip and claim. Simply cancelling because you don't want to go anymore is not a valid reason. Find out more valid circumstances where you can cancel and claim; and
ignoring travel warnings. If you act recklessly and do not heed government (or other) warnings, then it's unlikely your insurer will payout your claim.
Remember to read your insurance policy's Product Disclosure Statement (PDS) to know exactly what you are and aren't covered for.
Get cover when you book your trip
You can only take out travel insurance that covers volcanic eruptions before the event occurs. So, if a volcano erupts before or during your trip, and you don't have travel insurance that covers volcanic eruptions, then it's too late to get covered. You'll be left to carry any costs incurred.
As such, it's important you take out a travel insurance policy when you book your trip.
Where in the world are volcanoes erupting?
Do you have a future travel destination in mind? If so, check if it's volcanic, so you can get covered. Here's a brief list of some active volcanoes in or nearby popular travel destinations:
N.B. This is not a comprehensive list as the activity of volcanoes is ever-changing. Please check Smartraveller for an up-to-date list.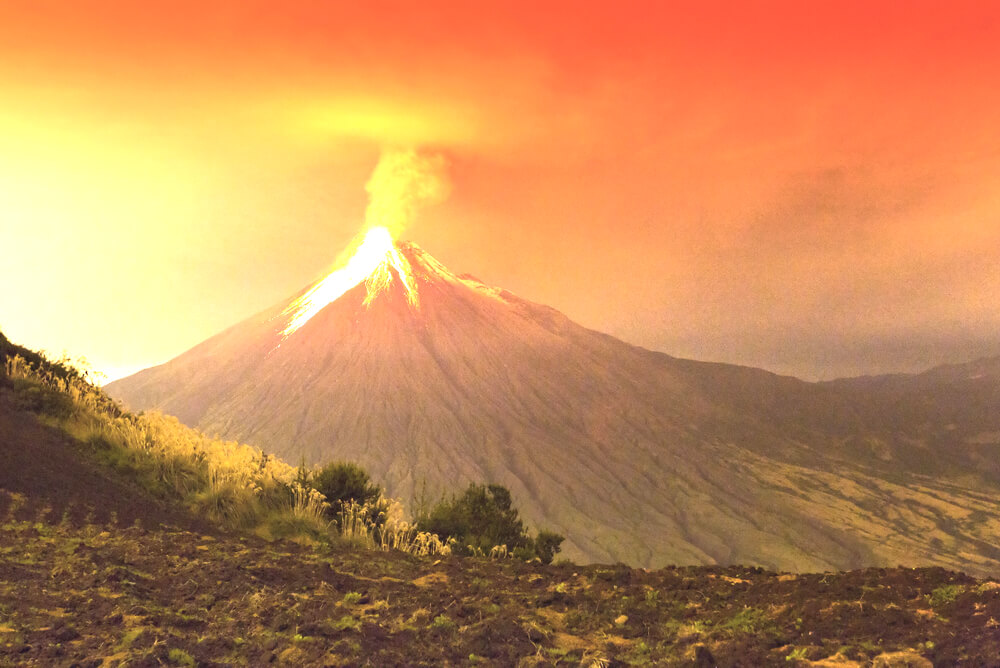 Frequently asked questions
Don't let your travel plans go up in smoke. Get travel insurance today!
If you're travelling to a country with a history of volcanic eruptions, it's important to take out travel insurance that covers volcanic eruptions.
Through our free travel insurance comparison service, you can compare a range of policies from a host of providers in just minutes; this means you can view several quotes on one page. Compare now!