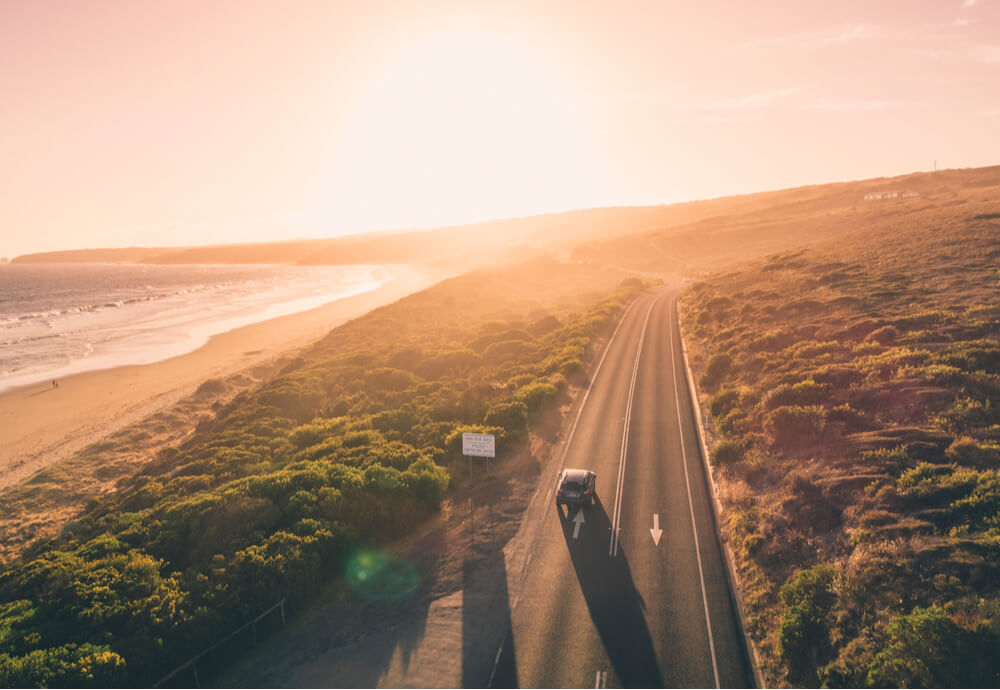 Some drivers spend a lot of time behind the wheel, clocking up the kilometres every year in their dependable workhorses.
Most Australians, according to our data, drive 10,000kms to 15,000kms a year. But for those who drive more than 100,000kms a year, what's their choice of wheels?
The car models driven the furthest throughout the year
Perhaps unsurprisingly – given how popular the brand is around the world – Toyota takes the cake with the humble Corolla in first place. The mighty Hilux helps cement Toyota's place as the most popular brand for heavy driving by taking out second place, while the Aussie icon the Holden Commodore lands in third.
Driving 100,000kms a year is equal to driving 1,923kms a week – more than enough to drive from Brisbane to Sydney and back again every week on the M1. Keep in mind, 100,000km is enough to drive along the entire coastline of Australia 2.7 times – no mean feat for a family sedan!
Beyond the top three, there are two more Toyotas; the Camry and the RAV4. Other brands in the top 10 include Mazda, Nissan and Ford.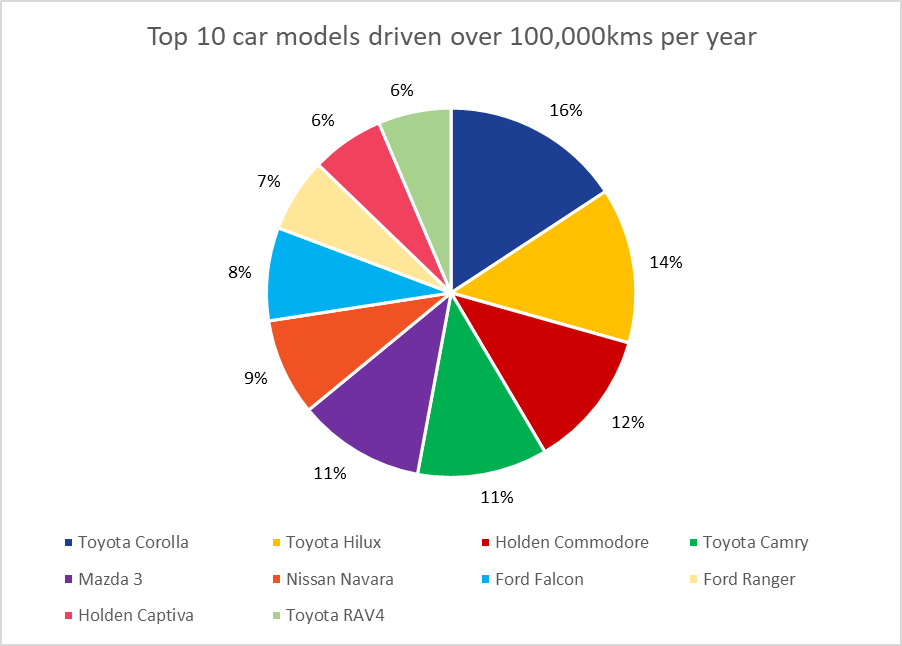 Note: Percentage within top 10 car models where customers stated the vehicle was driven more than 100,000kms per year. Figures based on car insurance sales through Compare the Market from 01/01/19 – 18/06/21
Interestingly, there are more 2WD sedans than 4WD's in the top 10. The top brands were Toyota with four models while Ford and Holden both had two models each.
Also, out of every customer who told us they drive 100,000kms or more per year, 88% stated this was for private use and commuting to work only. Less than 10% were for private and business use, while business only use accounted for less than 2%.
What impact does your annual driving distance have on the cost of insurance?
The distance you drive your car every year can have an impact on your premiums, whether you have a pay-as-you-drive policy (also known as a low-kilometres policy) or not.
Some providers may charge more if you rack up the kilometres every year.
As an example, we took a hypothetical 40-year-old male living in Brisbane driving a white 2018 Toyota Corolla four-door sedan, and ran these details through our car insurance comparison service. Every detail was kept the same except for how far the car is driven every year.
Distance
5,000kms
15,000kms
50,000kms
100,000kms
Average price
$638.74
$739.21
$870.38
$870.38

Notes: average prices represent a 40-year-old Brisbane-based male driving white 2018 Toyota Corolla comparing comprehensive car insurance quotes accurate as of 30/06/21. The Corolla is a four-door sedan automatic with no modifications, factory extras, hail damage or finance. It is garaged, there are no age restrictions on other drivers and no-one younger than 40 will be driving the vehicle. The driver has a NCD rating of 1. Only policies with an excess payment of $900 were used in calculating the average costs.
For those on pay-as-you-drive policies, driving too far without updating your policy can sting if you need to make a claim. Compare the Market's General Manager of General Insurance, Stephen Zeller, explains.
"If you're on a low kilometre policy and drive too far, insurers may charge an excessive kilometres excess (also known as an outside odometer reading excess). This is a type of excess payment which is the difference between the cost of your policy and the price of cover if you had listed the higher number of kilometres originally."
This excessive kilometres excess will be charged on top of any other excess payments, but it can be avoided.
"If you know you're going to exceed the annual kilometre limit set, you can contact your insurer to increase your kilometre limit. This may increase your premium, but it's likely to be a better option than paying an additional excess."
Looking for car insurance? Compare car insurance with Australia's biggest car insurance comparison website.
Did you find this article interesting or helpful?