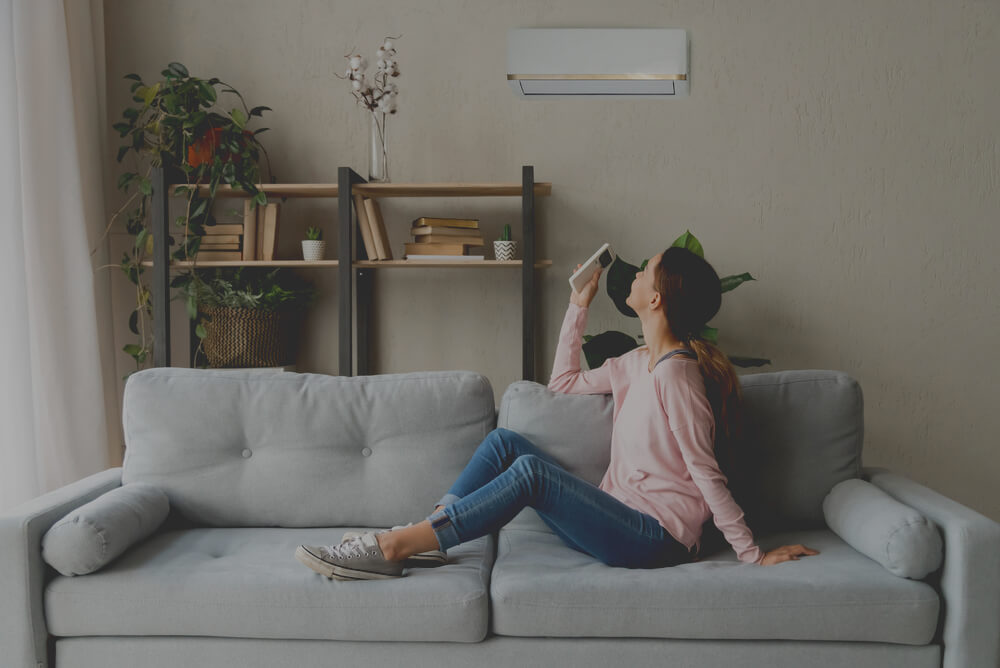 You can't control the seasons, but you can control your air conditioner.
So, before you hit the power button on your aircon remote, you may want to think about the consequences.
After all, the way you heat and cool your home not only affects your comfort and mood, it can also have a significant impact on your energy bill.
So, what's the best temperature for air conditioning?
Whether you're at home or in the office, the ideal temperature of your AC can often be a hotly debated topic. So, let's have a look at some common recommendations for how warm – or cool – you should set your thermostat.
When it's hot
Avoid blasting your home on a colder setting; it'll only guzzle up energy and increases the cost of your bill. Set your thermostat between 24-26 degrees on the cooling function on hot days.1 Replace switching on your air conditioner (AC) with ceiling fans and let the cool breeze in at night (if there is one).
When it's cold
To determine what temperature to put your heating on, let's look to one of the coldest places in Australia, Canberra. According to the ACT government's act smart website, they recommend setting your thermostat to 18-20 degrees on the heating function.2 Keep the heat in by sealing gaps that let warmer air out and cool air in.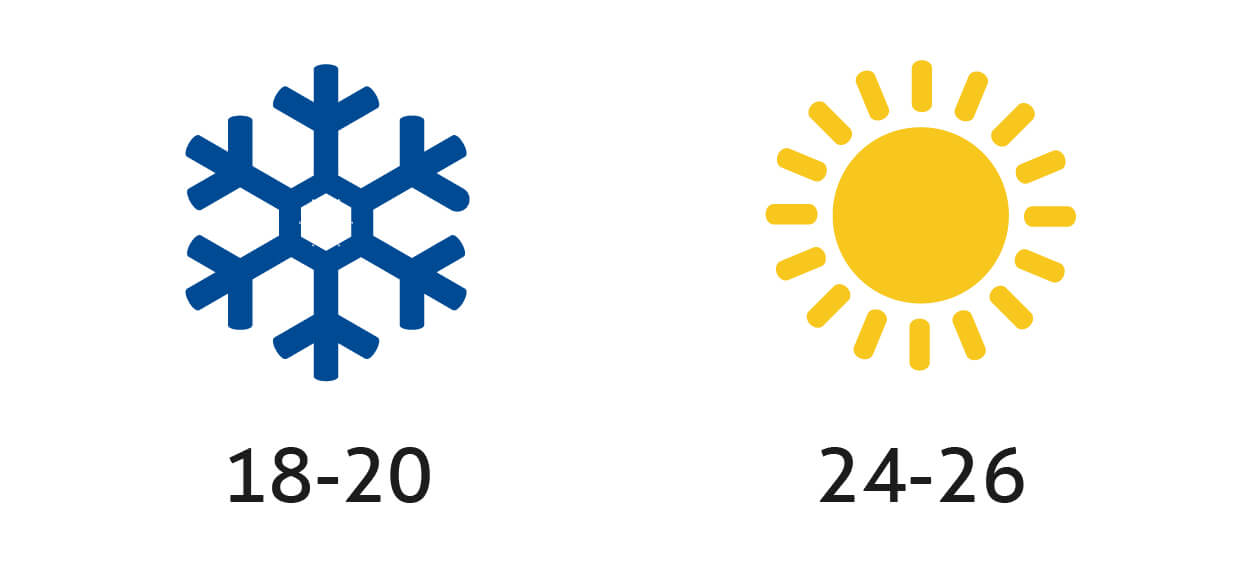 Degrees of difference: Temperature settings and your energy bill
According to the Department of Energy, a one-degree change can increase costs by 10%.3 For this reason, you should consider setting your thermostat to the recommended temperatures above. Other factors that may determine your air conditioner/heater running costs include:
your frequency of use
size or capacity of the air conditioner/heater
energy-efficiency rating
your energy retailer's usage rates.
Which air conditioner is best for your home's heating and cooling needs?
It'll depend on your circumstances. Let's compare four standard household air conditioners (both air and evaporative).
Portable air conditioners (low cost). These are the AC's you can move around and plug into the wall. While they're a cheap option, they're not very energy efficient or effective compared to more expensive types. An evaporative cooler uses less energy than most air-cooling systems. Prices may range from $100-$1000.
Window air conditioners (low to medium cost). This option is a little outdated, but still a viable option for the budget buyer and if you have a suitable window for installation. Prices may range from $300-$1,500.
Split system air conditioners (medium to high cost). The split system comes in two units. There's the rectangular part mounted inside and the compressor unit outside. A popular option for Aussies, they're generally the most energy-efficient AC. You may buy one for as little as $500 and as much as $5,000.
Ducted air conditioners (high cost). A common type of AC in newly built homes. Also known as central air conditioning, the air comes out vents. Price generally exceeds $5,000.
So, which one is suitable for where you live? Well, you'll need to consider the conditions around you:
I live in a warm climate. You probably need a split system or a ducted air conditioner – if you can swing the extra bucks. The other options may not cut it in a heatwave. If you don't feel the cold, you could probably go for an AC without the heating function.
I live in a cool climate. If your winters get harsh, you'll need a reliable AC for heating. A split system or ducted AC will suit most homes; however, the size will vary. They're not the cheapest options, but they're typically the most energy-efficient, eco-friendly and effective.
What is reverse-cycle air conditioning?
Reverse cycle means the AC can heat and cool. They use a refrigerant cycle to absorb warm air from outside and make it cool. They also use a reverse refrigeration cycle to suck in outside cold air and make it warm. Also known as a heat pump, they come in different types (e.g. portable, split system and ducted).
What size air conditioner do I need?
When it comes to air conditioners, bigger isn't always better; but neither is smaller. To get the right-sized air conditioner for your home, you can use an online calculator or consult an expert. They'll give you a kW (electricity) figure based on the four considerations listed below:
The size of the room. When you go to the supplier, it'll pay to know the length, width and ceiling height of the room or space. After all, you don't want to end up with an AC that makes the room too hot or cold, or not hot or cold enough!
Insulation. Ceiling, wall and floor insulation can have a massive effect on air conditioning. If you don't have roof insulation, consider having some installed, because it could save you on running costs.
The geographic location. Do you live in a warm climate like North Queensland? If so, you may need a more powerful air conditioner (cooling) then people who live Tasmania.
The direction of the sun. Is your room or window north or west facing? It can make a massive difference in the summer (when the sun is glaring in) during the afternoon.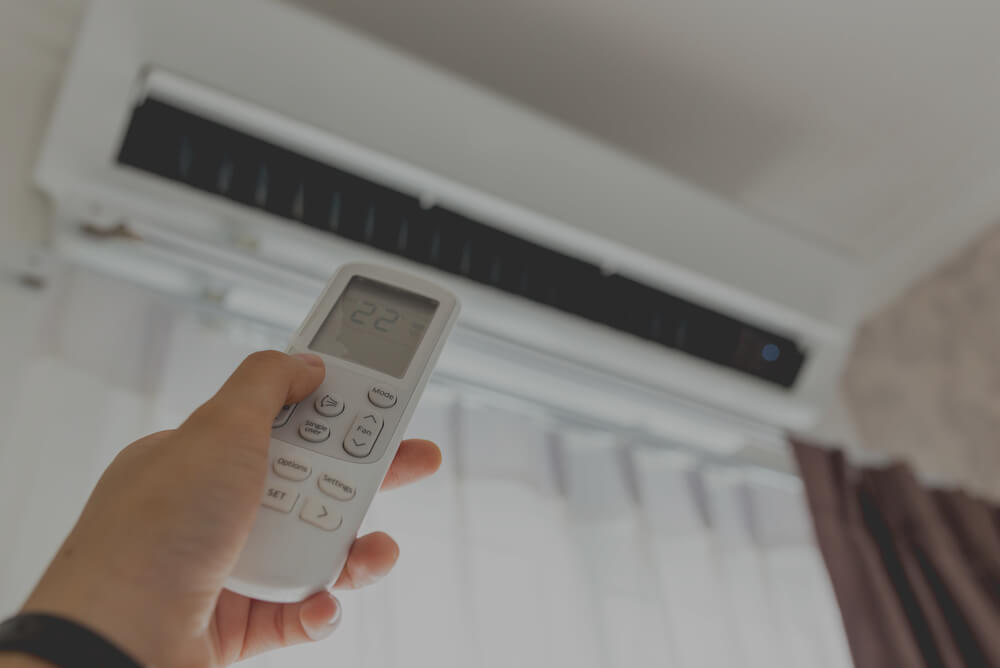 Do air conditioners need servicing?
Yes, a yearly service from a licenced technician is typically recommended. However, an annual or half-yearly filter clean should ensure your AC runs efficiently. Check your product manual for directions on cleaning; some filters are reusable while others will need replacing.
Compare energy plans and save
It's not only temperatures that vary; prices do as well. That's why you should compare energy plans.
We know you may be thinking 'it's too hard.' Listen, we make it easy. It's a simple process that won't interrupt your supply, and it could help you save a lot of money over many winters and summers.
Try our free comparison tool to compare a range of energy providers, and if you find a better deal, you can switch!
Sources:
Australian Government. Energy made easy. Summer is coming. Air conditioning. 2017. Accessed October 2020.
ACT Government. Act smart. Heating your home. Reduce the thermostat. Accessed October 2020.
Energy.gov.au. Heating and cooling. Buying, installing and maintaining an air conditioner. Operate efficiently. Accessed October 2020.
Did you find this article interesting or helpful?