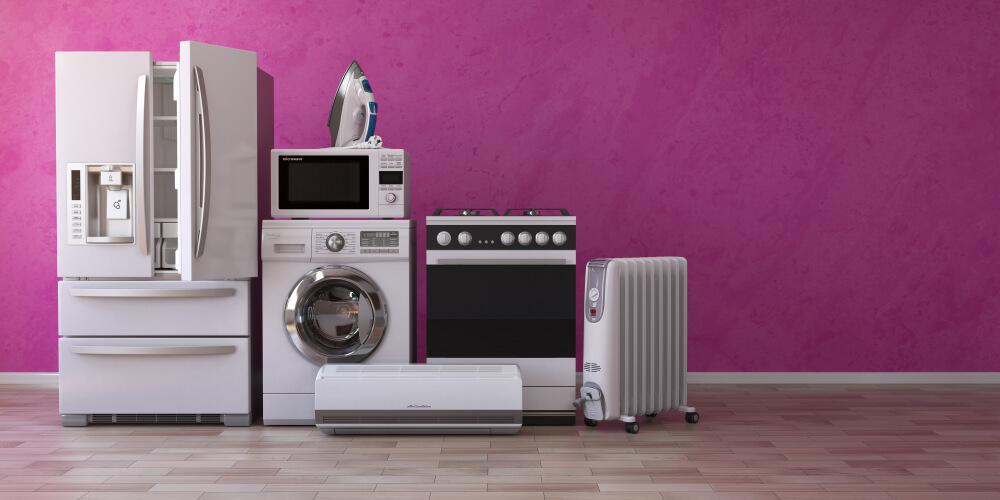 Around 30% of your total household energy consumption comes from your appliances' energy usage.[1] One third is no small contribution – especially if your second fridge has a build-up of ice to rival the Antarctic.
In a bid to help Australians lower their energy bills and maintain energy efficiency, the government introduced the energy rating labels on a national scale in 1992.
It's a fairly simple system; the higher the star rating, the more energy-efficient the appliance[2] – and it seems many Australians are jumping on the star-studded bandwagon.
A survey we recently commissioned revealed 89% of Aussies prefer energy-efficient appliances and select an appliance with a high energy star rating all or most of the time.
But this begs the question:
Do energy-efficient appliances make for a cheaper energy bill?
It's possible that an appliance with a higher star rating may use less energy than a comparative model with fewer stars.
Using the Energy Rating Calculator, let's compare two models of a two-door, 400L fridge and freezer: one model with a three-star rating and the other with a five.
According to the calculator, the three-star model costs you $106.42 to run each year while the five-star model only costs $63.11. By choosing the five-star model, you could potentially save $43.33 annually on your fridge energy usage.
You can also save money on your washing machine energy usage. When comparing three and five-star washers (both with a seven-kilogram capacity), a five-star model may save $56.82 annually.
Let's take a closer look at how much you could save just by switching to more energy-efficient appliances.*
Appliance
Star rating
Annual running cost
Annual savings by using five-star model
Fridge
Three stars
$106.44
$43.33
Five stars
$63.11
Television
Three stars
$73.85
$26.59
Five stars
$47.26
Washing machine
Three stars
$121.64
$56.82
Five stars
$64.82
Dishwasher
Three stars
$73.74
$37.61
Five stars
$36.13
Dryer
Three stars
$50.16
$13.92
Five stars
$36.24
*All savings are indicative, based on an average Queensland electricity rate of 26.2 c/kWh and using the default sizes and number of uses as set by the Energy Rating Calculator for each appliance.
= $178.27 in total
What should we look for when using the rating labels to choose energy-efficient appliances?
It's all well and good to pick an energy-efficient appliance based on the number of stars on the label, but you should also understand how these labels actually work.
Most appliances are given a rating out of six stars, while some more advanced energy-efficient appliances have a score out of 10 stars.2
These stars rate the efficiency of an appliance's energy usage in comparison to other models of the same size or capacity.
For example, you can use the labels to compare the energy efficiency of two different 400L fridges – as we did earlier. However, you wouldn't be able to do the same with a 400L fridge and a 700L fridge.
According to the Equipment Energy Efficiency (E3) program, comparing appliances' energy usage between like-for-like models helps you make a more informed choice when it comes to purchasing. Otherwise, you might find that you're paying much more on your energy bills than you anticipated.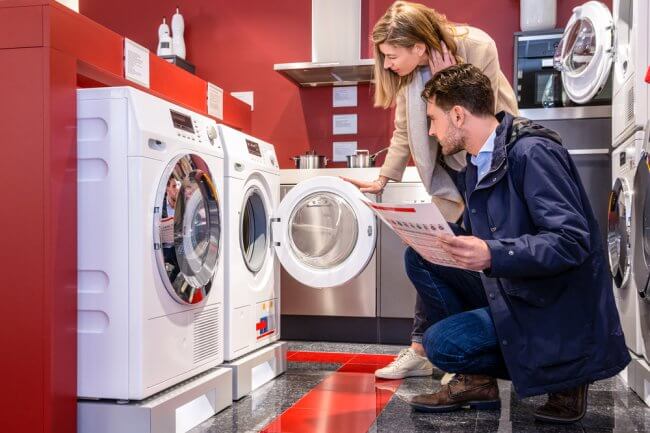 Other things you should know about your appliances' energy usage
Fridge/freezer: between three and four degrees Celsius is the ideal temperature setting for your fridge, as each degree below that will use an extra five per cent of energy.[3] The same goes for your freezer, which should be set between -15°C and -18°C.Also, just by getting rid of your second fridge (if you have one), you could potentially save $172 each year on your energy bills![4]
Washing machine and dryer: different wash cycles can affect your washing machine's energy usage. For example, warm or hot water washes can use around 50% to 85% more energy than cold water washes, depending on your type of washing machine.[5]When it comes to drying your clothes, using the clothesline just once per week could save $79 each year!4
Dishwasher: a model with both hot and cold connections uses less energy than those with only hot connections.5 Some more recent models will store the leftover water from a previous rinse to wash the next load, which leads to much lower water consumption as well.
Television: Generally, the bigger the screen, the more power it uses. A large (110cm to 130cm) three-star-rated TV that's left on for 10 hours a day can generate approximately half a tonne of greenhouse gases each year.5In fact, a 107cm, three-star TV used for eight hours a day could cost $85 each year to run, while a 124cm TV with the same rating and running time could cost $111 annually.[6] By downsizing your TV by just 17cm, you could potentially save $26 each year, and that's only through a three-star-rated TV!
Shave even more off your bill by comparing energy plans
Energy-efficient appliances are a great way to save on your energy bills, but you can go even further by switching to a cheaper electricity plan.
Try our free energy comparison service to compare usage rates and plan features from some of Australia's top providers in just minutes.
We take care of the heavy lifting of switching you over to a new plan. What's more, there'll be no interruption to your power supply when you change over to a new provider or plan.
Sources
[1]
© Commonwealth of Australia 2019 (Department of the Environment and Energy) – Energy rating. Published on energy.gov.au. Sourced July 2019.
[2]
© Commonwealth of Australia 2019 (E3 Program) – The Energy Rating Label. Published on energyrating.gov.au. Sourced July 2019.
[3]
© Commonwealth of Australia 2019 (Department of the Environment and Energy) – Appliances. Published on energy.gov.au. Sourced July 2019.
[4]
© Commonwealth of Australia 2019 (Department of the Environment and Energy) – Reduce energy bills. Published on energy.gov.au. Sourced August 2019.
[5]
(Chris Riedy and Geoff Milne) Commonwealth of Australia [
http://yourhome.gov.au/energy/appliances
] Department of the Environment and Energy [2019].
Your Home: Australia's guide to environmentally sustainable homes
.
Your Home
is CCBY licensed under a Creative Commons Attribution 4.0 International License.
[6]
Based on a typical Melbourne tariff of 31.9 c/kWh. Sustainability Victoria – TVs. Sourced August 2019.
Did you find this article interesting or helpful?