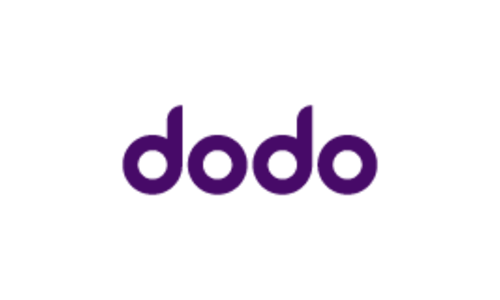 Dodo Energy at a glance
Australian-owned
Electricity available in New South Wales, Victoria, Queensland and South Australia
Gas available in New South Wales and Victoria
Options to bundle energy with internet
About Dodo Energy
Dodo is one of Australia's leading challenger brands that promises to deliver simplicity and fairness to customers across the country. The company is Australian-owned and is a subsidiary of Vocus Group Limited.
It initially launched in 2001 as an internet service provider. Over two decades, Dodo has built and established a successful business focusing on offering diverse products of the highest quality to customers. The range of services they offer includes energy, subscription television options, mobile phone plans and home phone products alongside their NBN and ADSL internet options.
By offering affordable prices, quality service and unique product options, Dodo strives to stand out from the competition. They're passionate about offering Australians freedom of choice and the great value for money.
Types of Dodo Energy plans available
Dodo offers electricity options to residents across New South Wales, Victoria, Queensland and South Australia, as well as gas options in New South Wales and Victoria. Depending on where in Australia you reside, you may be eligible for:
Electricity only – Various plans available based on whether your home has low, medium or high-power usage.
Gas only – Similar to electricity plans, Dodo offers multiple gas plans depending on how much (or how little) gas you use.
Gas and electricity – A plan that bundles gas and electricity together.
Why do people consider Dodo Energy?
There are many reasons why people choose electricity and gas through Dodo. These include:
Competitive pricing
No lock-in contracts and no early termination fees
A variety of payment methods
Compelling bundled offers
Access to MyDodo, a comprehensive online account management where you can manage all your multiple product holdings – from mobile and internet to gas and electricity.
Frequently asked questions
Compare energy prices with us
If you require an energy quote or want to see how Dodo's energy products compare to other retailers on our panel, we can help. Our energy comparison service is free and allows you to easily compare gas and electricity prices, along with plan features, from a range of providers in one place.
If you find a plan you like, it will cost the same through us as going direct, and it only takes a few minutes to get quotes from some of Australia's top energy providers.
So, what are you waiting for? Compare energy prices today!