Expert health insurance tips
Our health insurance expert, Lana Hambilton, has put together some tips on how to get more value out of your health insurance policy.
Take advantage of Health Management Plans
Under their extra's benefits, many insurers provide coverage for preventative health services such as weight management courses, health checks and even swimming lessons for children.
Utilise in-home services
Some health funds allow you to recover from hospital treatment in the comfort of your own home. If you're eligible, they could also help with meals and cleaning services. Depending on your health fund (and if you have extras cover), you can also access telehealth services for physiotherapy, psychology and more.
Avoid some waiting periods
If you're looking to access coverage sooner rather than later, there are a few ways to achieve this. For example, some health funds do not have waiting periods for accidents and ambulance services, while some may have a waiting period as low as one day. Better yet, some policies have no waiting periods on common extras services such as routine dental.
Hospital cover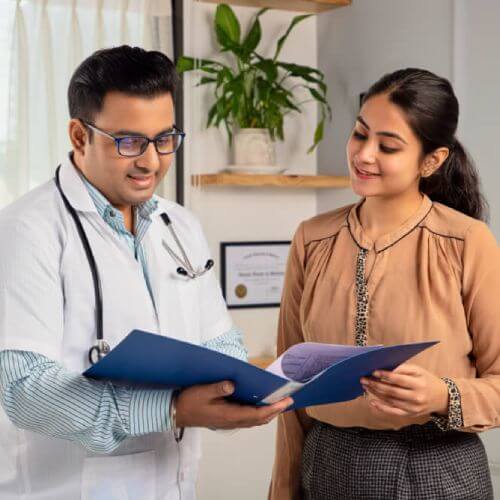 What is hospital cover and is it worth it?
Private hospital cover is designed to pay a benefit towards treatment as a private inpatient in a private or public hospital (e.g. surgery and giving birth). To be considered an inpatient, you need to be formally admitted to hospital by a healthcare professional; specialist consultations inside a hospital don't count as inpatient services.
When you're treated as a private patient, Medicare will pay 75% of the Medicare Benefits Schedule (MBS) fee, which is the cost the government has deemed reasonable for that treatment. Your private health insurance will then pay the remaining 25%, plus other expenses like theatre fees, accommodation and more.
Keep in mind that your doctors and hospital can choose to charge more than the MBS fee, in which case you may still have some out-of-pocket expenses. These out-of-pocket costs can be reduced or removed entirely if your hospital or treating doctors participate in your health fund's gap cover scheme.
There are several benefits to hospital cover that you'll want to consider when deciding if it's the right product for you. With hospital insurance, you can choose your available treating doctor, recover in a private room (subject to availability) and, perhaps most importantly, avoid lengthy public waiting lists for elective surgeries by going to a private hospital.
Hospital insurance tiers
Hospital cover is standardised across all health funds by the Australian Government. All Australian health funds must divide their policies into tiers based on the clinical categories covered. These tiers are Basic, Bronze, Silver and Gold – with each category including a broader range of services than the one below it.
Gold policies are the most comprehensive, while Basic hospital cover has the most exclusions. On all tiers except Gold, health funds can offer cover for additional clinical categories from the higher tiers. If they do, the policy can be given a 'plus' or '+' to denote its additional cover.
For example, if a Silver policy offers cover for having a baby as a private patient (usually only covered by Gold), the policy will be classified as Silver Plus.
Can I get hospital cover if I have pre-existing conditions?
Yes, but you will have to serve a 12-month waiting period before you can claim on your hospital insurance policy for treatments relating to your condition (excluding rehabilitation, psychiatric and palliative care). These waiting periods exist to prevent people from signing up for health insurance when they fall ill and immediately cancelling their cover once treated.
Extras cover
What is extras cover and is it worth it?
Also known as general treatment or ancillary cover, extras cover contributes towards the costs for health services outside of hospital that Medicare doesn't pay a benefit towards. Depending on your extras policy, you may be able to claim a benefit for dental check-ups, physiotherapy, chiropractic, hearing aids and more.
As extras cover isn't regulated in the same way as hospital cover, health funds typically offer a variety of different levels of cover. However, some funds will still categorise their policies as 'basic' or 'comprehensive'. A 'basic' policy may offer cover for less expensive services (e.g. scale and cleans for your teeth) or have lower claim limits. Meanwhile, 'comprehensive' policies will usually cover more services (e.g. root canals, crowns and bridges) with higher annual limits in exchange for paying a higher premium.
Do I need hospital cover or just extras?
That's completely up to you. Some people only take out hospital cover because they want more choice if they need surgery. While other people just want extras cover for out-of-hospital treatments like dental, optical and physio. It's all up to you if you would like to get hospital cover, extras cover or both.
Can I get extras cover if I have a pre-existing condition?
Having a pre-existing condition won't affect your eligibility for extras cover. Any waiting periods are also unaffected by having a pre-existing condition.
More information
What's the difference between private health insurance and Medicare?
Medicare is Australia's public health system that helps to cover the cost of a range of medical, hospital and pharmaceutical treatments. For treatment as a private inpatient, Medicare must deem the procedure medically necessary for your private health insurance to be able to pay a benefit.
Private health insurance also allows you to choose your own doctor (based on availability), stay in a private room in a private hospital (provided one is available) and avoid the public system waiting lists for treatment by attending a private hospital.
Any person with a Medicare card is entitled to public treatment, whereas only those who have an eligible hospital insurance policy will receive a benefit from their health fund towards their treatment if they choose to be admitted as a private inpatient.
Outside of the hospital, your private health insurance policy may pay a benefit towards treatments that Medicare doesn't cover. These treatments can include things like dentistry, physiotherapy and podiatry.
Is ambulance cover different to hospital or extras cover?
Ambulance services aren't covered by Medicare. Ambulance cover can be included on both hospital and extras products; however, the level of cover can vary. In some cases, an eligible hospital policy may provide a higher level of ambulance cover than an extras product.
Depending on where you live, your state government may cover the costs of emergency ambulance transportation. Alternatively, you may be able to purchase an ambulance subscription from your state ambulance service.
For more information about how to get covered for ambulance services, refer to our guide to ambulance cover or contact your local ambulance service.