Many Australians seem to overestimate the true cost of private health insurance, and you could be too!
According to a 2021 IPSOS survey, it's estimated that of the 40% of Australians who don't have private health insurance, 54% cite the cost of health insurance as a major factor for their lack of cover and 23% express concern about not being covered.1
However, the survey also found that 33% of uninsured Australians said they would take out private health insurance if they knew that the government could pay for 25-29% of their premium through the Australian Government rebate.
How much does health insurance cost?
The exact cost of your health insurance will depend on if you take out hospital, extras or combined cover and several other factors such as your health fund, level of cover, who's covered, your excess, any loadings, rebates or discounts and more.
We've gone through hundreds of policies from every registered Australian insurer to provide you with an overview of the average cost of health insurance in Australia per state.2 Both hospital and extras cover include policies with an ambulance cover component.
Average cost of hospital insurance
Tier
National
VIC
QLD
NSW
TAS
WA
NT
SA
Overall
$158.86
$180.75
$176.79
$167.59
$171.43
$143.18
$110.19
$163.28
Basic
$100.55
$112.45
$111.71
$108.87
$111.1
$88.74
$64.7
$106.93
Bronze
$121.41
$136.26
$133.88
$125.86
$132.77
$107.35
$85.83
$128.07
Silver
$182.15
$208.77
$201.86
$190.94
$196.97
$164.58
$127.92
$186.91
Gold
$245.24
$286.85
$277.16
$261.78
$255.6
$226.69
$170.15
$242.28
Source: Privatehealth.gov.au, current as of January 2023.
These figures are based on the monthly premium for single-only hospital policies with an excess of $750 that exempts you from the Medicare levy surcharge (MLS). They don't include rebates, discounts or loadings. 'Plus' tiered policies have been included within the four main tiers (e.g. Bronze Plus policies are included in the Bronze tier, and Silver Plus policies are included in Silver). For more information on how 'Plus' policies work, refer to our guide to health insurance tiers.
Average cost of extras cover
National
VIC
QLD
NSW
TAS
WA
NT
SA
$71.39
$73.92
$73.32
$75.59
$68.14
$70.62
$64.62
$73.93
Source: Privatehealth.gov.au, current as of January 2023.
These figures are based on the monthly premium for single-only policies and don't account for different dollar and percentage limits or the services provided.
Unlike private hospital cover, which is divided into tiers based on the hospital treatments covered, extras insurance policies vary in the general treatments covered (e.g. physio or dental) and how much they will pay toward them.
What affects your health insurance premiums?
Unlike many other insurance products, health insurance is community-rated. This means your age, gender, health status and other risk factors do not influence the base premium you pay.
However, several other factors can influence the amount you'll pay for your health insurance cover, such as:
Your excess
Where you live
Read more about what influences the cost of health insurance.
When do your premiums increase?
Traditionally, every year on 1 April, many insurers increase their private health insurance premiums.  In recent years, many health funds have deferred these increases to give COVID-19 savings back to members. These private health insurance premium increases adjust for:
Increased health care costs (i.e. hospital and doctor's fees)
An increase in claims made
More complex and expensive medical equipment
Higher costs for complex medical treatments.
Before increasing their premiums, insurers must seek approval from the Australian Department of Health to ensure any cost changes are necessary, reasonable and fair.
Here's a view of how much rates have increased from 2012 to 2022.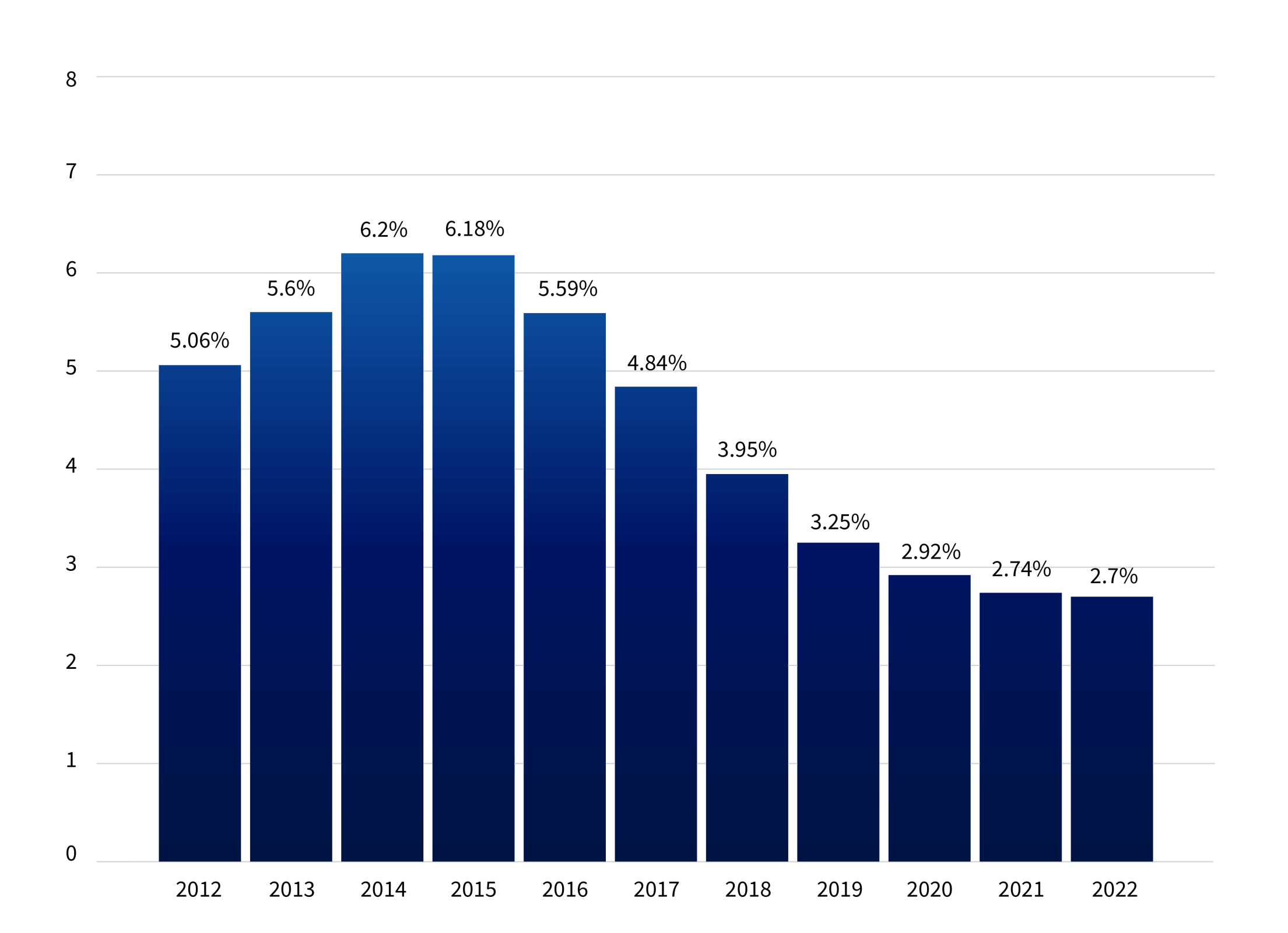 These rates are industry-weighted averages. So, while the average rate rise in 2022 is 2.7%, health funds can choose to increase their policies by more or less than this.
Even if your policy was the best option for you when you took it out, that might no longer be the case. This is why you should compare health insurance regularly to see if there's a product out there that's better value for money or more suited to your needs.
Is health insurance worth it?
Whether or not a health insurance policy will suit you depends on your circumstances, lifestyle and priorities. Here are some of the common benefits of private health insurance that motivate people to take out cover:
You may be able to choose your own doctor and surgery dates (on availability)
You could receive treatment and recover in your own private room (on availability)
You can avoid long public hospital waiting lists
With an extras policy, you can claim for a range of health care services that Medicare doesn't cover (i.e. physiotherapy, dental, chiropractic).