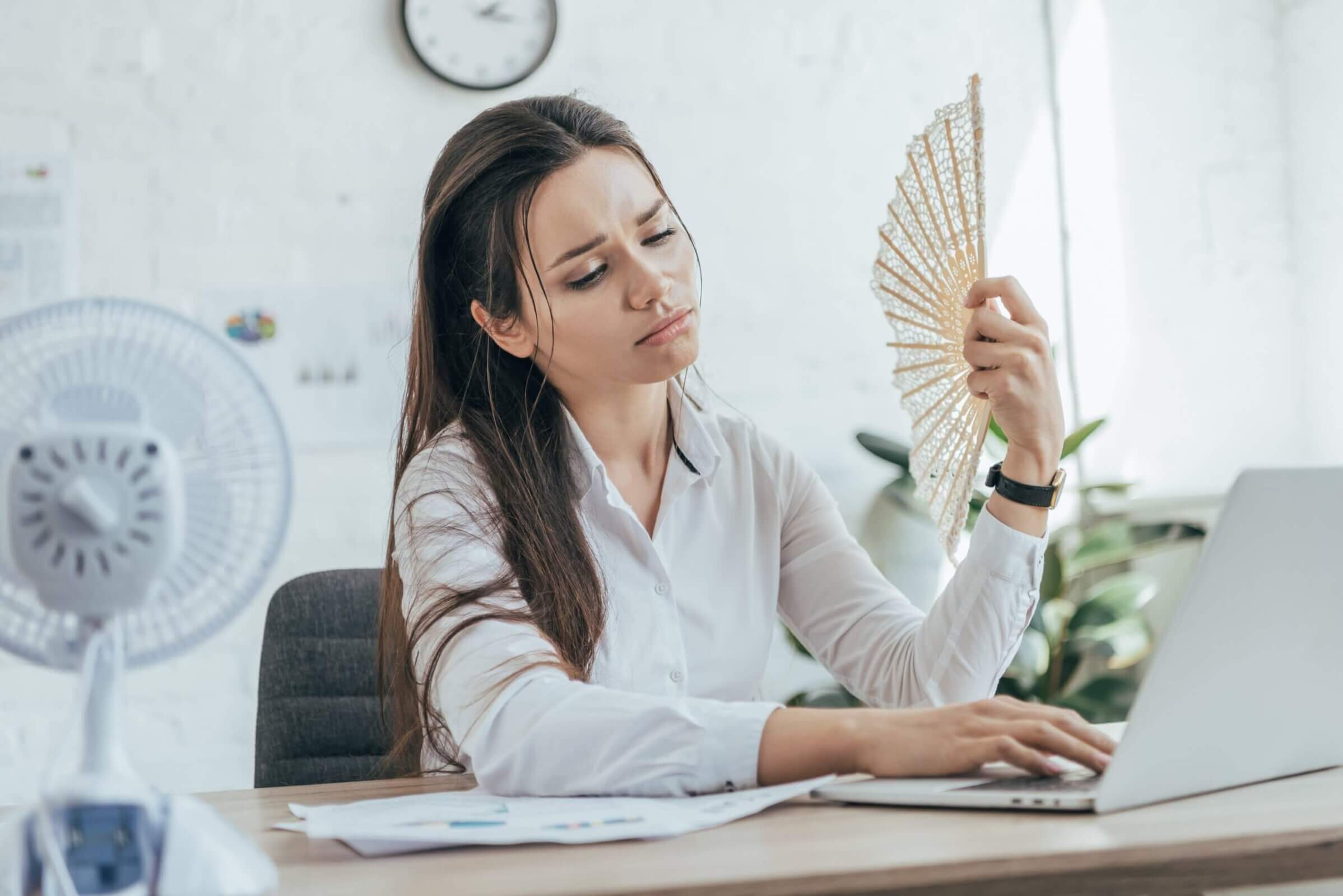 With some states already seeing temperatures sizzle past 30°, new research from Compare the Market reveals that more than half of Australians plan on using their air-conditioning less this summer to combat soaring electricity prices.
While air-conditioners can be one of the biggest energy guzzlers as we head into the warmer months, Compare the Market's Head of Energy, Meredith O'Brien, said there were ways to lower your bill without sacrificing the air-con completely.
"Experts are warning that we're in for a warm summer and the reality is that with the price of electricity increasing, it's going to cost us more to keep cool at home than it has in the past," Ms O'Brien said.
"While some of us can't resist the urge to blast the air-con on the coolest setting on those warm, muggy days, it's important to know that this can be one of the key drivers to a higher summer electricity bill.
"Running your unit too cool makes it work harder and use more power –  every degree cooler you set the temperature can add up to 10% more to your electricity usage. It goes without saying that these costs can be tremendous – especially if you're running the air conditioner for a few hours every day."
The latest statistics from Compare the Market show that Baby Boomers are the most likely to turn to alternative ways to keep cool, with 57.8% of the cohort admitting that they'll use their air-con less.* In comparison, just 46.8% of Zoomers and 49% of Gen Xers said they'd do the same, while an almost equal number of Millennials (57.2%) said they would go without air-con to claw back cash on their electricity bill.
Meanwhile, Western Australia and South Australian households are the most likely to tighten their purse strings when it comes to using the air-con, with 63.9% and 61.3% of respondents from each state admitting to reducing their usage. In contrast, just 47.9% of Victorians, 53.1% of New South Wales homes and 55% of Queenslanders said they'd reduce their air-con consumption to beat soaring prices.
Ideally, you should aim to set your unit to between 25 and 27°C.
And, to get the most from your unit without paying an arm and a leg or ditching usage completely, Ms O'Brien said there were various things households could do, including:
ensuring all doors, windows and blinds are closed so that you aren't cooling rooms unnecessarily or letting cool air escape
regularly cleaning and servicing your air conditioner, as it may chew through more power if filters are blocked
covering outdoor compressors with shade so they aren't exposed to heat from the sun and have to work harder
using fans where possible, as they typically cost a few cents to operate per hour.
Ms O'Brien said the type of unit you use can also impact your electricity usage.
"There are many types of air-conditioners available and while they may all keep you cool, it's not always at the same price," Ms O'Brien said. "It's going to be significantly cheaper to use a fan to keep cool, but people may be surprised to learn just how much electricity certain types of air-conditioners use.
"Generally speaking, reverse split systems are more energy-efficient than other models on the market.
"And, while portable air-conditioners come with a lower upfront cost, they tend to chew through a lot more power. It's worth weighing up running costs as well as upfront costs if you're in the market for a new unit."
| | | | | |
| --- | --- | --- | --- | --- |
| Air-conditioner type | Cooling capacity | Brand/model number | Energy star rating | Estimated Summer running cost |
| Reverse split (small unit) | 2.5 kW | Panasonic CU-Z25XKR/CS-Z25XKRW | 4.5 | $150.30 |
| Reverse split (medium unit) | 5.0 kW | FUJITSU AOTG18KMTC/ASTG18KMTC | 4.5 | $303.60 |
| Reverse split (large unit) | 8.5 kW | FUJITSU AOTG30KMTC/ASTG30KMTC | 3 | $713.40 |
| Ducted | 10.3 kW | BRIVIS AONSR13B1/AINHU11B1 | 7.5 | $439.80 |
| Window Box | 2.6 kW | DIMPLEX DCB09 | 1.5 | $292.20 |
Based on a home in Brisbane (4000) with an electricity usage of 30c/kWh. Actual costs may vary based on the size of your room, how often you use your air conditioner, the temperature you set your air-conditioner and how many air-conditioners you use. Calculations made using The Australian Government's Energy Rating Calculator, which automatically assumes air-conditioning usage for summer. Accurate as of 19/09/23.
Other factors that may impact your bill include:
your frequency of use
size and capacity of the air conditioner, relevant to the size of the room or area of space that you're heating or cooling.
energy-efficiency rating (the more stars, the more energy efficient the air con will be)
your energy retailer's usage rates.
Ms O'Brien said finding the right air conditioner for your home was key in reducing your electricity bill.
Know the size of the room you're looking to cool. When you go to a supplier or retailer, it pays to know the room's length, width and ceiling height for a single unit or space of the house for the air conditioning system. After all, you don't want to end up with an AC that doesn't cool your area enough.
Is your home adequately insulated? Ceiling, wall and floor insulation can have a massive effect on air conditioning. If you don't have roof insulation, consider installing some, as it could save you on running costs.
How warm does it get at your address? It goes without saying that Queensland has warm temperatures and not all air conditioners will have the same cooling impact. For comfort, you may require a more powerful air conditioner, but this could also blow out your bill. Similarly, if your home has a lot of windows that let in light and heat, consider:
– shutting blinds and curtains
– installing outdoor awnings
– closing doors and windows
Do you have solar? If your home is equipped with solar panels, remember that running the air conditioner during the day when your system generates power could lower your overall bill. If you have a solar battery, you may be able to store solar power and then use it at night to blast your air conditioner.
What electricity plan are you on? With the electricity market changing rapidly, it could be worth comparing your current plan against others on the market. If it's been more than a few months since you've switched plans, see what else is available and if you can pay less for the electricity you use.
*Survey of 1,004 Australian adults, conducted in September 2023.
For more information, please contact:  
Phillip Portman | 0437 384 471 | [email protected]
Compare the Market is a comparison service that takes the hard work out of shopping around. We make it Simples for Australians to quickly and easily compare and buy insurance, energy and travel products from a range of providers. Our easy-to-use comparison tool helps you look for a range of products that may suit your needs and benefit your back pocket.
Did you find this article interesting or helpful?