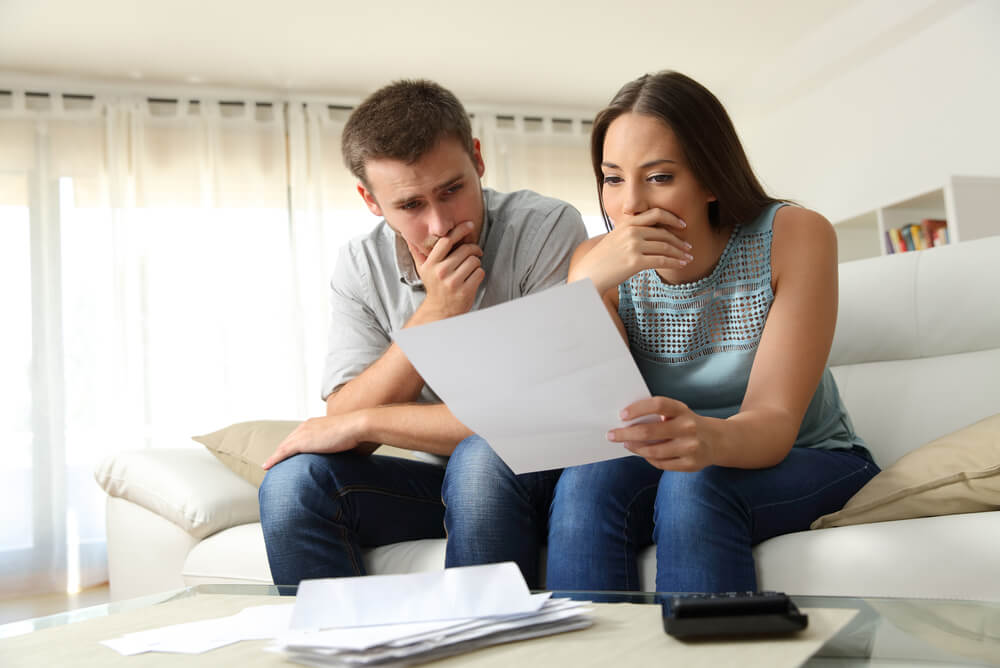 As Australia faces the very real possibility of a recession amid the fallout of the ongoing cost-of-living crisis, research from Compare the Market's new Household Budget Barometer has revealed the nation's surprising financial fears for the next 12 months.
According to the report, the cost of groceries, energy and fuel are the bills that Australians believe will cause the most pain in the next year. In fact, a whopping 66.4% of Aussies believe their grocery bills will worry them, two-thirds (61.2%) think electricity and gas bills will cause pain at the hip pocket, while just over half (53.1%) believe they'll feel the pinch at the petrol bowser.
Baby Boomers are most likely to believe they'll be stressed by the cost of groceries and energy bills, while it's Gen Z who believe rising fuel prices could stop them in their tracks.
Australians aren't the only ones fearing these everyday costs over the next 12 months. In Canada, 65.6% of people believe grocery prices will worry them within the next 12 months, 46.7% believe they'll struggle with rising petrol prices and 40.3% think they'll be concerned by energy bills.
While in the United States of America, it's less severe, with 46.2% anticipating concern around groceries, 40.3% fearing rising energy bills and 39.7% foreseeing financial issues around fuel costs.
Compare the Market's General Manager for Money, Stephen Zeller, said it was no surprise that people across all three countries were worried, with inflation rampant all over the globe.
"We know that the recent reduction to the fuel excise has now ended, we've just been hit with higher gas and electricity bills and our dollar isn't stretching as far at the supermarket, but it's still concerning that so many households believe these bills will cause worry in the next year," Mr Zeller said.
"Prices are rising across the board and the data suggests that there's a bit of anxiety about what people may deem 'unpredictable household spending'.
"We know we have to pay for petrol, groceries and energy regularly, but the price we pay ultimately depends on what items are on special, how much energy we're consuming or how oil prices are tracking."
The data also found that around a third of Australians believe their mortgage repayments (30.3%), car insurance (30.3%) and cost of healthcare (29.5%) will cause them worry within the next 12 months – something Mr Zeller said was a valid concern.
"Mortgage holders are breathing a sigh of relief following the Reserve Bank of Australia's decision to pause interest rate rises for two consecutive months, but we are being warned that more hikes are on the horizon," Mr Zeller said. "The 12 rate rises we've experienced since the start of May last year have already significantly impacted the average monthly mortgage repayment for those on variable rates. Those coming off a fixed rate will soon be forking out a lot more each month.
"In terms of healthcare, we know that bulk-billing GPs are becoming far and few between, so people are having to pay for a visit to the doctor where they may not have had to in the past. Those with private health insurance are also paying higher premiums or will soon see the cost of their plan increase, which is putting further strain on the household budget.
"In fact, insurance products across the board, including car, home and contents, are all increasing. It's highly likely you'll receive an increase when your next renewal comes through, which is why it's so vital to compare your options and ensure you're not paying a cent more than you need to."
The statistics show that it's Australian Millennials who are the most concerned about mortgage repayments in the next 12 months and Baby Boomers who most anticipate their car insurance premiums and the cost of healthcare will cause them financial stress over the next year.
Interestingly, just one in 10 Americans believe their mortgage repayments will cause them worry, while it's around 15% in Canada. Fewer Americans anticipate health costs causing financial pain in the next 12 months (22.2% compared to 29.5% in Australia), while it's lower again in Canada (at just 16.4%).
The data also shows that a higher percentage of Australians anticipate concern around the rising cost of home and contents premiums, but North Americans are more likely to believe their phone and internet bills, cost of child activities and life insurance will be bigger stressors.
"Whatever way we look at it, it's clear that people all around the world have fears relating to their household expenditure over the next 12 months," Mr Zeller said. "Now's the time for people to wake up to waste and ensure they're paying the correct amount for their household bills. Whether it's an insurance renewal or the weekly grocery shop, it's a good idea to get into the habit of comparing prices. Spending a little time researching could equate to big savings in the long run."
Mr Zeller's top tips to reduce household financial stress.
Think outside the box when it comes to saving
While putting money aside for a rainy idea is a great way to save, it's not the only one. With electricity prices rising, you may be able to claw back cash by switching to a cheaper plan. Similarly, if you've been hit with an insurance renewal, don't just accept it. Be sure to do your research and see if a better deal is available.
Maximise your rewards
See if you're eligible for any rewards or offers from your insurance providers, energy retailers, takeaway outlets, telcos and supermarkets. For example, you may earn points for every dollar you spend, which can be redeemed for services and goods. You may also be eligible for discounted movie tickets, entertainment options, dining experiences and more.
Shop around
Whether it's your weekly grocery shop, insurance products, beauty services or more, be aware that different businesses set their own prices for their goods and services. Before making a purchase or locking in your next appointment, check for the discounts available and don't pay more than you need to.
Switch, don't ditch
Rather than giving up things completely, see if there are ways you can save in other ways. For example, are there alternatives to your current services with a smaller price tag? When it comes to insurance, are you paying for a higher level of cover that you don't need? If the answer is yes, there could be room to save.
More exclusive insights about the state of Australia's finances can be found in Compare the Market's Household Budget Barometer.
*Survey of 1,010 Australians, 1,006 Canadians and 1,008 Americans conducted in March 2023 as part of Compare the Market's Household Budget Barometer report.
For more information, please contact:  
Phillip Portman | 0437 384 471 | [email protected]
Compare the Market is a comparison service that takes the hard work out of shopping around. We make it Simples for Australians to quickly and easily compare and buy insurance, energy and travel products from a range of providers. Our easy-to-use comparison tool helps you look for a range of products that may suit your needs and benefit your back pocket.
Did you find this article interesting or helpful?