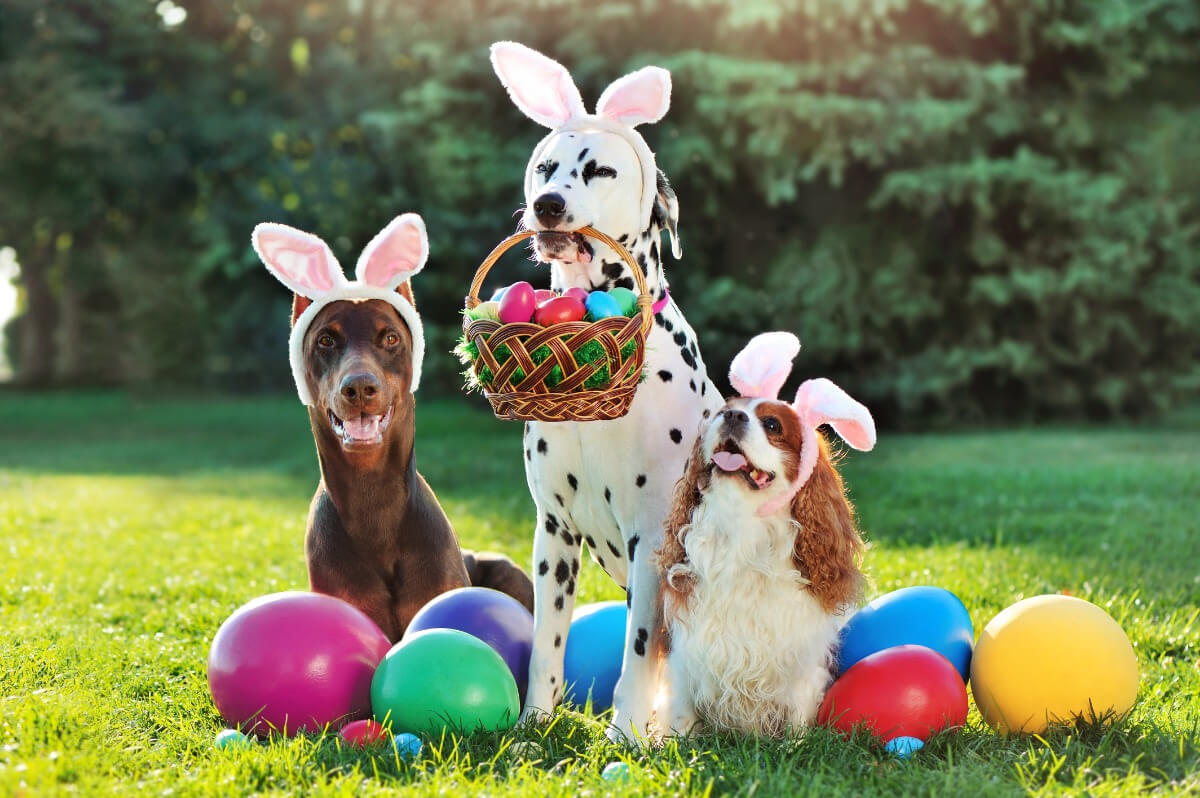 As veterinary clinics gear up for one of their busiest times of the year, Compare the Market is warning Aussie pet owners to be extra vigilant with what they feed their pets this Easter.
While many families look forward to chocolate bunnies, Easter egg hunts and a tasty hot cross bun (or two), these treats can actually prove lethal to our furry friends.
With close to half of Australians admitting that they've struggled to pay at least one bill in the last three months, Compare the Market's General Manager of General Insurance, Adrian Taylor, says that many pet owners may not be able to foot the bill if their fur-baby became ill.*
"Easter is a great time for us to spend time with family and enjoy sweet treats, but it can also increase the risk of our cats and dogs needing emergency treatment if they eat something they shouldn't," Mr Taylor says. "We know how hard it can be to resist those adorable puppy dog eyes from beneath the table, but it's not worth risking your pet's health."
Many Easter staples, including chocolates, lollies, hot cross buns and party food, are harmful to pets. And according to Mr Taylor, eating these foods is one of the reasons why pets find themselves in the emergency room over Easter.
"The humble hot cross bun is a favourite in households over Easter, but it's also a dangerous treat to feed your pet," Mr Taylor says. "The traditional versions contain dried grapes, which are extremely toxic to dogs. Even some of the more modern hot cross buns contain ingredients like chocolate, which is also a big no-no for animals.
"People may not realise that dogs can't break down a certain enzyme found in chocolate, which can cause an array of serious health complications like vomiting, a rapid heart rate, breathing difficulty, diarrhoea and more. It could prove life-threatening depending on how much your pet ingests."
Mr Taylor warns that other seemingly harmless "treats" may not agree with your pet and land them in the emergency room over Easter.
"Many families get together for a barbecue over the Easter long weekend and while a sausage here or there may not seem harmful, they can make your pet ill," Mr Taylor warns. "These types of meats can have significant levels of fat and sugar, which can harm your pet. If in doubt, leave it out of your pet's diet."
Meanwhile, it's also important to be aware of other threats to your pets over the Easter period.
"While the worst of the La Niña is likely behind us, we know that ticks remain a huge threat to pets, particularly in those areas that have experienced above-average rainfall and flooding," Mr Taylor explains. "This is why staying on top of medication and treatments that protect your pet against ticks is vital.
"Remember that these treatments typically take a few days to kick in, so give yourself plenty of time – especially if you're taking your pet camping or if you're planning a lot of outdoor adventures with your animal.
"Similarly, use Easter as a reminder to stay on top of your pet's vaccinations, particularly if you're travelling or if they're staying at a kennel over the holiday period. This can protect them against an array of common diseases, ranging from kennel cough syndrome and dog parvovirus to hepatitis to cat flu.
"Unless you have an appropriate level of pet insurance in place, you could be left significantly out of pocket if your pet falls ill and needs medical attention. Vet consultations alone can cost hundreds of dollars before any treatment. The last thing we want is for families to be put under further financial strain over Easter if the worst were to happen to their pet."
Mr Taylor's top tips for protecting your pet over Easter
Be aware that your usual vet may not be open. Many vets may not be operating or may have skeleton staff working over the Easter long weekend. Knowing which 24/7 emergency clinics are located nearby, in case the worst happens, is a good idea.
Telehealth options may be available. An array of vet initiatives designed to keep their pets healthy and reduce veterinary expenses have been rolled out in recent times, including Dial A Vet, Webvet and more. These services allow you to pay a small fee for a video consultation with a certified vet. Keep in mind that if your pet is in life-threatening danger, you should always visit a vet in person.
Understand the limits and excesses that apply on pet insurance. If you need to claim on your pet insurance, do you know how much money will be reimbursed and how much you may need to pay? Be sure to read your PDS carefully, as you could still be left out-of-pocket – even with cover.
Ensure your pet's vaccinations are up to date. If you're leaving your pet at a kennel or a day care service, you'll need to ensure all its vaccinations are current. This not only protects your pet, but ensures they're able to stay. Kennels and day care services will usually refuse entry if your pet is behind on its vaccinations.
*Survey of 1,000 Australians, conducted November 2022
For more information, please contact:  
Phillip Portman | 0437 384 471 | [email protected]
Compare the Market is a comparison service that takes the hard work out of shopping around. We make it Simples for Australians to quickly and easily compare and buy insurance, energy and travel products from a range of providers. Our easy-to-use comparison tool helps you look for a range of products that may suit your needs and benefit your back pocket.
Did you find this article interesting or helpful?