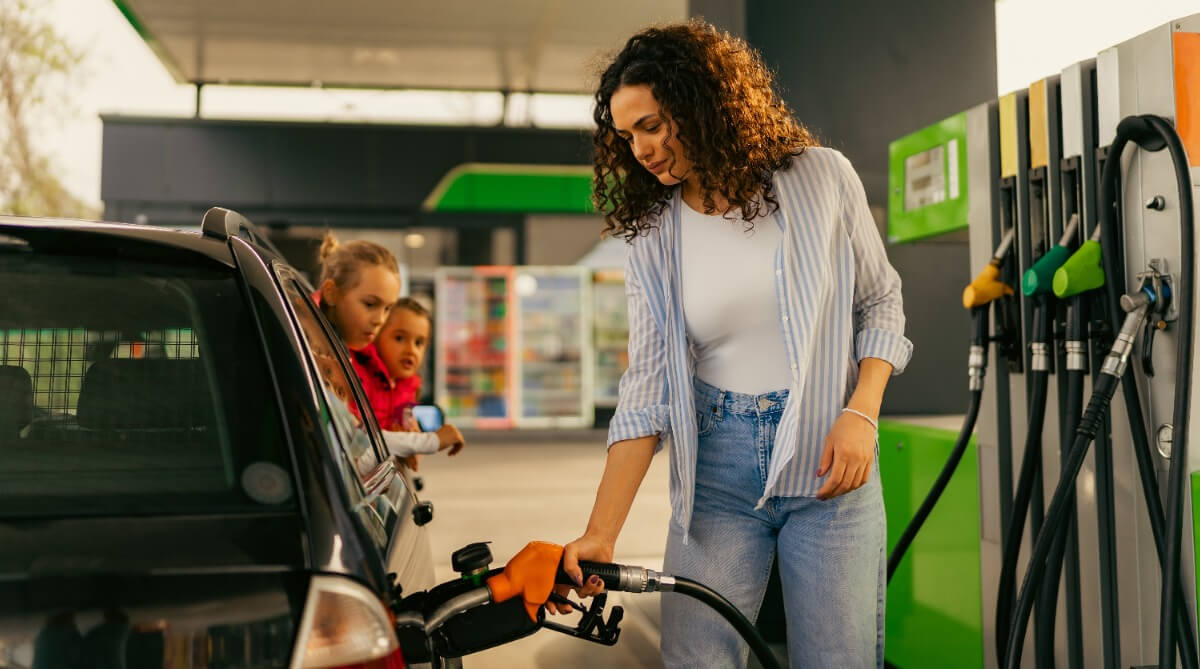 Motorists across south east Queensland are being encouraged to find cheaper fuel as we head into the festive period, with new research showing there's a 23 cents per litre difference between the most affordable and most expensive fuel across Greater Brisbane.
Compare the Market crunched the numbers and found that Pearl Energy in Rothwell currently has the best offer on Unleaded 91 at $1.62 per litre, while Tamborine is priced higher at $1.85/litre. When filling up a 60-litre tank, that's a difference of $14 at the pump.
Compare the Market's Chris Ford said now's the time for Queensland motorists to take the wheel and save at the bowser while they still can, warning that prices could increase just before the Silly Season.
"Queensland motorists have enjoyed cheaper fuel in recent times thanks to wholesale prices for fuel dropping over the last month and oil prices also tanking," Mr Ford said.
"With petrol retailers paying less for the fuel they sell onto customers, it makes sense that prices are decreasing across the River City. In fact, we're paying around 19% less for Unleaded 91 now than we were at the same time last month."
Compared to other major cities around Australia, south east Queenslanders are paying significantly less at the bowser. The average price per litre in Brisbane is around $1.70, compared to $1.89 in Hobart, $1.83 in Perth, $1.82 in Canberra and $1.81 in Darwin.
Meanwhile, we're paying roughly the same amount as drivers in Adelaide, Sydney and Melbourne. However, as we've seen over the past year, certain regions within Greater Brisbane have also experienced a difference in prices.
"We know that it's generally been cheaper to fill up in southern ring of suburbs like Kuraby, Underwood and some stations around Rocklea in the last few months.
"Some of the major arterial roads have been more expensive though, with convenience playing a major factor," Mr Ford said. "Retailers want your business though, and a quick bit of research can find cheaper prices nearby or even up the road."
However, Mr Ford warned that while all signs are pointing to fuel prices staying cheap over the festive season, drivers should be prepared in case of price hikes in the coming weeks.
"Another fuel price cycle could be on the horizon, meaning that it'll be tougher to locate cheaper fuel prices as retailers may hike their prices," Mr Ford said.
"There's previously been the insinuation that retailers hike their prices in the lead-up to major holiday periods. With wholesale fuel and oil prices decreasing, we really should see prices fall over Christmas and into the New Year.  Whether or not that actually happens is the big question."With such a significant price discrepancy between the cheapest and most expensive fuel in south east Queensland, Mr Ford said now's the time to do your research and ensure you aren't paying too much for your petrol.
"Fuel comparison apps are one of the easiest ways to hunt down lower prices quickly," Mr Ford said. "Also be sure to make the most of fuel discounts offered through your supermarket, roadside assist program, rewards programs and even on the back of shopper dockets. The last thing we want to see is Queenslanders throwing away more money than they need to when so many savings are available."
Cheapest fuel prices in Greater Brisbane
Pearl Energy Rothwell – $1.62/litre
Metro Petroleum Kuraby – $1.63/litre
Puma Mango Hill – $1.64/litre
Liberty Grange Auto Care – $1.64/litre
Bp Connect North Lakes – $1.64/litre
Most expensive fuel prices in Greater Brisbane
Puma Tamborine Central – $1.85/litre
Shell Tamborine – $1.83/litre
Red Dog Kallangur – $1.82/litre
Bizzells Garage Paddington – $1.81/litre
United Pimpama – $1.79/litre
Pricing from Petrol Spy and RACQ Fair Fuel prices on 09/12/2022
Phillip Portman | 0437 384 471 | [email protected]
Compare the Market is a comparison service that takes the hard work out of shopping around. We make it Simples for Australians to quickly and easily compare and buy home and contents, car, pet and travel insurance along with energy products from a range of providers. Our easy-to-use comparison tool helps you look for a range of products that may suit your needs and benefit your back pocket.
Did you find this article interesting or helpful?