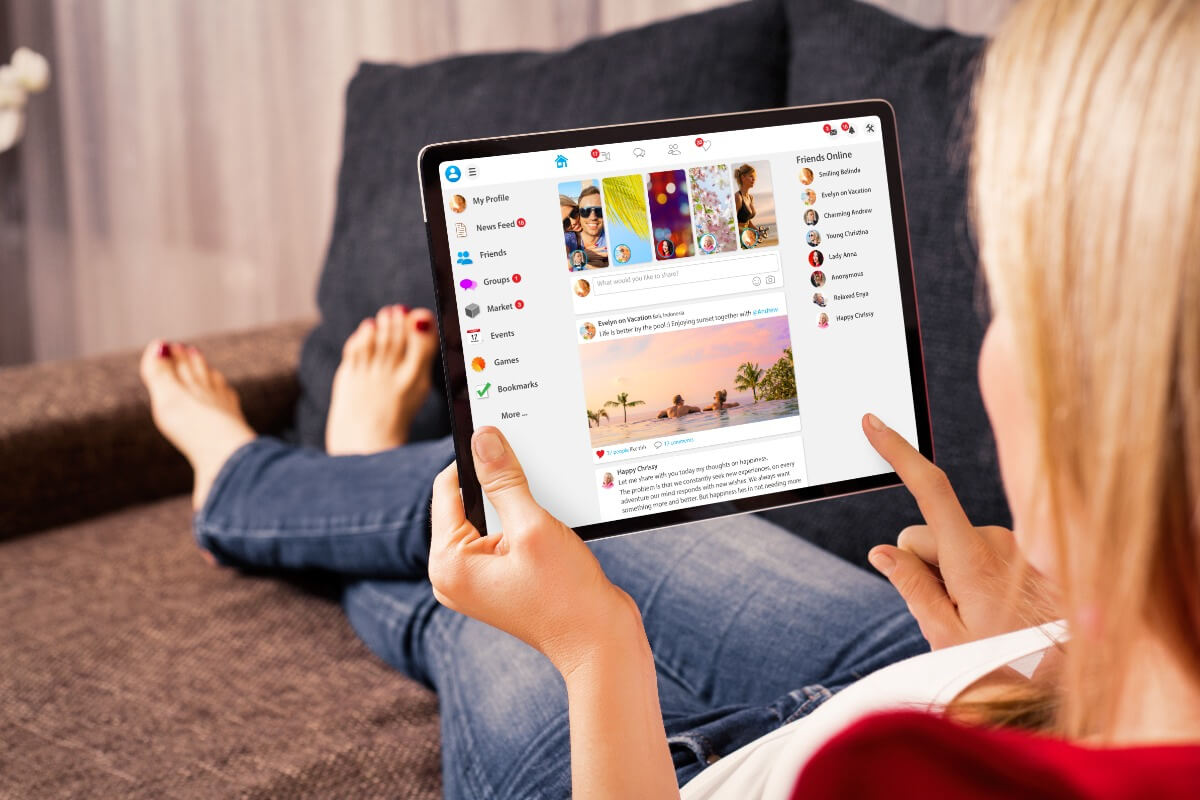 Households across all corners of Australia are dealing with a financial crisis like no other, and alarming data from Compare the Market's new Household Budget Barometer reveals that a staggering number of Aussies are turning to social media and the internet to make their financial decisions.
In fact, a third of Australians (32.3%) surveyed admitted to turning to tips they find on the world wide web and social media platforms to help them make decisions around money.*
Perhaps unsurprisingly, it's Gen Z – who have grown up with the likes of Facebook, Twitter, Instagram, TikTok and Snapchat at their fingertips – who are most likely to turn to the internet when making financial decisions. More than half of Gen Z rely on financial advice from the web, compared to 13.8% of Baby Boomers, 33.5% of Gen Xers and 40.7% of Millennials.
Australia isn't alone in turning to the internet for financial advice. Results from the Household Budget Barometer found that the same percentage of Americans rely on tips on social media and the internet for advice (32.3%), while it's slightly less in Canada at 30%.
Compare the Market's General Manager for Money, Stephen Zeller, said that while there's plenty of legitimate advice online, it's becoming harder to decipher fact from fiction.
"We've all heard of 'fake news' and unfortunately, because we're all being hit hard by the cost-of-living crisis right now, there's a lot of it circulating on the web – particularly when it comes to money and finance," Mr Zeller said. "While the internet can be a great starting point in looking for financial expertise, always ensure the facts are accurate and current.
"Look for trusted brands and individuals, with a track record in the industry and with sound advice. If it is a tip from someone who you don't recognise, then stress test the advice by doing more research and the opinions of those you trust. Anyone providing financial advice online is also required to be licenced to do so."
Compare the Market's Household Budget Barometer also revealed that 40.1% of Australians consult with a financial professional, such as an accountant, banker or financial advisor. However, this is below the percentage of Canadians (56.4%) and Americans (42.7%) who do the same.
Aussie Millennials are most likely to discuss their financial thought process with their family and friends or financial professionals.
Meanwhile, around a quarter of Australians and Americans rely on traditional media – including TV, newspapers and radio – when making financial decisions, while it's around one  in five in Canada.
While around a quarter of Aussies turn to self-help books or podcasts, the number sits lower at 20% for Canadians and higher at 30.3% for Americans.
In Australia, Gen Xers are the generation most likely to rely on traditional media to aid their decisions, while it's Gen Z who's most likely to turn to podcasts or self-help books. In contrast, Baby Boomers are the least likely to consult traditional media, self-help books or podcasts.
"While it's great to see so many Australians doing their research or consulting loved ones before making financial decisions, the data shows us that around one in five people don't consult any resources when it comes to money decisions," Mr Zeller said.
"Whether it's refinancing a home loan due to the repeated cash rate rises, negotiating a better deal on your insurance or trying to manage money in another way, it's important to do some research so you're equipped with the information to make the most informed decision."
Data from the Household Budget Barometer also shows that Australians are quite independent when making household financial decisions and paying bills. Two-thirds of Australians (58.9%) say they're their household's sole financial decision maker or bill payer, compared to just 29% who split the responsibilities with their partner and 5.5% who divide them with others in their home.
It's slightly different in Canada and America, where 61.5% of Canadians and 63.6% of Americans are the sole household financial decision makers.
Meanwhile, 2.7% of Aussies admit that they let their partner make financial decisions, the same percentage reveal that their parents oversee all bills and just 1.2% pass the buck to someone else in the household.
Gen X is most likely (69.5%) to independently make their household's financial decisions compared to 46.4% of Zoomers, 57% of Millennials and 57.2% of Boomers.
The older generation comes out on top as the age group most likely to share their household financial responsibilities with their partner, while Gen Z is most likely to handball the responsibility to other household members or get their parents to overseas the bills.
Mr Zeller said it was important for all Australians to better understand their finances, with the cost-of-living crisis showing no signs of slowing down.
"It's already been a tough couple of years for Australians and unfortunately, it doesn't look like we're out of the woods just yet," Mr Zeller said. "Whether you're managing your household's bills or just have your own savings account to track, it's a good idea to wrap your head around your finances.
"Once you have a better idea of where your money is going, you can start to adjust your spending habits or calculate where there's room to improve when it comes to your spending. Every dollar counts right now and it's never too late to improve your financial literacy."
More exclusive insights about the state of Australia's finances can be found in Compare the Market's Household Budget Barometer.
*Survey of 1,010 Australians, 1,006 Canadians and 1,008 Americans conducted in March 2023 as part of Compare the Market's Household Budget Barometer report.
For more information, please contact:  
Phillip Portman | 0437 384 471 | [email protected]
Compare the Market is a comparison service that takes the hard work out of shopping around. We make it Simples for Australians to quickly and easily compare and buy insurance, energy and travel products from a range of providers. Our easy-to-use comparison tool helps you look for a range of products that may suit your needs and benefit your back pocket.
Did you find this article interesting or helpful?