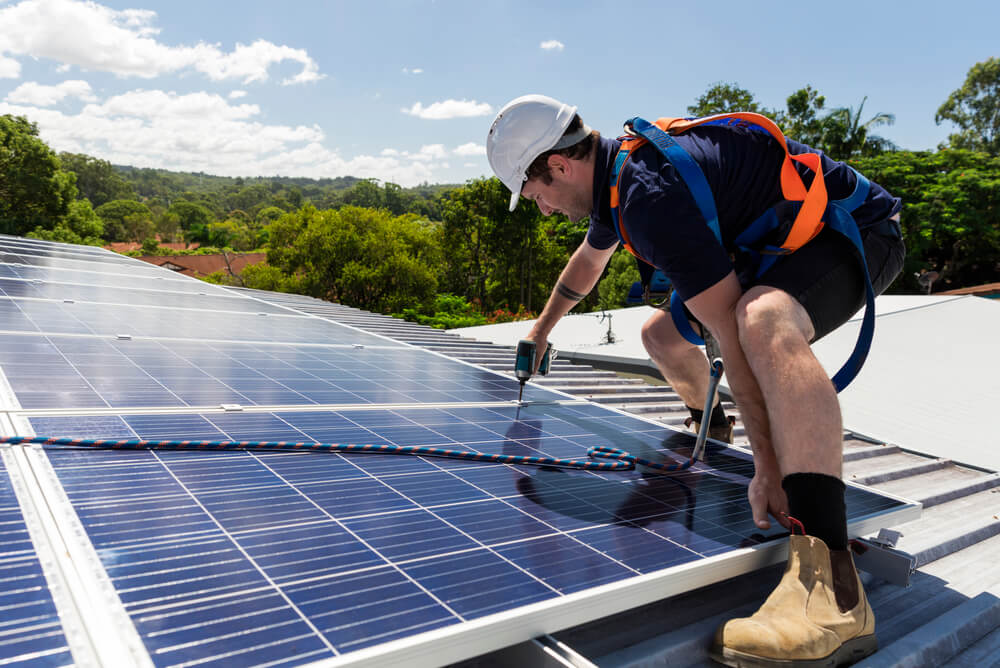 Last year, the Australian Energy Market Commission (AEMC) passed a controversial plan that will see demand-based pricing introduced for solar panel owners who export electricity back to the grid.
While electricity retailers currently pay customers with solar panels to send electricity back to the grid, the new plan will also see customers charged at certain times, with some labelling the plan a "sun tax". In reality, this is known as two-way pricing.
Now, the Australian Energy Regulator (AER) has released draft export tariff guidelines, shedding light on what customers could expect when two-way pricing comes into effect from 2025.1
Why is a "sun tax" being considered?
According to data from the AEMC, Australia has the fastest rate of solar take-up globally, with solar panels and batteries expected to double within the next decade.
At present, the electricity network faces traffic jam issues, meaning some Australians are blocked from sending their solar power to the grid at certain times so there aren't supply disruptions.2
The hope is that two-way pricing will create more room on the electricity grid by encouraging Australians to use the solar power they generate or store it in batteries and export it when it's needed the most.3 Two-way pricing should also prevent export bans some customers face and ensure renewable energy doesn't go to waste.
Compare the Market's Energy Expert and General Manager of Utilities, Brett Mifsud, said while the plan may seem unfair to some solar panel owners, there will be many benefits to customers.
"Encouraging customers to export electricity at different times improves the flow of energy entering and leaving the network," Mr Mifsud said. "Some funds from export charges will also help develop new technologies that will benefit customers, networks and the environment.
"The AER also approves all export tariffs, which must benefit customers and enhance the network."
A free exporting option will remain
The good news is that the AEMC and AER have already confirmed that a free option will remain for households who don't want to be charged for exporting their solar energy to the electricity grid.
Under a basic export level, customers will still have an option to export electricity to the grid for free, providing they meet the criteria outlined by their distributor or retailer. The draft export tariff guidelines suggest this option will be available for a 10-year period from when the two-way pricing model comes into effect from 1 July 2025 for most states. A later date is set for Queensland, Victoria and South Australia.4
"Customers will still have an option to export a certain amount of solar energy to the grid for free, but essentially, customers could earn more for exporting when demand is high and less when demand is low or supply is high," Mr Mifsud explained.
"There's also a chance retailers could charge customers to export during lower demand but higher supply times.
"Homes that are equipped with solar storage systems or batteries will have more choice when they export electricity to the grid, meaning they could maximise the amount they earn."
What will the export tariffs look like?
There are multiple ways export tariffs could look, but ultimately, they will vary between retailers, just as current electricity plans do. The AER proposes that two-way pricing could be incorporated into existing tariffs (which customers already rely on for the electricity they use) or be introduced through new tariffs specific for exporting solar energy. They also propose that two-way pricing must be easy for customers to understand and suggest introducing simple export tariffs in the first instance. They included one example in their draft.
| | | | |
| --- | --- | --- | --- |
| Residential two-way tariff | Time period | Charge per unit | Price per unit |
| Fixed charge | Daily | c/day | 50.0 |
| Peak consumption charge | 4pm-9pm | c/kWh | 20.0 |
| Shoulder consumption charge | 9pm-10am | c/kWh | 5.0 |
| Off-peak consumption charge (solar sponge) | 10am-4pm | c/kWh | 1.5 |
| Export peak rebate | 4pm-9pm | c/kWh | 20.0 |
| Export charge* applies to exports > 2kWh/day (that is, the basic export level is 2kWh/day). | 10am-4pm | c/kWh | 1.5 |
Source: Australian Energy Regulator – 'Draft Export Tariff Guidelines' – Accessed 08/02/2022 (Example only – actual costs and charges will vary)
"The changes are set to come into effect from 2025 at the earliest for some Australian households, so there's nothing solar owners need to do right now," Mr Mifsud said. "Retailers will advise them when the new pricing plans will be introduced and what changes have been made.
"What we do know is two-way pricing will likely vary between retailers, so services like Compare the Market's energy comparison tool will be key in looking for a better deal."
The next steps
The AER is accepting feedback, consultation and submissions on their draft guidelines until 8 March 2022. While drafts give customers an insight into what the two-way pricing may look like, they're not finalised and can change.
Australians can expect the AER's final export tariff guidelines in May and for the two-way pricing changes to start taking effect from 2025.
Sources
Australian Energy Regulator – 'Draft Export Tariff Guidelines' – Accessed 08/02/2022
AEMC – 'Smart solar reforms will inject more clean energy into the grid' – Accessed 08/02/2022
AEMC – 'New plan to make room on grid for more home solar and batteries' – Accessed 08/02/2022
Australian Energy Regulator – 'AER releases draft Export Tariff Guidelines for consultation' – Accessed 08/02/2022
For more information, please contact:
Phillip Portman | 0437 384 471 | [email protected]   
Compare the Market is a comparison service that takes the hard work out of shopping around. We make it Simples for Australians to quickly and easily compare and buy insurance, energy, travel and personal finance products from a range of providers. Our easy-to-use comparison tool enables consumers to find products that best suit their needs and back pocket.
Did you find this article interesting or helpful?