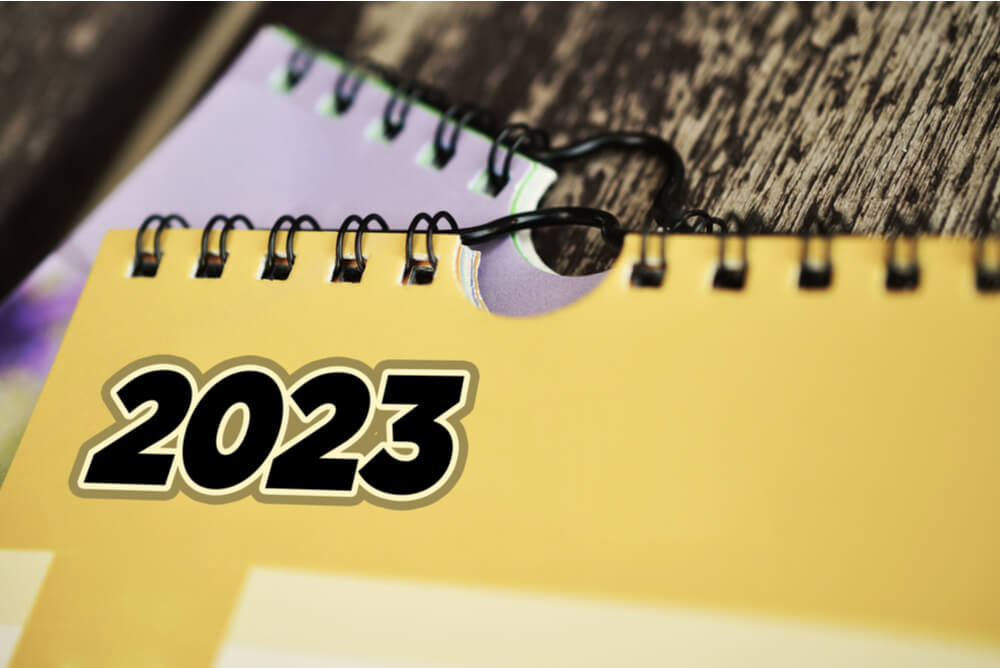 It's the question hopeful homebuyers are banking on: when are property prices going to drop?
According to new forecasts by three of Australia's big four banks, house affordability is likely to get worse next year before it gets better in 2023.
Commonwealth Bank, ANZ and Westpac have all updated their predictions, with each expecting another year of moderate growth in 2022 before prices correct slightly the following year.
This follows an enormous annual gain of 22% in capital cities, which according to REA Group data business PropTrack is the third-highest rate of growth since 1880.1
The table below shows what each bank predicts will happen to house prices in the next two years – NAB is yet to announce a revised forecast of its own, although it has previously predicted a 5% national increase over 2022.2
As the figures below show, if these forecasts are correct then prices will still remain slightly above or slightly below their current record highs.
Major bank house price predictions: 2022-2023
ANZ3
CBA4
Westpac5
2022
+6%
+7%
+8%
2023
-4%
-10%
-5%
Decline from current prices – end of 2023
+2%
-3%
+3%
CBA 2023 house price predictions
Commonwealth Bank (CBA) predicts a further 7% increase in dwelling prices throughout 2022, before prices drop by 10% in 2023 – the most substantial predicted decrease of all the major bank predictions.
According to CBA, 2022 will see a moderation in prices driven by "higher fixed mortgage rates, affordability constraints, and natural fatigue after a period of extraordinary price gains".
In 2023, CBA predicts the Reserve Bank will take the cash rate to as high as 1.25% by the end of the year, leading to an 'orderly' correction.
"A further tightening in macro-prudential policy looks unlikely in our view given higher fixed mortgage rates will deliver APRA the desired cooling in the market," Commonwealth Bank's head of Australian Economics Gareth Aird said.
"The Australian housing market is in the twilight of an incredible boom that has been fuelled by record-low mortgage rates. The phenomenal lift in prices is not over yet given dwelling prices are still rising briskly in most capital cities.
"But near-term indicators of momentum coupled with the recent move higher in fixed-rate mortgages suggest that conditions will moderate from here.
"Interest rates become a headwind on property prices if they are rising. That is the place we believe we are moving towards over the next two years given our expectation for the RBA to commence normalising the cash rate in late 2022."
CBA Dwelling price forecasts (%)

2021
2022
2023
Sydney
27
6
-12
Melbourne
17
18
-10
Brisbane
26
9
-8
Adelaide
22
6
-8
Perth
13
3
-9
Hobart
29
5
-12
Darwin
17
7
-8
Canberra
26
7
-10
Houses
25
6
-11
Units
14
9
-7
Australia
22
7
-10
Source: Commonwealth Bank
ANZ 2023 house price predictions
ANZ predicts smaller changes in dwelling prices, with values to rise another 6% from current levels in 2022 and fall 4% in 2023.
ANZ's extensive report, 'Australia's Housing Rolling Over' said Australia's house price gains have peaked over the past year and won't be repeated in 2022.
According to the report's authors, ANZ Senior economists Felicity Emmett and Adelaide Timbrell, high household savings and savings buffers, rising mortgage rates, lending constraints and a large increase in stock on the market will all lead to a slowing down of runaway price growth.
However, ANZ doesn't predict quite as many cash rate increases as Commonwealth Bank, only expecting the RBA to start raising the cash rate by mid-2023.
"In 2023, we see prices falling modestly as higher fixed rates really start to bite," the report said.
"The recent weakness in housing finance suggests that price growth will slow over coming months.
"We see the RBA on hold until H1 2023, but fixed mortgage rates are already rising. A faster-than-expected rise increases the risk that prices slow more than we currently expect."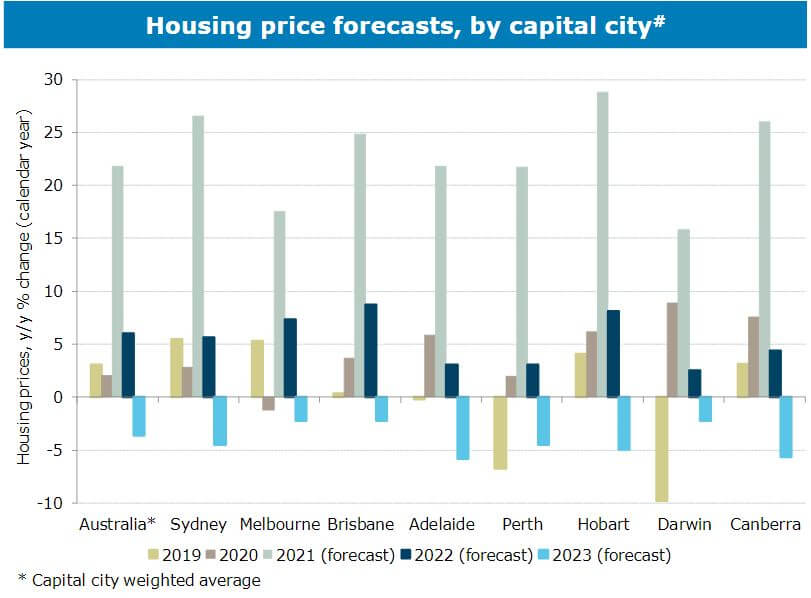 Source: ANZ
Westpac 2023 house price predictions
Westpac last issued a revised forecast in October 2021, predicting a slowed rate of 8% growth in 2022 followed by a 5% fall in 2023.
According to Westpac, the correction in 2023 will again coincide with a rise in official interest rates.
"As always, there are many moving parts to the price outlook as the boom enters trickier territory," Westpac's Chief Economist Bill Evans said.
"The main ones relate to affordability – which is becoming stretched – and policy tightening by both the Australian Prudential Regulatory Authority and the Reserve Bank.
"The wild cards are around investor activity and potential impacts from an extended period of slow population growth.
"But for now, the market has weathered the latest COVID disruptions very well and price momentum has held, prompting us to revise up the near-term outlook for prices before a correction phase begins in 2023 and likely extends into 2024."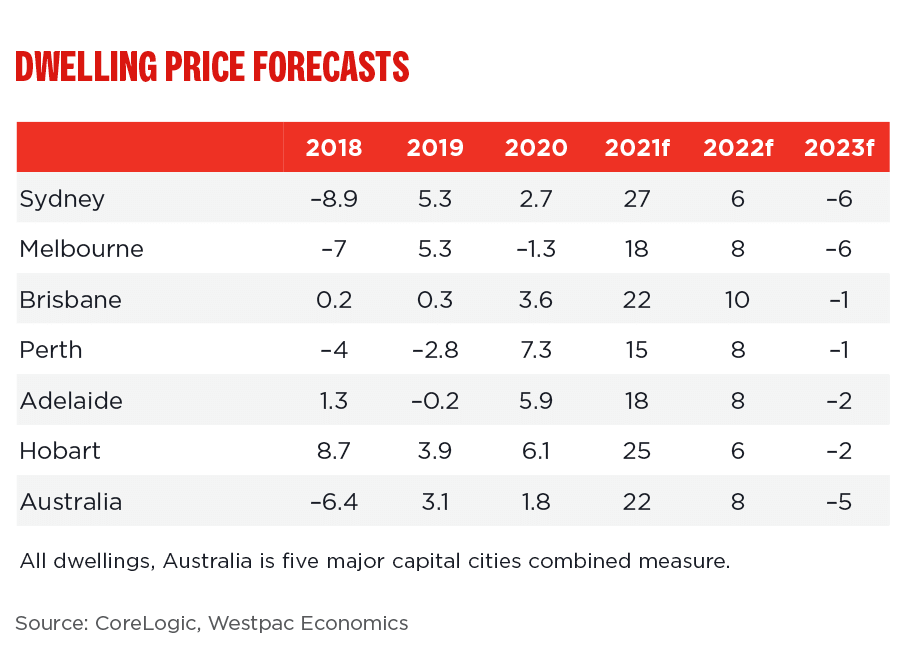 ---
Sources
Image via Shutterstock
Realestate.com.au, 24 November 2021. 'If housing price growth seems unusually high, that's because it is'.
NAB, Residential Property Survey, Q3 2021.
ANZ Research, 18 November 2021. 'Australia's Housing Rolling Over'.
Commonwealth Bank Economic Insights, 22 November 2021. 'Higher interest rates mean home prices will correct lower in 2023'.
Westpac, 14 October 2021. 'Outlook for Australian dwelling prices'.
Did you find this article interesting or helpful?