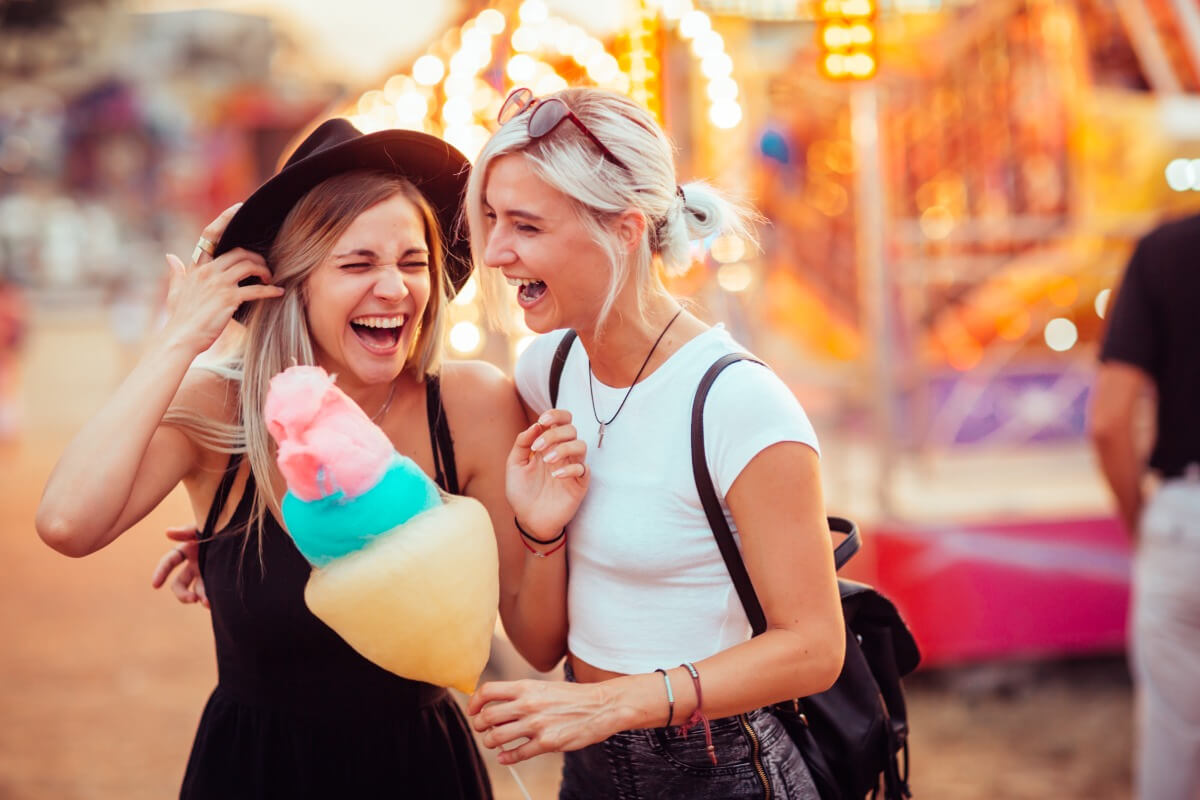 Hundreds of thousands of families will soon descend on the RNA Showgrounds for another year of the Ekka, new analysis from Compare the Market has found that the cost-of-living crisis hasn't necessarily hit the showbag pavilion this year.
Compare the Market analysed the price of 12 popular showbags at this year's Royal Queensland Show and found that in 83% of cases, it's cheaper to purchase showbags than buying the same contents at the supermarket. In fact, the latest research shows that you could fork out between 10% and 75% more at the grocery store if you were buying identical contents of some popular showbags.
With Queensland families feeling the sting of soaring energy prices, buckling under the pressure of repeated interest rate rises and walking the tightrope of exploding costs across the board, Compare the Market's Noémi Hadnagy said the findings would be welcomed relief for families looking to stretch their dollar at this year's show.
"We know that Queensland households have been doing it tough and while the Ekka can be an expensive day out for the family, our new analysis shows that you may save some serious coin by purchasing a bag at the show rather than buying the same items at the supermarket," Ms Hadnagy said. "There's a bit of a myth that it'd be cheaper to buy lollies, chips and other showbag snacks at the shops, but as our research shows, that's not necessarily true this year.
"By researching before you hit the showbag pavilion, you could walk away with some serious savings."
Of the bags Compare the Market analysed, the Shapes bag is the one that will give you more bang for your buck. At just $10, it's 42.8% cheaper to buy the bag than to purchase the exact five boxes of the iconic Aussie snack at the supermarket.
The Violet Crumble is another bargain bag, costing $10 less at the show and saving you a cool 40% of the supermarket retail price (which can go towards Strawberry Sundaes, Dagwood Dogs and games in Sideshow Alley). Showgoers could also save 35% by snapping up the Pocky bag at the show for $10, compared to forking out $15.40 for the same items at the supermarket.
"While these may not seem like significant savings, it really adds up when you're purchasing multiple showbags or entertaining a number of family members at the Ekka," Ms Hadnagy said. "Queenslanders have been really great at comparing the price of energy plans, grocery items and fuel to claw back cash and we're encouraging families to do the same when they visit the show this year."
However, Ms Hadnagy warned that research was essential, given that not all bags would be automatically cheaper.
"Our analysis shows that one bag – the Skittles Family Sharing Bag – is the exact same price at the show and the grocery store," Ms Hadnagy said. "However, we found that the Hubba Bubba bag would actually be 23% cheaper if you bought the same items at the store.
"With hundreds of different bags and stalls at this year's show, it's never been more important to plan ahead so your hip pocket doesn't take a beating at the Ekka."
Purchasing cheaper showbags aside, Ms Hadnagy said there were other ways for families to save at the 2023 Royal Show.
"Consider purchasing your tickets to the show online ahead of time and you could be rewarded with a discount," Ms Hadnagy said. "If you are heading to the Ekka with your family, consider packing your own lunch and take water bottles that you can refill throughout the grounds.
"Also plan your day around the free events at the show to get the most value out of your entry ticket.
"And, if you can't resist purchasing a showbag or two, check out the stalls that allow you to bundle multiple bags to save. Also remember that you'll likely get more value from the bags that contain reusable goodies like backpacks, toys, water bottles, vouchers and more."
It's also worth noting that grocery stores run weekly specials on many popular showbag treats such as lollies, chocolates, biscuits and chips, so you may be able to skip these bags in favour of something that provides greater value to your family.
Ms Hadnagy's top tips for saving at the Ekka.
Buy your tickets online ahead of the event. Depending on when you purchase tickets, you may receive a discount for buying your entry online. Similarly, you may receive discounts for attending on certain days. (Patrons receive a further 20% by attending on either Monday 14th August, Tuesday 15th August, Thursday 17th August or Friday 18th August 2023).
Take your own lunch and water bottle. If the thought of dagwood dogs and festival food is too much, consider packing your own lunch, snacks and a water bottle that you can fill up at the event.
Plan your day around free events. While Sideshow Alley, the rides and the Showbag Pavilion are popular, there are plenty of free events at the Ekka. Plan your day around these events to maximise the value of your entry ticket.
Score a freebie. There are plenty of freebies on offer at the Ekka, ranging from food samples and toys to goodie bags and more.
Showbag and contents
Ekka price
Price at supermarket
Price difference at supermarket
Percentage difference at supermarket
Arnott's Biscuits

1 x Monte Carlo Original 250g

1 x TeeVee Snack Malt Sticks 175g

1 x Chocolate Mint Slice 200g

1 x Arnott's Scotch Finger 50% Less Sugar 232g

1 x Shortbread Cream 250g

$15
$19.70
$4.70
31.33%
Big Milkybar

40 x 15g Milkybar

$20
$22
+$2
10%
Big Smarties

2 x Smarties 50g carton

11 x Smarties Mini 11g

2 x Smarties Hanging Bag 160g

$20
$19.90
-$0.10
-0.5%
Darrell Lea Life Savers

1 x Life Savers Stix Sherbet Fizz Raspberry 220g

1 x Life Savers Stix Sherbet Fizz Green Apple 220g

1 x Life Savers Fruit Tingles 180g

1 x Life Savers Fruit Pastilles 180g

1 x Life Savers Blackcurrant Pastilles 180g

1 x Life Savers 5 Flavour Jelly Beans 180g

$20
$24
+$6
20%
Ferrero Rocher

4 x Ferrero Rocher 5 pack

2 x Ferrero Rocher 3 pack

2 x Raffaello 3 Pack

$20
$26
+6
20%
Hubba Bubba

2 x 35g HUBBA BUBBA STRAWBERRY

2 x 35g HUBBA BUBBA GRAPE

4 x 35g HUBBA BUBBA ORIGINAL

1 x 180cm HUBBA BUBBA TAPE

$10
$7.70
-$2.30
-23%
Kinder Bueno

6 x Kinder Bueno Classic

1 x Kinder Bueno Mini's Pack of 20

$13
$17
+$4
30.76%
Pocky

2 x  47g Pocky Sticks Chocolate

2 x Pocky Sticks Strawberry 45g

1 x Pocky Sticks Double Chocolate 47g

1 x Pocky Sticks Cookies & Cream 40g

1 x Pocky Matcha Green Tea Sticks 35g

$10
$15.40
$5.40
54%
Shapes

1 x Arnott's Shapes Pizza 190g

1 x Arnott's Shapes BBQ 175g

1 x Arnott's Shapes Chicken Crimpy 130g

1 x Arnott's Shapes Sweet Chilli 130g

1 x Arnott's Shapes Cheese & Bacon 180g

$10
$17.50
+7.50
75%
Skittles Family Sharing Bag

 12 x 15g Skittles Fruits

1 x Skittles Sours Giants

1 x Skittles Fruits Giants

$16.50
$16.50
–
–
The Natural Confectionery Co

2 x 180g TNCC PARTY MIX

1 x 190g TNCC SNAKES

1 x 180g TNCC SQUIRMS

1 x 180g TNCC FRUIT CHEWS

$15
$20
+$5
33.33%
Violet Crumble

2 x Violet Crumble Bite Sized Cubes 100g

3 x Violet Crumble Dark Bar 30g

2 x Violet Crumble Bar 30g

1 x Violet Crumble Nuggets 120g

$15
$25
+$10
66.66%
Prices sourced from the Ekka showbag website and from Coles, Woolworths and Big W online websites on 18/07/2023. Retail prices are reflective of the full retail price and don't include discounts.
For more information, please contact:
Phillip Portman | 0437384471 | [email protected]
Compare the Market is a comparison service that takes the hard work out of shopping around. We make it Simples for Australians to quickly and easily compare and buy insurance, energy, travel and personal finance products from a range of providers. Our easy-to-use comparison tool helps you look for a range of products that may suit your needs and benefit your back pocket.
Did you find this article interesting or helpful?