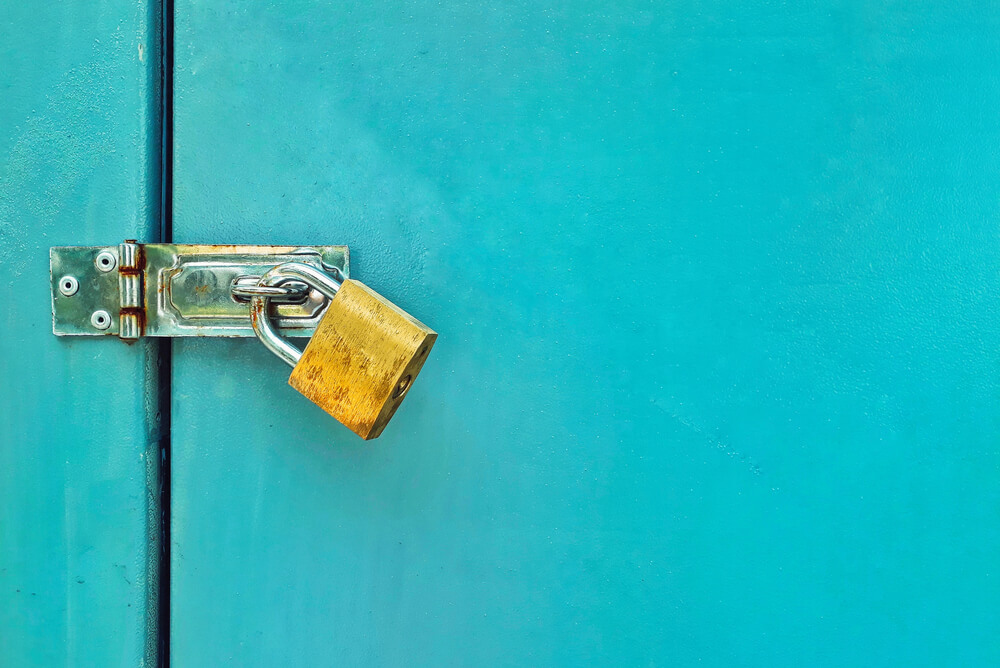 New research by major bank ANZ predicts that fixed mortgage rates are set to increase sharply in 2022 from their current record-low rates.
ANZ Senior Economist Felicity Emmett wrote in a research paper that although the bank expects the Reserve Bank to make its first cash rate increase in early 2023, fixed interest rates will rise sooner than that.1
According to ANZ, better-than-expected economic data and higher inflation will see market interest rates pushed up, with the lowest interest rate available to borrowers set to lift by around 50 basis points in the coming months.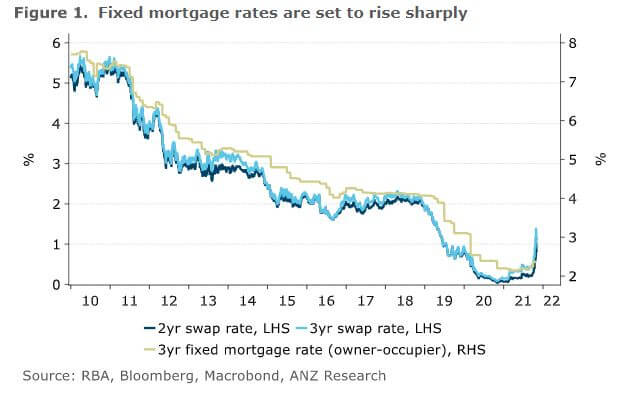 "Fixed mortgage rates have been rising for some months and are set to rise further," Ms Emmett said.
"The implications of the move in market rates is much more significant in this cycle, because of the unusual gap between fixed and variable rates and the share of new borrowers taking up fixed rates.
"In the two years to June 2021, the average discounted variable mortgage rate fell 90 basis points [0.90%], while the three-year fixed-rate fell 170 basis points (1.70%).
"This created an unprecedented gap between fixed rates and variable rates, peaking at 150 basis points (1.50%) in March this year."
The above graph shows that fixed rates have been increasing slowly in the last few months; while fixed terms of three years or more have seen particularly sharp rises.
In just the two months from July to September 2021, the average interest rate on 3+ year fixed mortgages grew from 2.23% p.a. to 2.39% p.a.2
With fixed rates now accounting for nearly half of all new mortgages fixed (compared to about 15% prior to the pandemic), Ms Emmett says these substantial upcoming increases will have implications on household cashflow.
"As many of the borrowers who took on fixed mortgages in 2020 are required to refinance, they will find new rates on their mortgages are likely to be significantly higher," she said.
"While this won't flow through to house prices, it will mean higher servicing costs and less disposable income available for consumption."
Why are fixed interest rates so low?
Fixed interest rates reached extreme lows in 2021, hitting a record of just 1.95% p.a in May for owner-occupied (variable) loans fixed for three years or less.
This, in turn, saw their popularity spike: having been worth a total of 'just' $4.6 billion in March 2020, new loans funded hit a record high of more than $27 billion in July 2021.3
That's an increase of more than 500% from when many people consider to be the true beginning of pandemic restrictions in Australia.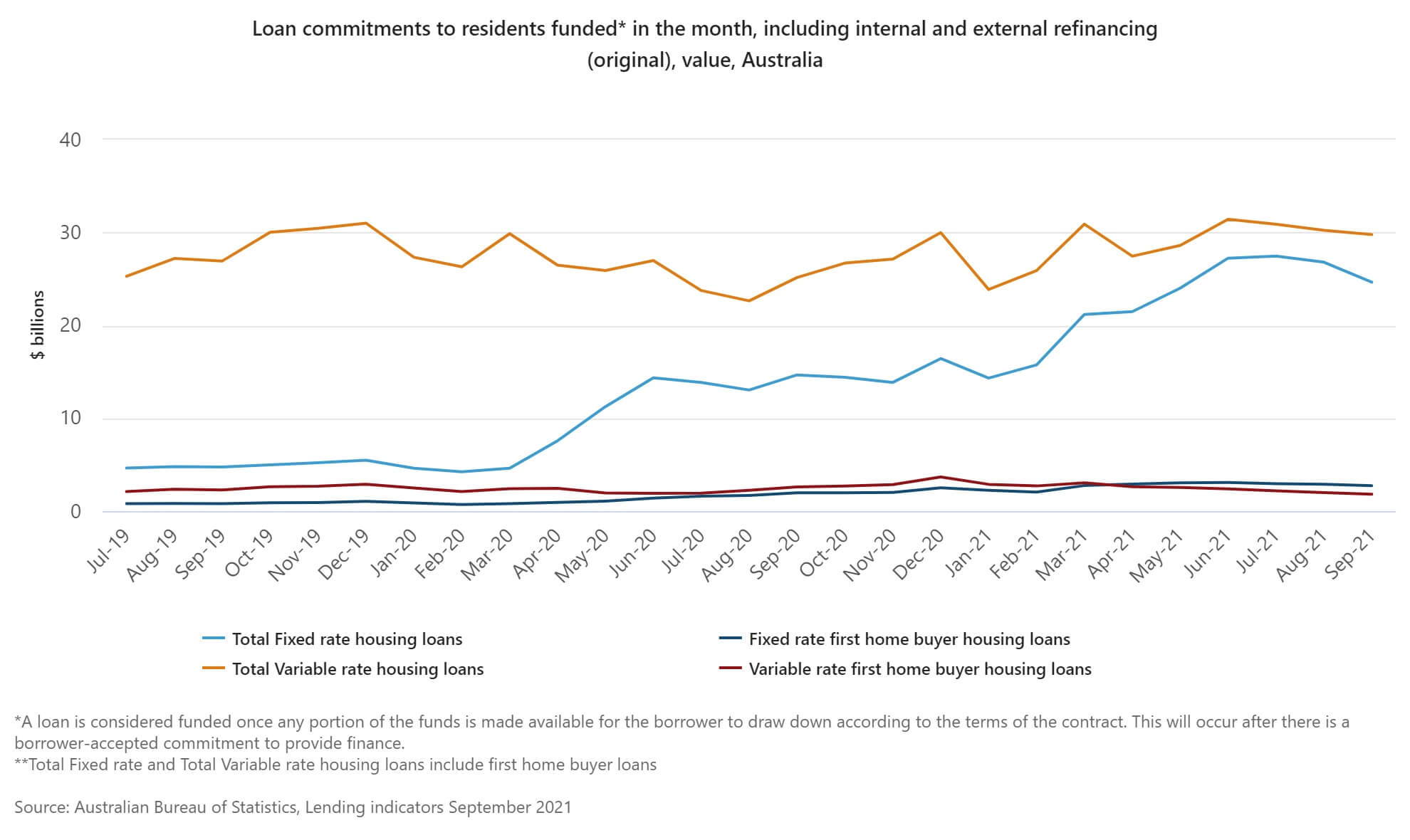 But why were fixed interest rates so low in comparison to variable rates? There are a few factors.
A key reason is the obvious record low cash rate of 0.10%, but another key factor was the introduction of the Term Funding Facility (TFF) from the RBA.
Essentially, this was introduced by the RBA in March 2020 as "part of a comprehensive policy package to support the Australian economy in response to the COVID-19".
It provided $200 billion worth of low-cost funding (just 0.10% p.a) to banks for three years to "support the banking sector to continue to extend credit to households and businesses" – see where this is going?
This, in turn, was used by a lot of banks to offer extremely low fixed rates for terms of around three years or less.
"As a result of the Reserve Bank's package of policy measures, including the TFF, bank funding costs have declined to historically low levels," the RBA said in a report.4
"This decline has, in turn, been passed through to lending rates, which are also historically low. On average, lending rates have declined in line with banks' overall funding costs."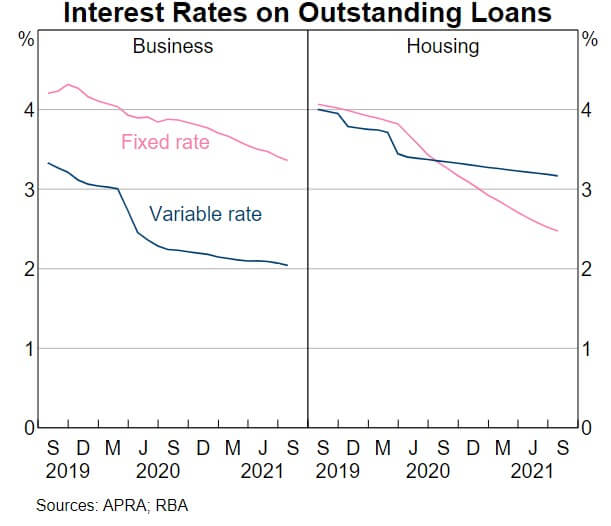 Is it a good idea to lock in a fixed rate now?
Another factor in the popularity of fixed rates is the expectation of a cash rate increase, which would lead to lenders increasing interest rates on home loans as well.
Even a minor increase in interest rates can have a significant impact on repayments, so a number of people are deciding to lock in their mortgage at a low fixed rate for several years to potentially avoid this.
With the Reserve Bank now dropping its 2024 target for the next cash rate increase,5 the general expectation in the market now is not 'will the Reserve Bank up the cash rate' although the question remains, how much will it increase by?
Commonwealth Bank predicts as many as five increases by late 2023, which would take the official cash rate from 0.10% to 1.25% p.a.6
Assuming interest rates followed the cash rate to a tee, that 1.95% p.a average fixed rate for under three years could rise to 3.20% p.a.
But locking in a fixed rate means customers wouldn't experience than increase until their fixed term expires.
Here's how that could make a difference to repayments in that time, based on a $500,000 owner-occupied principal and interest loan with a 30-year total loan term:
| | |
| --- | --- |
| | Monthly repayments for first three-years |
| Repayments at 1.95% | $1,836 |
| Repayments at 3.20% p.a | $2,162 |
By sticking with a fixed loan in this instance, the average home loan customer could've saved more than $320 per month in the first three years – or nearly $12,000.
Why wouldn't you want to fix your interest rate?
Generally speaking, fixed home loans are less flexible: they usually don't allow extra repayments and can charge high break fees if you decide to refinance to a better deal during the fixed term.
Head of lending at non-bank lender WLTH, Catherine Mapusua says borrowers need to make sure a fixed-rate loan is right for them.7
"If you change banks, sell the property, or need to break the rate of your repayments, you risk charges that can be from a couple of hundred to several thousand," Ms Mapusua said.
"For people with a variable-rate mortgage, you may want to think about fixing part of your interest rate sooner rather than later to ensure you can continue to make payments.
"If you have a fixed-term interest rate, consider paying a lock fee. This can help secure your fixed rate on offer at the time of settlement, protecting you from rate increases before the loan is advanced.
"Given the speed at which rates rise and the challenge in predicting the climb, speak to your provider to guide you through a 'stress test' to determine what your future financial position looks like."
If borrowers aren't sure about whether they should go fixed or variable, Compare the Market's banking expert David Ruddiman
"Many people are looking to implement a strategy of splitting their home loan into a fixed interest component to provide a safeguard against future rate rises, and a variable interest component that enables them to make additional contributions to pay their home loan down faster while rates are at historic lows," Mr Ruddiman said.
"This provides borrowers the best of both worlds, stability and predictability of repayments on the fixed interest component, with the flexibility of being able to focus their repayment efforts on the variable component."
Compare fixed-rate home loans with Compare the Market today.
---
Sources
Image via Shutterstock
ANZ Economic Insight, 8 November 2021. Mortgage rates heading higher, despite RBA.
Reserve Bank of Australia, September 2021. Lenders' Interest Rates.
Australian Bureau of Statistics, 1 November 2021. Lending Indicators September 2021.
Reserve Bank of Australia, 16 September 2021. 'An Assessment of the Term Funding Facility'.
Reserve Bank of Australia, 02 November 2021. Statement by Philip Lowe, Governor: Monetary Policy Decision.
Commonwealth Bank, 28 October 2021. Exceptional vaccine take-up means stronger economic outcomes in 2022 and RBA policy tightening.
WLTH, 8 November 2021. 'Is It Time to Fix Your Home Loan?'
Did you find this article interesting or helpful?