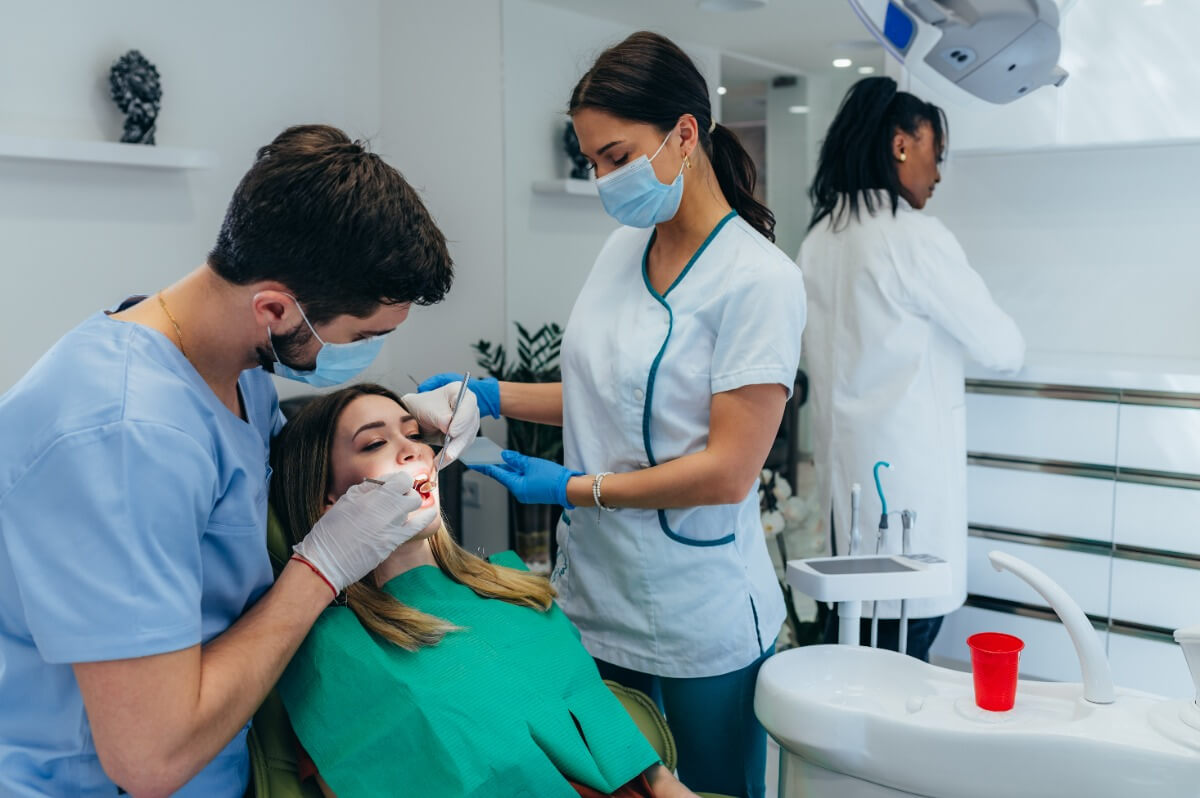 Root canals, tooth decay, fillings, plaque and dentures: These words are enough to make your skin crawl, but alarmingly, new research from Compare the Market reveals that a staggering number of Australians haven't been to the dentist in more than a year.
Monday 20 March is World Oral Health Day and new findings from the comparison website found that nearly half of Australian adults (45.1%) haven't been to the dentist in the last 12 months.*
However, Western Australia is Australia's poor dental hygiene capital, with a whopping 54.4% of adults out west admitting that it's been more than a year since their last check-up.
Conversely, Victorians have something to smile about, being the state most likely to pay their dentist a visit in the last year (at 56.2%). Meanwhile, South Australians and those from New South Wales are more likely than Queenslanders to put off their dental appointments.
Lana Hambilton, Head of Health Insurance at Compare the Market, says cost is a reason why so many Australians are delaying their dental visits.
"It's important that Australians keep on top of their dental hygiene, we know that many Aussies put off a visit due to the price of visits and treatments," Ms Hambilton says. "The average Aussie spends around $216 a year on dental services, but this amount can blow out substantially for some treatments."
Women are 3.6% more likely than men to keep on top of their dental visits, while Gen X is the generation most likely to have not seen a dentist over the past 12 months. In fact, it's been more than a year since half of Gen Xers have seen their dentist, compared to 40.8% of Baby Boomers. Meanwhile, around 45% of Gen Z and Millennials have delayed their dental examination by more than 12 months.
"What this tells us is that Australians of all ages are putting off that visit to the dentist, which could cause a number of oral health problems that cost even more to treat the longer check-ups are delayed,"  Ms Hambilton says. "While we know that Australia's dental health has improved significantly over the past few decades, avoiding your check-ups isn't something you can grin and bear forever. In addition to tooth decay, poor dental hygiene can impact the types of foods you eat, your overall health and well-being and can contribute to body confidence issues."
According to the Australian Institute of Health and Welfare, around 67,000 dental-related hospitalisations could've been avoided if patients had sought treatment earlier. Meanwhile, around one in 25 people over 15 have lost all their teeth, while a quarter of Aussie children already have untreated tooth decay.
"While Medicare contributes to many health treatments, it'll rarely cover dental services, meaning Australian families who are already experiencing price hikes across the board could choose to further put off prioritising their oral hygiene," Ms Hambilton warns. "Extras health insurance can help cover the costs of basic dental treatments like oral exams, fillings, tooth extractions and more.
"Higher-level extras policies of cover may also offer coverage toward those big-ticket treatments like dentures, crowns, bridges, wisdom teeth removal and more complex fillings, endodontic treatments like root canal therapy and even orthodontic treatment like braces or Invisalign. Of course, the exact treatments and services available to you will depend on your level of cover, if you've served your applicable waiting periods and any claim limits on your policy."
The latest stats come as 2022 research from Compare the Market revealed that 34.9% of Aussies don't brush their teeth twice a day and 30.6% admitted to rarely or never flossing their teeth.
"In addition to regular check-ups, brushing twice a day and flossing is key in helping keep oral issues at bay," Ms Hambilton says.
Ms Hambilton's top tips for managing dental costs.
Dentists can set their own prices, so it's worth getting a quote and shopping around before you book an appointment.
While Medicare dental care plans are available in Australia, they're only available to those with a healthcare or pensioner concession card. However, waitlists can be lengthy, and eligibility can vary between states.
If you're considering taking out private health insurance to cover dental bills, be aware that waiting periods can apply. From time-to-time, promotions that waive some basic dental waiting periods occur, so look out for these.
Consider your needs, as for more complex dental treatments like braces, root canal therapy or treatment of gum tissue diseases, you may need to look at a higher level of extras cover and a waiting period of up to 12 months
*Survey of 1,000 Australian adults, conducted in November 2022. ACT, TAS and NT not included individually due to low sampling data, but included in national average.
For more information, please contact:  
Phillip Portman | 0437 384 471 | [email protected]
Compare the Market is a comparison service that takes the hard work out of shopping around. We make it Simples for Australians to quickly and easily compare and buy home and contents, car, pet and travel insurance along with energy products from a range of providers. Our easy-to-use comparison tool helps you look for a range of products that may suit your needs and benefit your back pocket.
Did you find this article interesting or helpful?