The number of people who have travelled uninsured
We've all been told what's good for us, but how many of us have actually taken that advice? While travel insurance may not be the first thing that comes to one's mind when planning a trip, having some sort of financial support to help when things go from great to awful can ease some of the added stress.
Our survey found that Americans are leading the board by being the biggest risk takers, with a whopping 74.72% of respondents admitting to going on a trip uninsured.
Australians come in second, where just more than half (54.76%) 'roll the dice' and hope nothing will happen while abroad, while a slightly more modest number of Canadians (48.3%) have also gone on a trip uncovered.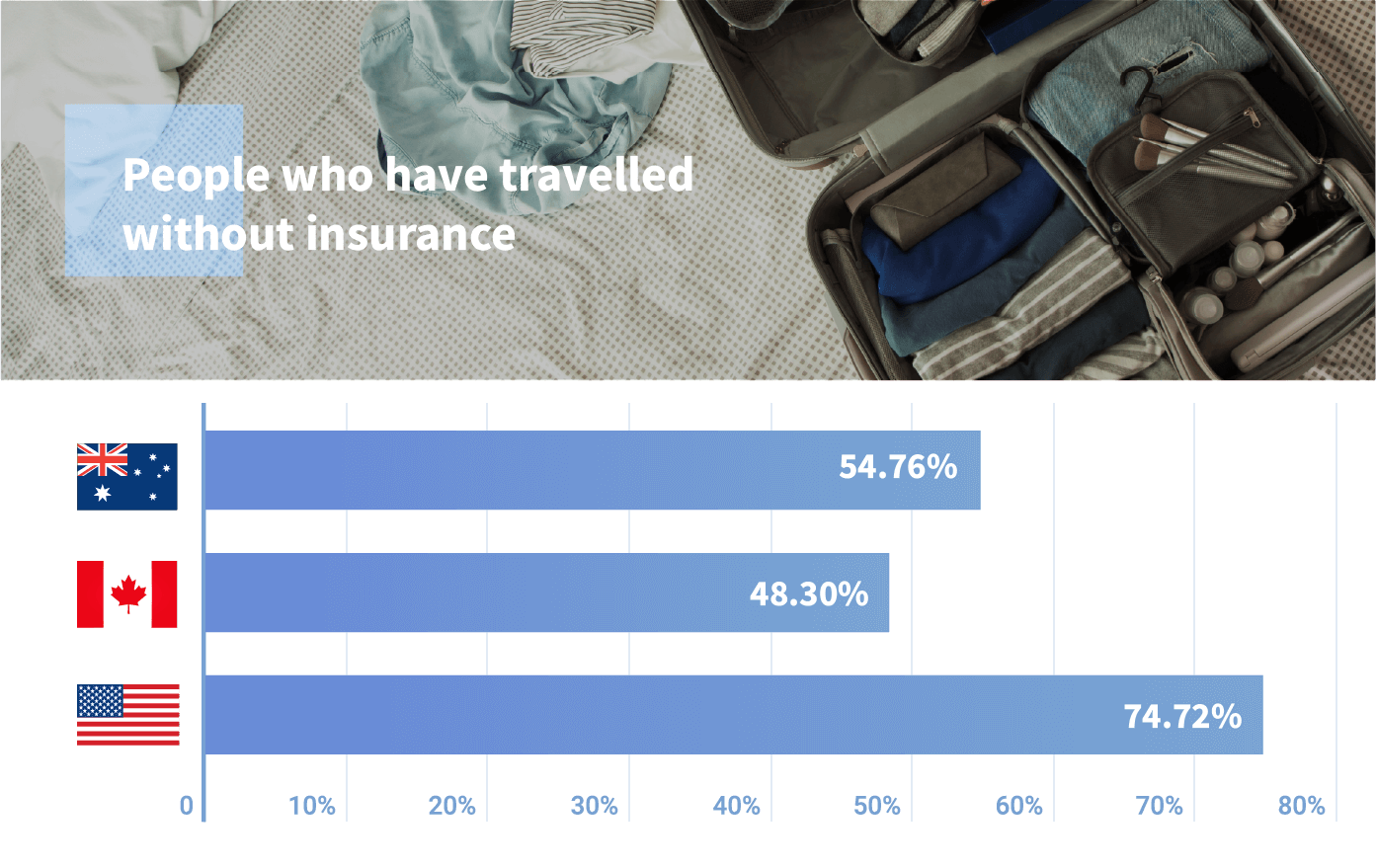 We've also crunched the numbers on how many people regretted their decision to not get travel insurance and found that on average between the 3 countries…
15% of respondents who have travelled without insurance have come to regret it.
Men in Australia and America were more likely to regret their decision, while it was their female counterparts in Canada that had the most remorse.
Seasonal travelling
Compare the Market's travel insurance expert, Stephen Zeller spoke on seasonal travelling.
"Now more than ever, people are looking to take a holiday to recuperate and experience the world, given the lockdowns that have happened in the past two years," Mr Zeller said.
"While our research shows that people generally look to take their vacations in the summer, many places offer a variety of different experiences for the different seasons.
"We all seem to know a place for one reason, like going to Switzerland to ski the Alps, or visiting Ibiza for its great beach parties, but many of these destinations offer alternative adventures which can only be experienced in off-seasons.
"There's so much of the world that's there for us to discover, whether locally or internationally, that can cater to what we want and need at different times of the year.
"However, it's important to remember that sometimes things don't always go to plan, and it's a good idea to be prepared in case something does happen, such as having travel insurance."