While electricity prices generally increase (historically) year on year, hope is in sight.
According to the Australian Energy Regulator's (AER) 2020 state of the energy market report, "stubbornly high wholesale electricity prices have finally begun to fall as large volumes of renewable energy enter the market and fuel prices fall. This should bring some relief to consumers in coming years."1
In saying that, here's a list of factors that contribute to price hikes and what you can control on your end.
Why do electricity prices increase?
Factors outside of your control
Several parts make up the overall price of your electricity bill (disregarding costs related to what you consume). It's these moving parts that fluctuate and cause your electricity bill to either go up or down in any given year. They include:
retail, or 'administration' costs (e.g. managing customer accounts, meter reads etc.),
purchase costs (retailers purchase electricity and gas from the National Energy Market, to onsell to customers),
network costs (build, maintain and operate electricity poles, wires and gas pipes etc.),
green costs (government programs to support the development of renewable energy).
Three-quarters of the cost of your household electricity bill covers wholesale prices, as well as those associated with distribution networks.2 Maintenance and expansion costs are passed on to distributors who in turn pass it on to retailers (i.e. providers), and they pass it on to you, the customer.
You won't see these costs in your electricity bill as an itemised breakdown; however, they are there.
What you can control
Here's a list of factors that can mitigate an electricity price increase and are within your control:
Your consumption. It's an obvious one, but how much electricity you consume will affect your bill. Read more about how to save electricity, especially in the summer and winter months.
Your tariff. A tariff is essentially how your provider will calculate what to charge you for electricity. If you have a smart meter, for example, you may be charged less when you use power at a time of day when the network isn't under strain. If you have a standard meter though, you may be charged the same flat rate regardless of the time of day.
The efficiency of your appliances. Energy-efficient appliances help you save energy and money on your energy bill. Learn more about energy-efficient appliances and their star rating.
Your plan type and provider. When your energy plan or contract expires, you may lose your discounts and could move from a cheaper market plan to a more expensive standing or default offer.
Are you worried that you're overpaying for electricity? It's easy to check whether there's a great value plan you're missing out on. Comparing providers is a quick way to find out if you can save money – use our free online comparison tool to start the process.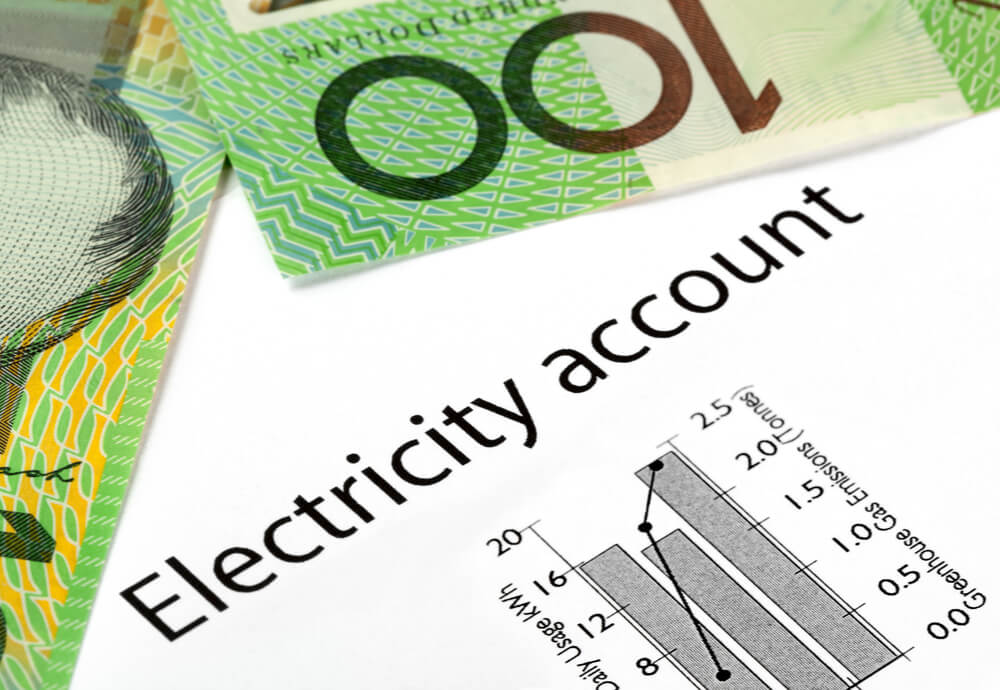 When are electricity prices going up?
Electricity prices generally change on 1 January or 1 July (depending on your state, check your state government's website for specific dates). However, they don't necessarily rise (they could fall) year on year.
Depending on the plan, if the price is not locked in, the price can be changed by the retailer at any time. Alternatively, since prices change, your bill could go up at the end of your contract.
Electricity prices don't change from a seasonal perspective. However, your bill may go up  in the summer because of air-conditioning or up in the winter because of heating.
Do the Federal or State Governments influence electricity price increases?
The electricity market is made up of generators, transmission, distribution and retail entities – which all sit under the watchful eye of the Australian Government.
The Australian Government via the Australian Energy Regulator (AER) and other state bodies like Victoria's Essential Services Commission regulate prices (set by distributors and providers) and ensure the network runs efficiently, and consumers are protected from unfair and excessive prices.
In 2019, the Australian Government introduced the Default Market Offer (DMO) and the Victorian Default Offer (VDO) as a cap on the price that retailers can charge consumers on standing offer contracts. The DMO and VDO acts as a benchmark which (providers) cannot exceed. In a sign of change for the better, standing offer prices for residential consumers fell by 11–13% in New South Wales, 12% in South Australia and 10% in south-east Queensland from July 2019 to January 2020.3 From January 2021, the VDO will drop by 10%.4
Does your state have a DMO?
The DMO operates in New South Wales, South Australia and South-East Queensland. Victoria has the Victorian Default Offer (VDO) which acts similarly. In other states, prices are fully regulated, and customers are buying energy from companies set up by the government. People in WA, NT and North Queensland don't get a choice when it comes to buying electricity.
How does solar energy reduce electricity bills?
Over two million Australian households have solar panels. In the short term, they can be expensive. However, you can significantly offset set-up costs with government solar rebates and feed-in tariffs.
In the long-term, they can reduce your dependence on the energy grid and help save money on electricity bills.
Compare, switch and save
While the electricity market has multiple variables pushing prices up (or down) every year, it's still possible to find a better deal.
One of the best ways is to compare different plans is to use our free online comparison service, to see if there's a better value product available for your household from our selection of providers.
Here are three reasons why you should compare
It'll only take minutes – just enter a few details to compare rates, discounts and other perks.
If you find a better deal, we'll handle the switch.
Your supply won't get interrupted.