You've bought your plane tickets, booked accommodation and planned your itinerary. You're about to head off to catch your flight in a few days, but there's one thing left to do before you go: figure out what to pack for your overseas trip.
It's not the best feeling in the world to realise you've forgotten something after you've left the house. It can feel even more daunting when you're flying across waters to a place from which you can't dip back home to fetch your essentials.
That's why we've compiled a list of things to take overseas! Print out this PDF so that you can tick off all your essentials for travelling overseas.
Things to take overseas: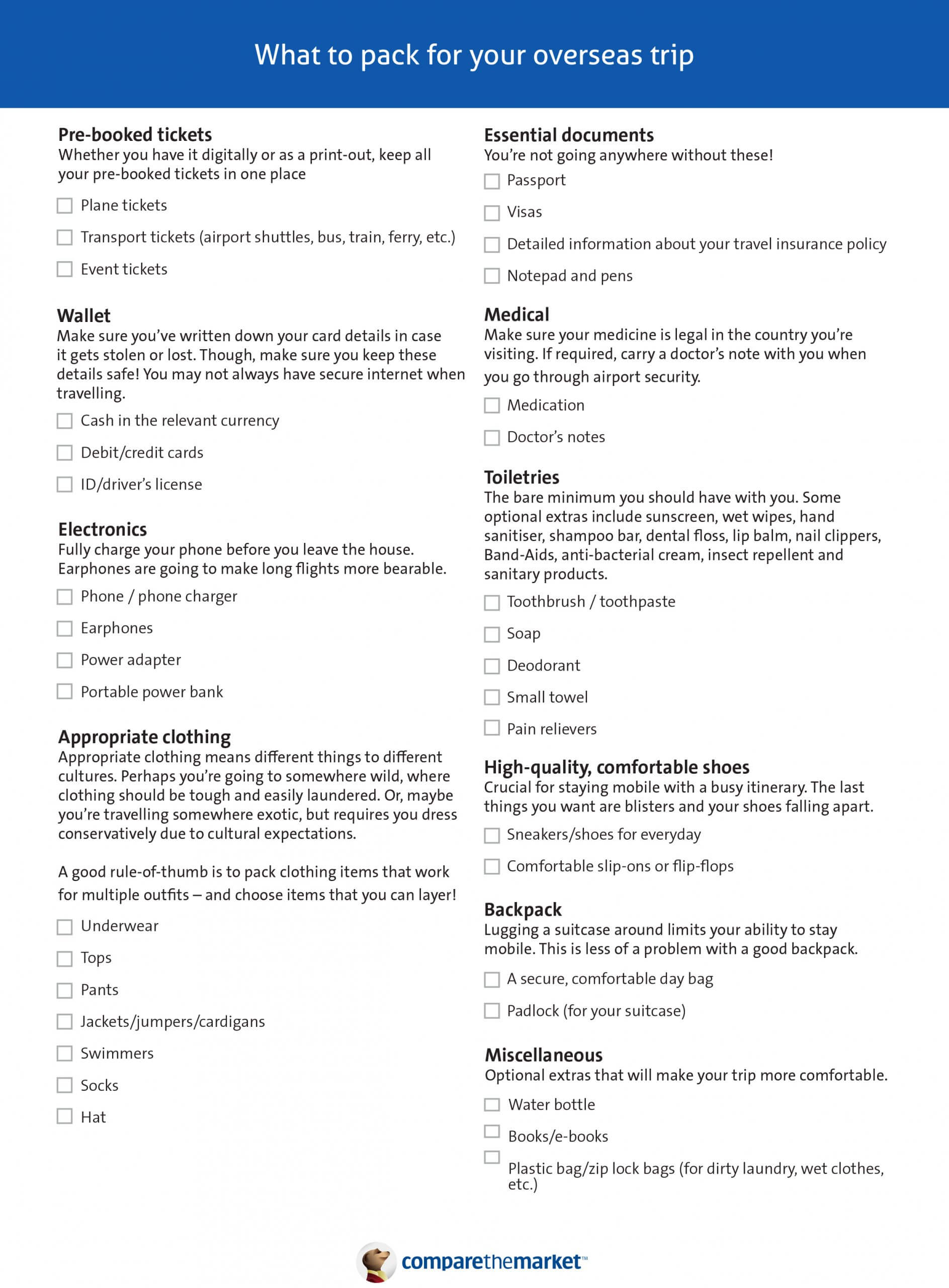 Open the printable PDF here.
Final tips on what to pack for your overseas trip
Don't overpack. Overpacking will limit the amount of space you have to bring back souvenirs, and the extra weight will only serve to make your trip between your accommodations more difficult.
Many travellers overestimate the number of things they need to travel overseas – particularly with clothing. Here are a few tips on what clothing you should bring:
only bring basics that you can mix and match;
bring clothes you can layer;
consider how long you'll be travelling; and
consider whether you'll be laundering your clothes while travelling.
Most of the time, you'll be able to purchase essential items (e.g. toothpaste, soap, shampoo) at your destination. Better yet, if you're staying at a serviced hotel, they'll likely be complimentary.
Our list on what to pack for an overseas trip covers the essentials for travelling overseas, so you may want to consider adding other items as needed. For example, if you're travelling to a country that requires you to have certain vaccinations, it'd be a good idea to bring a vaccination certificate to prevent being denied entry into a country.
Although you can't register your trip on SmarTraveller anymore, you can still subscribe to get alerts and emails. You can even get critical alerts via SMS. Find out more about SmarTraveller's subscription service.
Have you considered travel insurance?
Need more tips? We've got you covered for anything you might need to know about travel cover.
If you haven't already purchased travel insurance, now is a great time to consider how travel insurance can protect you against the unexpected. Use our online travel insurance comparison service to compare premiums, inclusions, exclusions and more! Get free quotes from insurers in Australia!