Okay, so you're young, not even thinking about starting a family yet, and – apart from a few bumps and bruises along the way – you're in pretty good shape. Right? Good. Chances are you're not going to need a hip replacement in a hurry.
Roughly 11.2 million Aussies had some form of private health insurance in 2019, according to the Australian Prudential Regulatory Authority (APRA).[i] However, consider that young Aussies only represent 10.92% of all insured persons (excluding extras):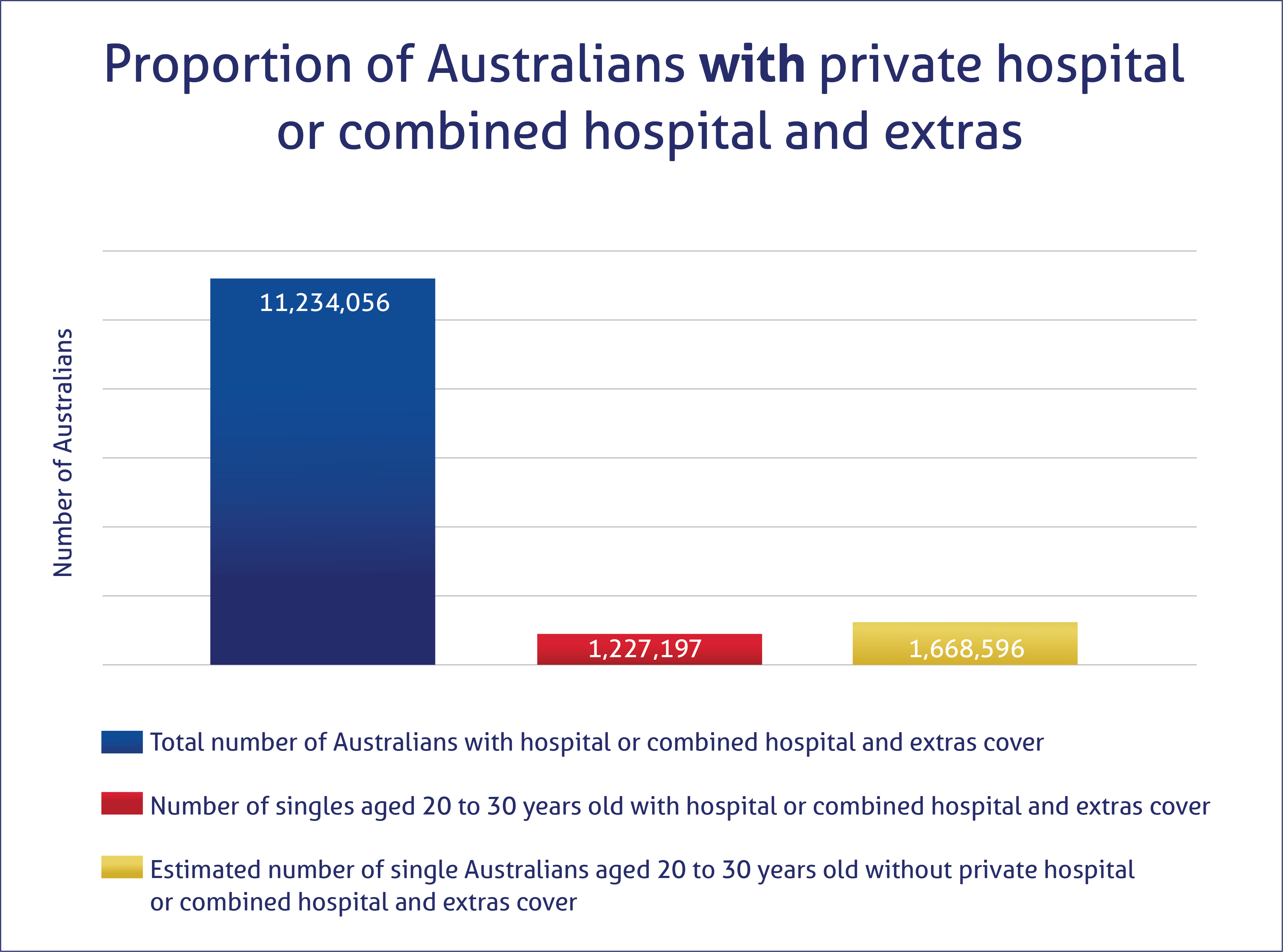 Sources: Private Health Insurance Membership and Benefits Statistics September 2019. Australian Prudential Regulatory Authority, Australian Government. 2019.
31010.0 Australian Demographic Statistics: TABLE 59. Estimated Resident Population By Single Year of Age, Australia. Australian Bureau of Statistics, Australian Government. 2019.
2071.0 Census of Population and Housing: Reflecting Australia – Stories from the Census, 2016 – Snapshot of Australia. Australian Bureau of Statistics, Australian Government. 2017.
Note: couples in ABS data are defined as "two people usually residing in the same household who share a social, economic and emotional bond usually associated with marriage and who consider their relationship to be a marriage or marriage-like union. This relationship is identified by the presence of a registered marriage or de facto marriage."[2] As such, unregistered social relationships and dating aren't taken into account, which can affect statistics.
As the table shows, 42.38% of single Australians aged 20 to 30 years old have private hospital insurance or a combined hospital and extras policy.
So, you might ask, as a young single person, do you need health insurance? We'd be happy to explain why it's a smart idea!
Why get health insurance when you're young and single?
Say you play basketball. You pivot on the court and your cruciate ligament tears. Ouch! Your GP refers you on for surgery. While it's serious (and painful) enough to require treatment, it isn't a high enough priority operation to jump to the top of the waiting list.
If you're covered by private hospital cover, you can avoid public queues and jump straight into treatment as a private patient. You know what that means? Less waiting (potentially), and you could get back in shape faster.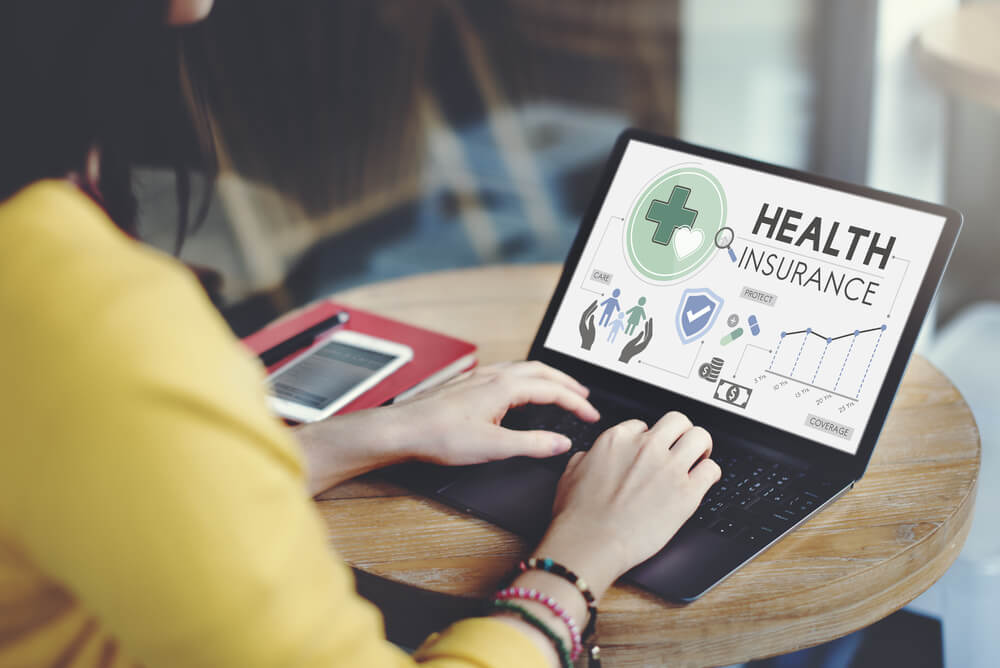 Insurance is also useful in cases where you might need treatment from a specialist. With private hospital cover, you can choose your own specialists, or stay in a private room for your recovery (provided that one is available). Without private hospital cover, say goodbye to the ability to choose your surgeon!
Extras cover also helps pay your bills for certain things that Medicare doesn't cover; like dental, optical, physiotherapy and more. Look at it this way: depending on what extras policy you choose, you might be able to grab a new pair of trendy prescription glasses each year, and your insurer helps cover the cost (if not, the entire thing).
Insurance isn't too expensive for young Aussies
One thing we hear from many young Australians is, "I can't afford health insurance". Sure, you may be studying, or just starting out in your career, and you may not be earning big dollars yet. To you, we say this:
In 2019, the Government implemented an age-based discount on hospital policies for Australians aged 18 to 29. Depending on your age, you could save up to 10% off your hospital policy.
Whether or not you have the age-based discount, you'll receive a Government rebate on your insurance premiums, provided you earn less than $140,000per year.
Taking out and maintaining a hospital policy by your 31st birthday will help you avoid the Lifetime Health Cover (LHC) loading being applied to a hospital policy if you wish to take it out later in life.
For roughly $20 per week*, you could have a level of hospital cover that includes cover for Bone, Joint and Muscle treatment, among other things. Isn't that worth it when one little stumble could not only leave you broken and sore but also out of pocket?
* Average price calculated from policies available through Compare The Market for a 24 year old single Queenslander earning under $90,000 a year choosing to compare hospital cover for Bone, Joint and Muscle. Policies included Basic +, Bronze and Bronze +, using annual premiums which provided an average annual premium that was then divided weekly. Discounts (if any) and the Government Rebate of 25.059% are included in the price. Accurate as of 22/1/20.
What about out of pocket expenses?
Even with high levels of cover, you could face out-of-pocket expenses when paying for medical treatment and making a claim. These are often known as gap payments.
However, health insurers have partnerships with certain doctors and hospitals and offer no-gap or known-gap cover. This means that, so long as you are treated by a doctor, or in a hospital, that has an agreement with your health insurer, you will know your out of pocket expenses beforehand. You might even have no gap payment at all!
Bear in mind, there might still be other fees, like an excess or co-payment, depending on your policy.
What's the best health insurance for young singles?
There is no single best health insurance policy for young adults, as there are a lot of options to choose from that provide cover for different treatments and levels of care.
Should you opt for hospital cover or extras only cover? Or maybe you should go all-in and get a bundled policy which combines both hospital and extras cover together?
If we look again at APRA's Private Health Insurance Membership and Benefits Statistics report, we can see that, as of September 2019, the majority of Australian singles (3,282,049) opted for extras cover only.[3] Many also chose a combined hospital and extras cover policy (2,647,496), leaving only 4,051 Australian singles who took out a hospital only policy.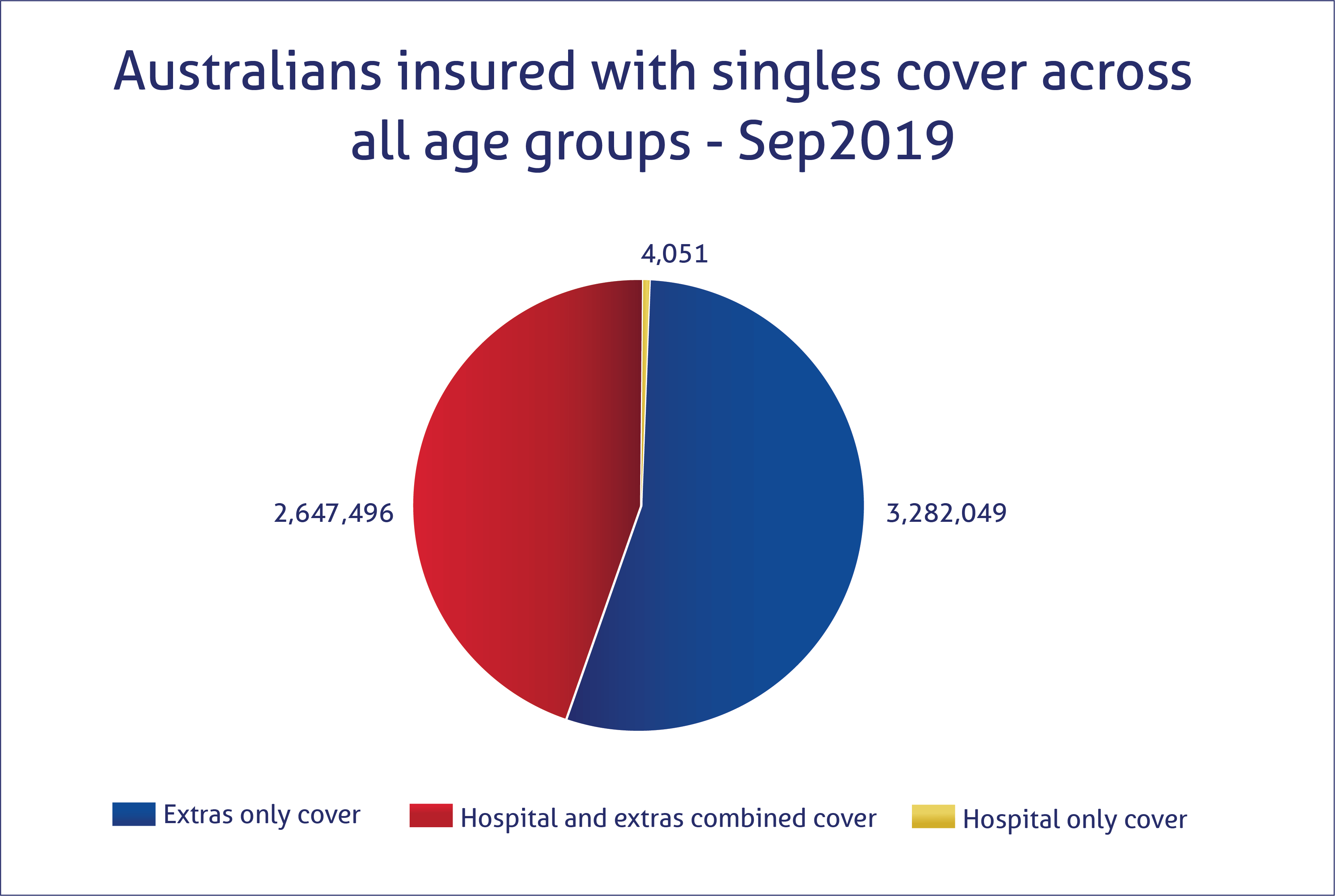 Source: Private Health Insurance Membership and Benefits Statistics September 2019. Australian Prudential Regulatory Authority, Australian Government. 2019.
With extras cover helping out with common medical expenses like dental, physio,  psychology, prescribed medications that aren't on the PBS, optical and even gym memberships, it's no wonder it's such a popular product.
Still, there are benefits to all types of health insurance, regardless of your age, so it's important to consider what's best for you, and that might mean you don't necessarily just go for the cheapest policy.
For example, consider the following:
Do you need prescription glasses? Extras cover can help out with optometry needs.
Engaged in lots of physical or contact sports? Some sports come with a higher risk of injury, so a combined hospital policy and extras cover which includes physiotherapy might come in handy.
Planning a family? While you're young and single, children might seem far from your mind, but bear in mind hospital cover for pregnancy and assisted-reproduction services have a 12 month waiting period.
What about ambulance cover?
Imagine if you slip down the stairs or had a fall when hiking, and you needed to get to hospital immediately. You might think that ambulances, just like hospital treatment through the public health system, don't cost you anything – but that isn't typically the case.
Queenslanders have free ambulance rides across Australia, while Tasmanians get free trips in an ambulance if they are in Tasmania (and a few select other states). War veterans with a Department of Veterans' Affairs (DVA) Gold Card also receive free ambulance services across Australia, while pensioners and concession cardholders get free or subsided ambulance trips, depending on which state they're in.
For everyone else, ambulances come at a cost, and that cost can be quite expensive.
Regardless of your age, you should consider ambulance cover. Ambulance cover is generally included in a hospital or extras health policy but can be taken out as a standalone private health product with some funds.