Buying a car is exciting, yet sometimes tricky. We've put together ten trusty tops to help you navigate through the often murky waters of car purchasing.
#1 – Plan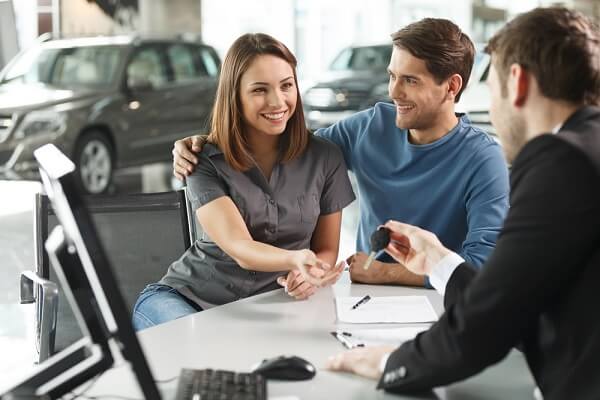 Sit down and think about what you need in car. Consider what you will be using it for and any lifestyle factors that may impact your car's use. For example, will you be using it to go camping or four-wheel driving? Do you need extra boot space for dogs, luggage or groceries? How long will you have this car for? Will this car suit your lifestyle for the next two to five years? Are you planning on kids (think baby seats, nappy bags and prams)?
Once you've narrowed it down to a few different options, it's on to #2:
#2 – Choosing a Car
Consider size, number of seats, transmission, safety, fuel economy and fuel type first, then look at make, model and age as secondary criteria. Don't forget about your budget. Know how much you can spend, either as an upfront purchase or through weekly finance payments and stick to your budget.
Think about the ongoing costs of a vehicle too, not just the upfront purchase price. Some vehicles are more expensive to insure than others. Older vehicles may require more maintenance. European and luxury car brands may cost more to service and repair.
#3 – Research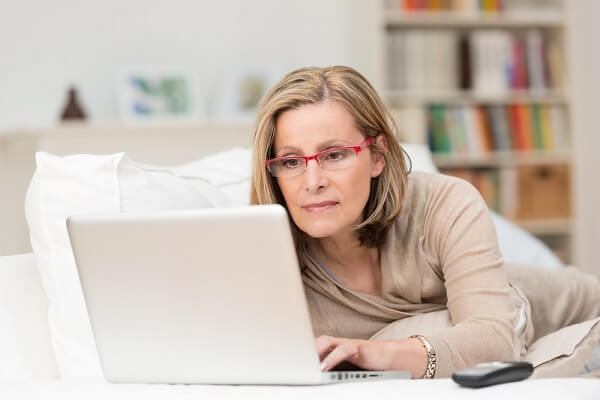 Do your research. Sit down and Google your little heart out. Look at new and used vehicles that suit your needs. Compare things like price, safety rating and availability. Understand a particular vehicle's resale value; some makes and models depreciate (lose their value) more quickly than others. You may be better off getting a used car in the same make and model with low kilometres that's just a few years older if the car in question has high initial rate of depreciation. Know what is available in your area, who is selling it and what the prices are; prices vary depending on whether you go through a dealer, private seller or auction.
#4 – Where to Buy
You can buy from a dealer, online, through a private seller or at auction. Where you buy will depend on the type of car you've chosen to buy. If you're buying a new car, you'll go straight to a dealer. If you're buying used, you have the option of online, a private seller or an auction. There are pros and cons to each 'seller type'.
Private buyers usually have no overheads and may have urgent personal drivers behind the sale of the vehicle (like moving), so they may be more willing to close a deal quickly. Auctions are a great place to get a good deal but buyer beware – once it's sold at auction, there's no going back. And most auctions don't offer test drives of the vehicle; you're taking a leap of faith that the car doesn't have any major faults.
There are a few big pros of going through a dealer: dealers are required to ensure no money is owing on the car, that it isn't stolen and that it hasn't previously been written off in a car wreck. Used cars purchased through dealers also come with a limited warranty. Dealers also like to have 'high volume' turnover; they don't like cars sitting in the lot, so they may be more willing to haggle over the purchase price.

If you choose to go through online car sales websites, a private seller or auction, you will need to do all sorts of pre-sale checks yourself, like making sure the car hasn't been stolen or written off,  that no money is owing (like unpaid fines) and that it has a roadworthy certificate (if required). Check with your local transport authority for details:
State Transport Authorities
NSW – Roads & Traffic Authority
www.rta.nsw.gov.au
VIC – VICRoads
www.vicroads.vic.gov.au
QLD – Department of Main Roads
www.mainroads.qld.gov.au
WA – Dept of Transport
www.transport.wa.gov.au/
SA – Transport SA
www.transport.sa.gov.au
NT – NT Transport & Infrastructure
www.ipe.nt.gov.au
TAS – Transport Tasmania
www.transport.tas.gov.au
ACT – ACT Territory & Municipal Services
www.tams.act.gov.au
#5 – Buying New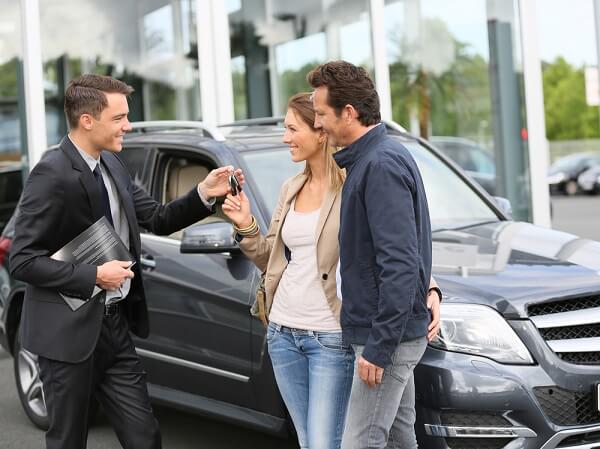 Buying new offers you the most choice, access to the latest automotive technologies and, usually, the highest level 'peace of mind' about your new car purchase. Purchasing new means you'll avoid having to make repairs to an ageing vehicle and all wear and tear on the vehicle is your own (you don't need to worry about how someone else may have driven it).
Buying new will also mean buying it through a dealer, complete with warranty so if something does go wrong with your vehicle during the warranty period, you're covered.
Always take a car for a test drive (we'll get to that in a minute) and never buy a car, even if it's new, without driving it first.
Don't sign the contract until you are 100% sure! New car contracts can be tricky things, so be very careful entering into them. Remember, a car sale contract is a legally binding document, so you need to be very sure it's correct before you sign on the dotted line. Make sure all the details are correct, the delivery date of the vehicle is indicated and that the trade-in value of your old car is detailed (if applicable). Never sign an incomplete contract.  If you need finance (e.g. a loan) to purchase your car, make sure you insert a finance clause into the contract as a special condition. There are other costs on top of the vehicle price that you will be liable for like transfer (stamp) duty, dealer delivery charges, levies, the cost of optional extras like window tint or metallic paint etc. Make sure your contract details exactly how much you will be liable to pay.
#6 – Buying Used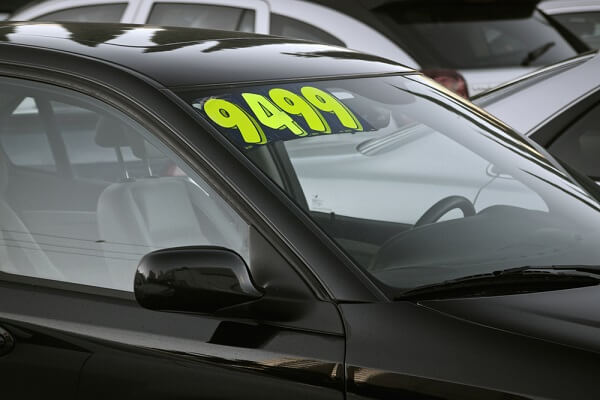 Buying used is a bit more complicated than buying new so it's important to ask the right questions:
How long has the seller owned the car?
How many owners has the car had?
Does the seller own the car (this is actually a really important question!)?
Why is the car for sale?
How many kilometres has the car done?
Is a full service (logbook) history available for the car?
Has it been in a crash?
Is it usually stored in a garage?
Asking these questions will give you a sense of how the car has been treated during its lifetime. You need to be extra cautious when buying a used car at auction or from a private seller. Make sure you do all the relevant vehicle history checks to ensure it's not stolen, previously written off or encumbered in any way (outstanding loans, fines etc.).
When you inspect a used car be realistic; obviously, a used car will show signs of wear and tear however, look out for things like chips in the paintwork, glass or mirrors as these items can be costly to repair or replace. Look at the wear patterns on the tyres as certain wear patterns could indicate misalignment, worn out shocks or damaged suspension. Test all the internal electrics like stereo, lights, window controls, locks, seat belts, climate control and any other dials, knobs or controls. Double check that the odometer in the car reads to same as indicated in the advertisement or contract of sale. Turn the vehicle on to check the engine, run the car in idle for a few minutes in one place and then check under the car for any leaks. If it all looks good, it's time for #7:
#7 – The All Important Test Drive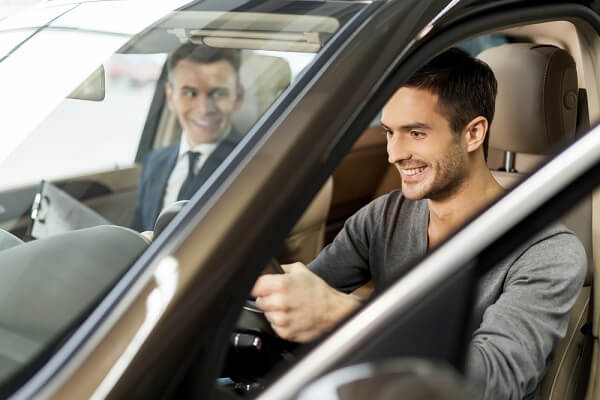 The recommended length of a test drive is around 20 minutes. Push the car to its limits (within the bounds of the law, of course). Try a variety of road types and speeds. Park it, both parallel and pull in. Try it in reverse. Do a U-turn, try a three-point turn, test the brakes. The test drive does two things: gives you peace of mind that the vehicle is drivable and that you are comfortable with the way the car drives. Every car drives slightly different; some are more responsive to the accelerator or the brakes, others have 'light' steering; choose a car that feels comfortable for your driving style.
If you're buying a used car from a private seller, a third-party mechanical inspection is a really good idea.
#8 – Finance and Trade-in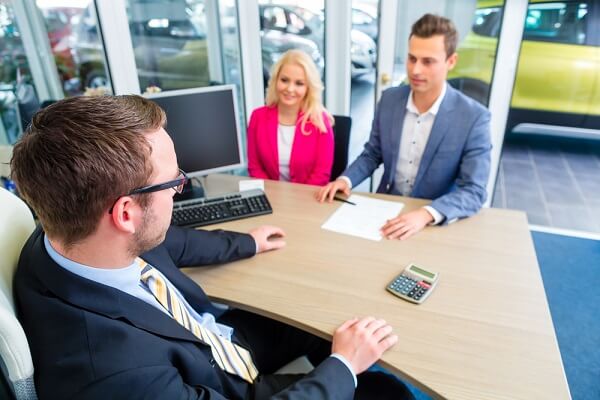 The number one thing to know about vehicle finance is that you can shop around. You are not obligated to work with the dealership's finance team. Make sure you compare finance options available and choose the one with the best conditions and rate for your unique circumstances.
Trading in your current vehicle may be a hassle free option to defray the cost of your new car but keep in mind that trade-in values can be up to 20% less than what you could get for your car in a private sale. Private sales are unpredictable and sometimes messy, so you may prefer the trade-in option for convenience. Regardless, you should know the market value of your current car if you are planning on trading it in or selling it. Online tools can determine your car's market value, so make sure you Google before selling or trading.
Always remember to negotiate on price; private sellers often have less wiggle room on price but they're usually listing their vehicle at a less inflated value in the first place. Dealers expect you to negotiate, so meet their expectations. Knowledge is power; the more you know about your preferred car, the dealer and the market, the stronger your position will be in negotiations. There's no hard and fast rule as to how much room there is for car dealers to drop the purchase price but a good tip is to shop for a new car towards the end of the month; car salespeople work to sales targets, usually aligned with the end of the month. They may be more willing to negotiate later in the month to make their sales targets.
#9 – Maintenance and Safety
Always, always, always consider maintenance and safety when purchasing a car, whether new or used. Check the ANCAP safety rating for your preferred new car or visit the How Safe is Your Car website to check the safety features and details of used cars.
Car forums are a great place to get anecdotal accounts of people's experiences with certain cars. Some makes and models are prone 'bugs' and minor mechanical faults and it's always a good idea to check the car user forums for these details (a car manufacturer isn't going to advertise that their popular small SUV is slightly underpowered, for example). These forums also give you an idea of common maintenance issues that may arise in your chosen vehicle.
#10 – Insurance
CTP Insurance (Compulsory Third Party) is a mandatory insurance for all vehicles and represents the minimum level of insurance cover you need for your car. However, CTP is the minimum standard and doesn't cover you for things like damage or repairs to your vehicle or replacement of your vehicle due to damage or theft. Comprehensive car insurance is a bit more expensive but offers comprehensive coverage if your car is involved in an accident. Policies vary widely; compare policies to find one that suits your needs and budget.