Expert tips for choosing the right travel insurance for Vietnam
Our General Manager of General Insurance, Adrian Taylor, is keen to help you choose a suitable policy for your Vietnamese holiday, so he's compiled a few tips to get the most out of your travel insurance.
Check if you're covered for COVID-19
While many insurers provide cover for certain COVID-19 (coronavirus) related losses, in most cases, you'll need to purchase their top-tier or comprehensive policy for COVID-19 coverage to be included. Look for the COVID-19 icon when you compare products.
Cover yourself if you plan to drive
Road accidents are common in Vietnam, so if you're planning to rent a car, it can be a good idea to get rental vehicle excess cover. This covers your excess payment to the rental company if your vehicle is damaged or stolen. For two-wheeled vehicles, consider motorcycle and scooter cover.
Consider what level of luggage cover you need
If you're travelling with valuable items, you may want higher levels of cover for your belongings. Some insurers offer additional cover for high-value items, such as jewellery or electronics. However, don't leave your possessions unattended in public, as any belongings that are stolen, lost or damaged may not be covered.
About travel insurance in Vietnam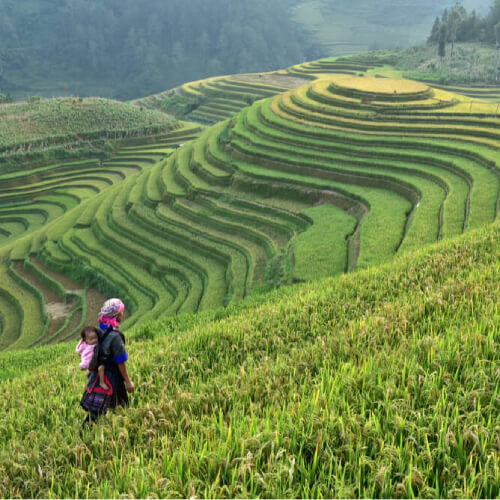 Do I need travel insurance for Vietnam?
Despite your best efforts, controlling every element of your holiday away is impossible. A suitable level of travel insurance can financially reimburse you for your losses up to certain limits if you were to fall sick, become injured, miss your flight or lose your belongings – plus more!
While this destination teems with friendly locals and a stunning landscape, tourists aren't immune to accidents and crime in Vietnam. Travel insurance is therefore crucial in providing peace of mind and protection should you run into trouble, as well as offering a number of inclusions in its coverage. You should always read your policy's PDS for the full details.
Cover for medical costs
According to the Australian Government's Consular State of Play report, Vietnam was in the top five countries where the government helped out in cases of Australians being hospitalised or having died overseas.1
A travel insurance policy can reimburse your medical expenses if you become sick or injured while away (up to the limits and level of cover of your policy). This includes medical treatment, hospital care, emergency medical evacuation and repatriation, which can all be very costly in a foreign country. If you need to return home due to an illness or injury, a policy can even provide a level of cover for emergency evacuation.
Cover for theft and lost belongings
Petty theft is common in Vietnam, particularly in crowded streets where simply brushing up against an opportunistic thief can mean you lose your phone or wallet.
Travel insurance can cover the costs of stolen or lost belongings, including luggage that goes missing in transit as well as theft of cash, credit cards and travel documents such as your passport or ID card. Your insurer will cover these costs up to your policy's limit for belongings, so be sure you purchase a policy that effectively covers the gear you're taking.
Cover for trip cancellations and travel delays
If an unexpected event causes you to cancel your trip before you can depart, or if travel delays cause you to miss your connecting flight, you may be able to recoup costs with travel insurance.
The three major airports in Vietnam are in Da Nang, Hanoi and Ho Chi Minh City. Delays and flight cancellations are common in Vietnam, so by having a travel insurance plan, you can avoid bearing out-of-pocket costs for missed flights, unexpected accommodation costs and cancelled tours or events.
Car rental excess
In Vietnam, travelling on the road is quite an experience. With vehicles of all sizes weaving in and out of traffic, the organised chaos can falter even the most confident drivers.
If you plan on driving around in Vietnam, we highly recommend looking for a policy that covers car rental excess.
You'll need to pay such an excess if you get into an accident; it helps the rental company cover the costs to repair or replace their vehicle. However, these costs can be in the thousands of dollars. As such, travel insurance can provide this cover and reduce or remove the need to dip into your wallet.
Cover for adventure sports and activities
When you visit Vietnam, you may want to travel like the locals do: weaving through traffic on a scooter, moped or motorbike. Some travel insurers may provide cover for these types of activities, while others may require you to purchase additional cover for your policy.
Of course, you'll need to hold the relevant driver's license, wear a helmet and – in some cases – only drive a moped or scooter with a certain engine capacity (e.g. 200cc or less). Otherwise, your insurer may reject your claim even when your policy includes cover for riding a motorcycle.
Many insurers can also cover other activities, like jet-skiing, water sports, cycling and other such adventure activities. Again, you'll likely need to take out extra cover for these activities at an additional expense to your base policy.
Cover for certain natural disasters
Vietnam is known for its wild and unpredictable weather in the wet season (June to December). From typhoons in central and coastal regions to flooding, severe weather can disrupt your plans.
Travel insurers may provide a level of cover if inclement weather disrupts or halts your travels. However, you typically need to have purchased your travel insurance policy before any severe weather events occur, it is classified as a 'known event' or Smartraveller has issued a warning against travelling to your destination. If you haven't, your insurance provider may not accept your claim.
Learn more about how insurers may respond to natural disasters.
What does travel insurance for Vietnam exclude?
Travel insurers don't cover all activities and scenarios. Some scenarios that are generally not included in your travel cover can include:
Breaking local laws
Being under the influence of drugs or alcohol
Leaving your luggage unattended
Taking out your policy after an event has occurred (e.g. a volcanic eruption)
Pandemics and epidemics.
Before purchasing your policy, it's vital that you read and understand its terms, conditions, inclusions and exclusions. Learn more about travel insurance exclusions.
Are you travelling to nearby countries during your Vietnam trip?
If you're not content with only ticking one country off your bucket list, Cambodia, Laos and Thailand all sit nearby and are sure to be full of unforgettable wonders. Be sure to tell your insurer that you need cover for other countries in Asia, so that you're protected on every leg of your adventure! Or, if you're looking further afield in your international travel adventure, check out our list of destination pages.
Safety in Vietnam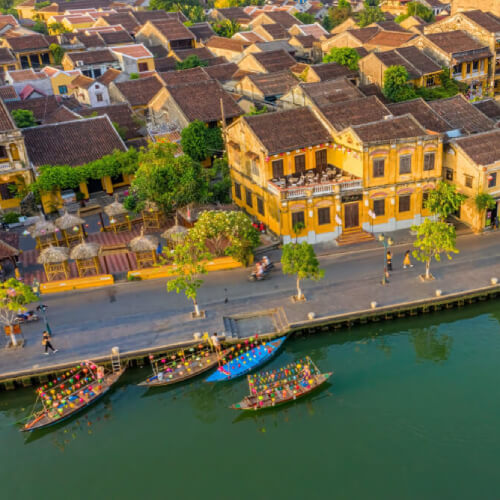 Is Vietnam safe?
Vietnam can be safe as long as you take the necessary precautions. Travel advice on Smartraveller warns tourists to be cautious of bag slashing and pickpockets in popular tourist areas, to stay alert at night (especially on public transport) and keep an eye on your drink when out at night.2
Like many countries in Southeast Asia, roads can be in poor condition and overcrowded, and many drivers won't follow road rules. Avoid getting on a motorcycle if you aren't familiar with the road conditions and be careful when crossing busy streets.
While many things can go wrong, if you have a comprehensive travel insurance policy, you can be protected against a great deal of financial losses.
Be aware of health risks
Before you leave for your trip to Vietnam, consider getting the appropriate vaccinations and health checks well in advance. Generally, travellers may require vaccinations for:
Japanese encephalitis
Rabies
Diphtheria
Hepatitis
Typhoid
Tuberculosis.
Other mosquito-borne illnesses, like malaria and the Zika virus, continue to be a risk to travellers; the latter can even cause congenital disabilities.
To find out more, visit Smartraveller and talk to your doctor for individualised medical advice.