So, you've decided to holiday in Thailand. It's an absolute jewel of a country, with bustling markets to explore, great beaches to relax on and plenty of delectable food to devour.
With such a holiday comes a tiny bit of risk; you might get food poisoning during a culinary adventure at those markets. Perhaps you slip on some rocks by the water before going for a swim. Or, you could lose your luggage at the airport before you even have a chance to explore.
Getting travel insurance for your trip to Thailand is a smart move. That way, you can get back to what you do best on holidays, whether that's adventuring, relaxing or even just shopping!
Here's everything you need to know about getting covered.
Do I need travel insurance for Thailand?
The first thing many travellers ask themselves is, 'Do I really need travel insurance? I've never needed to claim before'. It's a fair question.
More than 565,300 Australians visited Thailand in 2018-19. Of those, there were 178 hospitalisations, and – tragically – 247 deaths.1 In total, there were 895 cases where the Australian consulate had to intervene in Thailand.
You can bet that some of these tourists had to utilise their insurance policies.
Smartraveller elaborates on the importance of insurance, stating:2
'Travellers without travel insurance are personally liable for covering any medical and associated costs they incur. The Australian Government won't pay for your medical treatment overseas or medical evacuation to Australia or a third country.'
You may never need to claim, but why risk it when travel insurance can be so affordable?
What can travel insurance cover in Thailand?
Here are six common situations you may need to claim on when overseas in Thailand.
1. Cutting your trip short
Something may happen on your trip, or back at home, that forces you to abandon your holiday. If this is the case, your insurer may cover the journey and a host of cancellation and amendment fees.
Here are two examples where you'd could be covered:
you or a partner cannot continue the holiday due to a serious medical condition; and
your home in Australia is severely damaged.
2. Theft of luggage and cash
If your belongings are stolen, you can make a claim provided you report the incident within 24 hours to the insurer and the local police. You will be limited in how much you can claim back, which will be outlined in your Product Disclosure Statement (PDS).
3. Hospital expenses and emergency assistance
Australia has no Reciprocal Health Care Agreement with Thailand; this means you can't access subsidised healthcare in this country.3 However, your travel policy may be able to ensure you are treated for medically urgent health conditions, without having to worry about the costs!
4. Rental vehicle excess
You may have to pay an excess (an agreed fee) if you damage or get in an accident with your rental vehicle. However, your travel policy may look after (or contribute to) paying the excess payment, depending on your level of cover.
5. Travel delays
If you're delayed and miss something important on your itinerary – whether it's a trip to the Wat Phra Kaew temple or scuba diving in Ko Tao – your policy may cover lost deposits, cancellation fees, etc.
6. Loss or theft of travel documents and credit cards
Many insurance policies cover the cost to replace lost passports or credit cards (up to the limits of your cover).
If your kids are travelling with you, your insurer will most likely cover them under the same policy – all you need to do is let the insurer know that your dependants will be accompanying you. If your kids are travelling alone, you will have to take out cover (probably an adult policy) for them.
What should my travel insurance policy for Thailand include?
Your travel insurer may not automatically cover you for adventure activities like motorcycling, which is popular in Thailand. However, many insurers can let you purchase cover through a policy add-on.
If you're planning on participating in these types of activities and sports, you should ask your insurer to include these extras, if available, on your policy. You may end up paying a little more on your premium, but peace of mind is priceless.
Thailand travel insurance: Exclusions and what to watch out for
Several factors may influence your ability to claim on your insurance, such as your actions while on the trip or your health status prior to taking out your policy. These are called exclusions.
Be on the lookout for these common exclusions in your policy:
excluded activities. Perhaps you want to go motorcycling or scuba diving. You need to check that your policy will cover these kinds of activities, or else risk not being able to claim. Insurers may not even cover something as simple as 'trekking'! If you do want to partake in these activities, they can sometimes be included in your coverage as extras when first getting insured;
unattended belongings. If you've left your belongings unattended, your policy may not cover the loss. In fact, some insurers' policies won't cover the theft of certain items if left in a motor vehicle! As a rule, keep an eye on your belongings at all times, and make good use of hotel safes;
pre-existing medical conditions; travel insurance doesn't typically cover pre-existing conditions. If you do have a pre-existing condition, be sure to tell your insurer to see if they will cover you for an extra cost. The same is true if you were to fall ill because you failed to get properly vaccinated before you left, or because you didn't take the right medication while you were there; and
actions undertaken while under the influence. If you're intoxicated or have taken drugs, you may automatically be exempt from claiming. 'Keep it clean' while you're over there and you won't have to worry about this exclusion.
Exclusions are plainly listed in your Product Disclosure Statement (PDS), so make sure you read this carefully when taking out insurance.
Driving in Thailand with an Australian licence
You need to have a current Australian driver's licence to drive in Thailand. However, some rental car agencies require an International Driving Permit (IDP), which is effectively a translation of your original licence. You can apply for an IDP online.
There are many similarities between Australia and Thailand in terms of driving, including: mandatory seatbelts, drive on the left side of the road, a blood alcohol content (BAC) limit of 0.05 g per 100 millilitres of blood and you must be over 18 years old to drive.
Is Thailand safe?
Generally speaking, Thailand can be a safe place to visit if you exercise some common sense. Although, you should always check the travel warnings for your destination on Smartraveller before departing home and while you're over there.
Here are a few things you should keep in mind during your stay.
Be careful when you hire jet skis and motorbikes
Motorbiking and jet-skiing in Thailand is a pretty common practice for Aussie tourists. However, Aussies have reported being harassed or threatened with violence by operators (or gangs), who demand compensation for seemingly damaged hired goods.
Additionally, any accidents you have as a result of driving these vehicles may not be covered under your policy – and let us tell you, driving on roads in Bangkok is an experience not for the faint of heart! Take photos of any vehicle you hire beforehand. Learn more about motorcycle and moped cover.
Beware of petty theft
Petty theft is common in Thailand, especially in cheap accommodation, and busy areas like markets. Keep valuables locked up, safe and out of sight (e.g. hotel safes) and be constantly vigilant when in transit.
Be vigilant against drink spiking
Under no circumstances should you accept a drink from someone you don't know or leave your drinks unattended. Drink spiking is particularly common in the night-time entertainment zones in Bangkok, Pattaya and Phuket.
Understand Thailand's stance on drugs
In the war on drugs, Thailand has taken a hard-line approach. According to Smartraveller, penalties for drug offences can include the death penalty, and possession or supply of even small quantities of recreational drugs can result in harsh jail sentences.
Whether you agree or disagree with that, you're bound by their laws while travelling; and
Keep an eye out for scams
Tourists are easy to spot for anyone looking to make a dishonest dollar. These scams could include taxi and tuk-tuk tours, which may charge you exorbitant prices for sub-standard services or goods.
If you are involved in an incident, contact emergency services (e.g. police, ambulance), and then your insurer. You can also contact the Australian Embassy in Thailand if you get into any particularly thorny issues.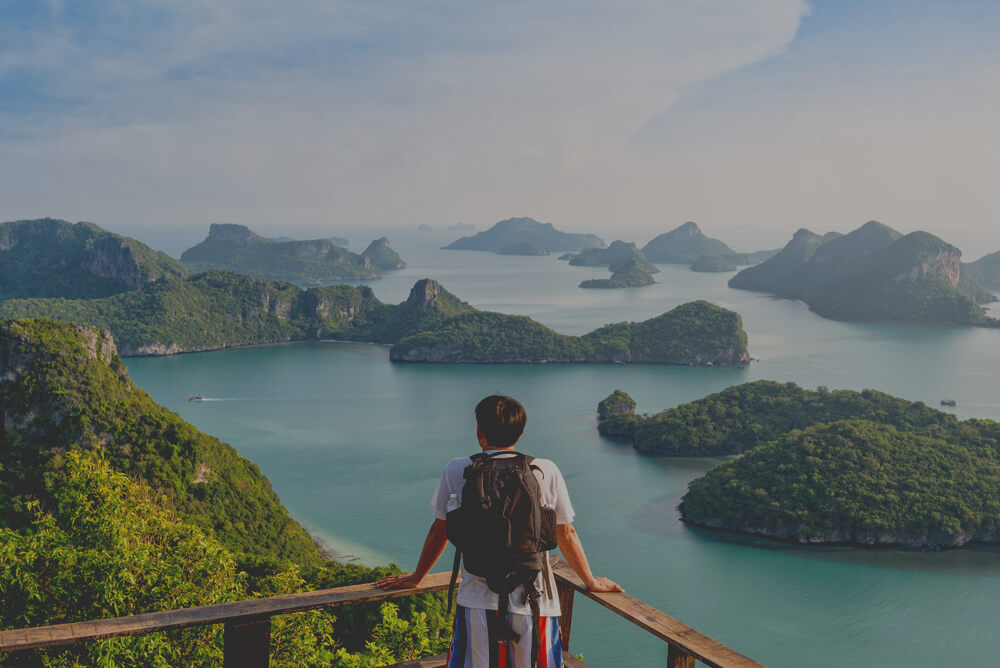 When's the best time to visit Thailand?
If you'd prefer to avoid Thailand's wet season, which can bring severe storms and flooding, then the best time to visit the country will depend on which part of it you visit.
In North and Central Thailand, the wet season occurs from May to October, so a great time to visit those parts would be during the warm and bright summer months. However, the southern peninsular of Thailand experiences their wet season from November to March.
You might want to decide where you want to go in Thailand before deciding on the best time to visit.
5 top travel tips for Thailand
1. Don't deface or defile any image of the King (even on their money)
Anything that insults the revered Thai monarchy is considered a crime and could get you thrown in jail for up to 15 years.
2. Be cautious when travelling in regions under martial law
Martial law is still in place in many provinces throughout Thailand, especially in border regions. As such, check for travel warning on Smartraveller before you leave, and exercise caution depending on where you travel.
3. Drinking in public isn't permitted by law
There are plenty of great bars and hotels to visit, so there's no need to drink out on the streets.
4. Never use your passport as a deposit or guarantee for a hire/lease
You may be asked to provide your passport as a deposit or guarantee when hiring things like motorcycles. As a blanket rule, do not, under any circumstances, provide your passport when hiring something, and be extremely careful who you hand your passport to in general.
5. Stick to your visa limits
As an Australian tourist, you may be eligible for visa-free entry to Thailand for up to 30 days if you've entered through an international airport, or up to 15 days if you've entered through a land border. You'll need to apply for a visa if you're staying for longer or visiting Thailand for non-tourism purposes.
There are strict penalties for visa offences. If you overstay your visa, you will not be allowed to leave Thailand until you've paid a fine. You may also be arrested, prosecuted, jailed, deported and banned from re-entering Thailand. Be sure to notify the Thai Immigration Bureau if you plan to stay more than 90 days.
Compare travel insurance for Thailand to find great-value cover
If you're heading to Thailand or other parts of Asia, make sure you take out a suitable travel insurance policy. You may not think you need it, but, as we mentioned earlier, why take the risk?
Not sure where to look for a travel insurance policy? Our simple travel insurance comparison service is a great place to start. After you enter a few details, you can compare a range of travel insurance policies available from a host of providers.
And, as always, register your trip on Smartraveller.gov.au before leaving. If you've caught the travel bug, check out our destination guide for travel insurance.