What is health insurance for seniors?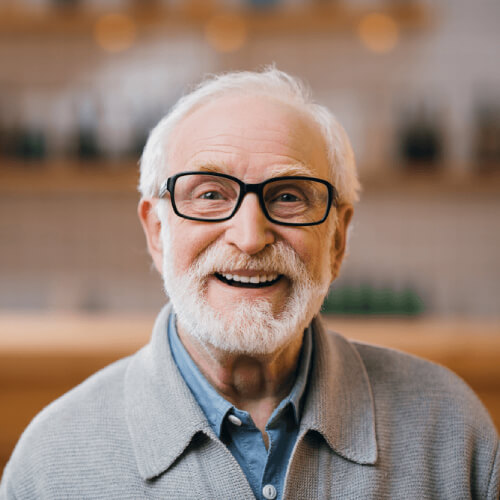 While there's no insurance product called 'seniors' health insurance', some health insurance providers will offer cover specifically designed for older Australians. These policies are tailored to the healthcare needs of seniors, although the right policy for you will ultimately depend on your personal health and financial situation.
Health insurance for seniors can include hospital, extras and combined cover policies for both singles and couples. Extras insurance covers you for treatment outside of hospital that isn't covered by Medicare, while private hospital insurance pays a benefit towards private inpatient treatments in a public or private hospital that are listed on the Medicare Benefits Schedule (MBS). Both types of health insurance have benefits you might want to take advantage of as you age, so you may want to get a combined cover policy.
What you're covered for
What does health insurance for seniors cover?
Health insurance is an umbrella term that includes hospital cover, extras cover, combined hospital and extras cover and ambulance cover. The right type of health insurance cover for you will depend on your personal healthcare needs.
Private health insurance provides more choice when it comes to your healthcare. The services covered can differ greatly between policies, so seniors can choose a health insurance policy that will suit their current and future needs. Keep in mind initial policy waiting periods do apply, so planning ahead can be important.
Hospital cover
Private hospital insurance covers some of the cost for treatment in a private hospital when you're  admitted as a private patient. With hospital cover, you can be treated in a private hospital, choose your treating doctor (if one is available), stay in a private hospital room (if one is available) and enjoy greater flexibility in scheduling your medical procedures. The services you have access to will depend on your level of hospital cover, but some that may benefit seniors in particular include:
Heart surgery, including bypass surgery, angiograms and stents
Joint replacement, including surgery and replacement of joints
Major eye surgery, including cataract surgery
Test and scans as an inpatient (e.g. x-rays)
Cancer treatments as an inpatient
Palliative care
Renal dialysis
Extras cover
This type of health insurance subsidises out-of-hospital care that Medicare doesn't pay a benefit towards, such as dental work, prescription glasses and physio appointments. An extras policy can include:
Optical services, which can cover prescribed glasses and contact lenses
Physiotherapy and occupational therapy, which can include exercise programs, manual therapies and electrotherapy techniques
Remedial massage to treat injuries and encourage recovery
Chiropractic for the treatment of health issues related to nerves, muscles and skeletons
Podiatry and orthotics
Non-PBS prescription medicines
Speech therapy (may include post-stroke treatment)
Hearing aids, including the design, repair and replacement of aids
Major dental (may include dentures and partial plates)
Health aids and appliances, like glucose monitors, crutches and blood pressure monitors
What isn't covered by health insurance that might affect seniors?
When you take out a private health insurance policy, there may be certain restrictions and exclusions you'll need to be aware of. Your policy's exclusions are a set of medical services that your health fund won't pay any benefits towards if you receive treatment as a private patient.
Restrictions are similar in that they will limit the extent to which your health fund is willing to pay towards certain services. This could mean they only pay towards treatment as a private patient in a public hospital or they only pay a portion of the cost for treatment in a private hospital. This could lead to high out-of-pocket costs.
For hospital cover, the restrictions and exclusions are regulated by the government and depend on your health insurance tier. However, with extras cover, the excluded services are at your health fund's discretion. There are also some natural therapies that health funds can't provide cover for.
Some commonly excluded or restricted services that affect seniors are:2
Hip and knee replacements
Cardiac related services
Cataracts and eye lens procedures
Rehabilitation and psychiatric services (can be offered as a restricted benefit on all policies except Gold).
These services aren't excluded on all policies, so it's worth shopping around. For a full list of exclusions and restrictions, consult with your health fund and read the relevant policy brochure.
Medicare vs private health insurance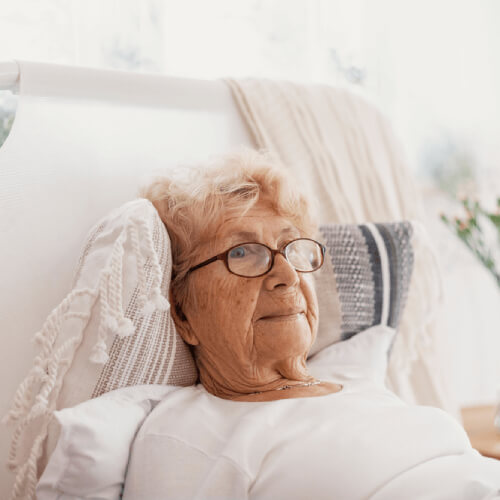 What they cover
Private hospital insurance offers great benefits to seniors when their treatment is completed as an inpatient in a private hospital (e.g. surgeries for knee replacements or cataract removal). Furthermore, extras cover can help towards the cost of specific items that don't have a Medicare subsidy, such as prescription glasses, hearing aids or dental work, including dentures or partial plates.
On the other hand, Medicare pays towards services such as:
Visits to your GP
Eye exams with your optometrist (not the glasses)
Consultations with a hearing specialist (not the hearing aids)
Partially government-funded aged care to help reduce costs towards many services for eligible seniors.
One thing to keep in mind is that private hospital insurance doesn't offer coverage towards services that aren't listed under the MBS, such as general medical check-ups that might be required when you take out a life insurance policy. To fully understand what is and isn't covered by your health insurance, refer to your health fund's relevant policy brochure.
What Medicare doesn't pay for
When it comes to private hospital treatments, Medicare covers 75% of the MBS fee, which is the price for various treatments as set by the Australian Government. Private hospital insurance policies cover the remaining 25% if you're treated as a private patient in a private or public hospital.
Certain medical or hospital charges may exceed what you can claim back from both Medicare and your health insurance, as some health practitioners will charge above the MBS fee – this is known as the 'gap'. To help reduce these out-of-pocket expenses, some health funds offer gap cover by making arrangements and agreements with some hospitals and particular doctors.
Some services Medicare doesn't pay towards include:
Hospital accommodation costs for private patients
Cosmetic surgery that is not considered to be medically necessary
Ambulance services
Most dental examinations
Acupuncture
Home nursing
Glasses and contact lenses
Hearing aids
The majority of physiotherapy, chiropractic, podiatry and psychology services
Public waiting lists
It's virtually impossible to jump the queue when it comes to public waiting lists for important surgeries in Australia. This is less of an issue when you have private hospital cover. Instead, you only need to observe private waiting times, which tend to be much shorter.
For example, if you didn't have health insurance and needed hip replacement surgery, you would be placed on a public waiting list that could take a month or even longer to be treated. On average across Australia, 50% of people who received a total hip replacement in 2021 waited 153 days or more for their surgery.¹
However, if you have the right level of private hospital cover, you may only need to wait a matter of days or weeks (provided you have served your waiting periods) to undergo surgery and get back to living life to the fullest.
In short, private health insurance can help you get back to your day-to-day activities much faster.
Cost of health insurance for seniors
How much can health insurance cost for seniors?
The cost of health insurance largely depends on the type of cover you choose. Luckily, seniors over 65 years old can get a higher government rebate than younger policyholders to help reduce the cost of their premiums, as shown in the table below.3
Earning thresholds
Singles
< $93,000
$93,001 – 108,000
$108,001 – 144,000
> $144,001
Families
< $186,000
$186,001 – 216,000
$216,001 – 288,000
> $288,001
Rebate percentage
Age
Standard
Tier one
Tier two
Tier three
< 65
24.608%
16.405%
8.202%
0%
65 – 69
28.710%
20.507%
12.303%
0%
70 >
33.812%
24.608%
16.405%
0%
Medicare Levy Surcharge (MLS)
All ages
0.0%
1.0%
1.25%
1.5%
Source: Australian Taxation Office (ATO), Private Health Insurance Rebate. Current from 1 July 2023
Families include single parents, couples and de facto couples. You may be eligible for a private health insurance rebate if you:
Are eligible for Medicare
Have a complying health insurance product (either extras or hospital cover)
Have an income below Tier Three for MLS purposes
Does it cost more for seniors to get covered?
A senior pays the same base rate as any younger individual for the same private health insurance policy. The amount you pay could still differ depending on your eligibility for the LHC loading, Australian Government rebate or an age-based discount.
This is because private health insurance is community rated, which means everyone – no matter their age or condition – can purchase the same policy at the same price. The exception here is LHC, where you could be required to pay a higher premium if you attract the loading.
On top of this, health funds cannot deny policies to certain people based on their health or the likelihood of them claiming on certain services.
Additional costs to keep in mind
Lifetime Health Cover loading (LHC) is a loading that applies to anyone that hasn't taken out and continuously held private hospital cover before 1 July following their 31st birthday. This loading is charged on top of your hospital premium at 2% for each year you haven't held hospital cover after the age of 30. If you were born on or before 1 July 1934, you'll be exempt from ever paying the LHC loading.
This rate is capped at a maximum of 70% and is removed once you have held an eligible hospital policy and paid the LHC loading continuously for 10 years.
The Medicare Levy Surcharge (MLS) applies to high-income earners and is a surcharge of up to 1.5% of their annual income if they don't hold private hospital cover. This is not to be confused with the standard Medicare levy, which applies to all taxpayers, as the MLS is charged on top of the levy. You'll only have to pay the MLS if you earn more than $93,000 as an individual or $186,000 as a couple or family.
So, if you're still working or making money from investments and earn over these thresholds in taxable income, private hospital insurance could help prevent this added cost.
More information
Waiting periods
Waiting periods prevent people from claiming on certain parts of their health insurance policy within a particular timeframe. Without them, someone could sign up, claim on an expensive treatment and then cancel after receiving their benefit – without paying anything substantial on their policy. Allowing this would disadvantage other members and would result in increased health insurance premiums for all fund members.
Standard waiting periods for hospital cover are regulated by the Australian Government and are as follows:
12 months for pre-existing conditions, except for psychiatric care, rehabilitation or palliative care, where the period is two months
12 months for obstetrics (pregnancy)
2 months in all other circumstances.
While they're often similar, extras policy waiting periods are set by individual funds. Make sure you're fully aware of all the waiting periods that apply to you.
Pre-existing conditions
A pre-existing health condition is any illness, ailment or condition that, in the opinion of a doctor appointed by your health fund, you had signs or symptoms of in the six months before you took out a policy or upgraded to a higher level of cover. This condition does not need to have been diagnosed by your doctor for it to be considered 'pre-existing'. There's usually a 12-month waiting period before any pre-existing conditions can be covered, except for rehabilitation, psychiatric care or palliative care, which have a 2-month wait.
You can still get extras and hospital benefits in your cover that will help you obtain treatment for pre-existing conditions at no extra premium; the only limitation is the waiting period. Once you've served the relevant waiting period, you'll receive the full benefit associated with your condition – as long as it's covered by the policy, of course.