Enthralled by the glitzy streets of Rio, the gorgeous Galapagos, the breathtaking Andres and the Incan ruins of Machu Picchu? Are your feet itching to tango your way from the top of Colombia to the tip of Argentina? Time to pack your bag, your trusty walking shoes, travel insurance and discover the wilds of the Amazon rainforest, the steppes of Chile and the lost adobe city of Chan Chan. Time to backpack South America!
There are 12 sovereign states (or countries) on the continent of South America: Argentina, Bolivia, Brazil, Chile, Colombia, Ecuador, Guyana, Paraguay, Peru, Suriname, Uruguay and Venezuela. There are also two non-sovereign states, French Guiana (an overseas territory of France) and the Falkland Islands (a British overseas territory). South America covers a land area of approximately 17, 849, 000 square kilometres. Nearly 400 million people call South America home.
South America boasts the world's highest uninterrupted waterfall, the largest river (by volume), the driest place on earth, the longest mountain range and the largest rainforest.
Spanish and Portuguese are the two main spoken languages in South America and football (sometimes referred to as soccer) is the South American sport of choice – in some countries, like Brazil and Argentina, their passion for football borders on religious!
If you plan on backpacking the fourth largest continent on earth, you're in for the adventure of a lifetime. The continent is vast, transport is unreliable (especially in rural and remote areas) and communication, even with a smattering of travel guidebook Spanish, will be difficult. However, the challenges of touring some of the world's greatest historic, cultural and natural wonders will pale in comparison to the rugged beauty of the landscape and the enthralling smiles of locals.
First time backpackers and first time visitors to South America would be wise to do their research before leaving home. You want to get the most bang for your buck but in South America – less is more. What we mean is that South America forces you to dial it back a notch and slow down. Although it's vibrant and noisy and the cities are crowded, one of the first things you'll notice when you arrive almost anywhere in South America is that life…slows…down.
Perhaps it's the Latin lifestyle and the Spanish influence (siesta anyone?) but the whole continent, seems to run on a sort of "island time" which can be frustrating for the "go-get-'em" traveller. There are some amazing sites to see but if you're short on time, consider planning fewer destinations with more time at each stop to enjoy the local culture. Also, with unreliable transport options, it may take you longer to get between destinations than you planned so extra time in each place is a good buffer. Although things happen and you'll need to be flexible, an itinerary will be key to keeping you on track and on budget.
Ah, the dreaded B word. It's one thing to dream endlessly of Iguazu Falls, the ancient steps of Machu Picchu and Copacabana beach but affording it is another thing entirely. Although South America may be considered "cheap" by some backpacking standards (compared to backpacking Australia, for instance), it is more expensive than Central America and, for the most part, Southeast Asia. Budgeting between $50AUD/day and $70/day should cover you in most places with big cities carrying a higher daily price tag.
To save money, try to buy food at local grocers for one or two meals per day (like breakfast and a packed lunch) and try to cook your own dinner a few nights per week (choosing accommodation with kitchen facilities may cost a little bit extra per night but the money saved cooking for yourself balances this out in your favour).
On the subject of food, South American cuisine varies widely from country to country and from urban centres to more remote destinations. By in large, it's a meat lovers paradise, so vegetarians, beware that vegetarian options may be limited and difficult to come by.
If your hostel has on-site laundry facilities that's an extra bonus, otherwise head to the laundromat once a week; do NOT leave your clothes unattended anywhere – ever. Poverty and crime rates in some South American areas, particularly urban centres, are quite high. You might think your dirty washing's pretty worthless but it could be more than many of the locals have, so be vigilant at the laundromat. If you're on a really tight budget, opt for a dorm instead of a private room, if you're comfortable. If travelling alone, private rooms in youth hostels may provide you with a little of extra luxury and security in an unfamiliar place.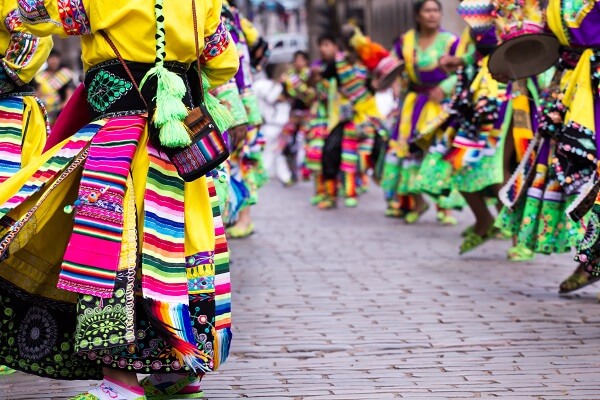 Speaking of accommodation, for the most part, you should be able to "rock up and wing it" – except at festival/carnival time. If you're heading over for Carnivale or one of the other popular festivals, it's best to book accommodation in advance. International standard hostel accommodation is available in most large cities throughout South America but outside of urban centres, smaller less-equipped accommodations prevail. Be prepared to spend more than one night without hot water (and we're not talking about in the rainforest). "Flashpacking" hasn't really taken off in South America, so some of your accommodation may be pretty basic.
For the extremely budget conscious, Ecuador, Peru and Bolivia are the best value, with Santiago, Chile topping the list as the most budget friendly South American city. Brazil, Venezuela and Colombia all offer vast touring options and you may consider allocating a trip dedicated to each country or those three combined. How many places you visit will not only depend on your budget but the amount of time you have to travel around. For example, it will take you at least a week to 'do' Machu Picchu and there are no DAY TRIPS into the Amazon – you're looking at four days as a minimum. To get started on an itinerary, look at a few of the guided tour companies that specialise in South American tours. You'll get an idea of how much you can get to/through in a certain time frame; bear in mind that guided tours will pack more into a shorter period of time because they often operate their own transport and know how to "smooth" the way when necessary – luxuries you won't have backpacking around by yourself.
Guided tours offer first-time visitors a great introduction to an area and often use local guides to take visitors "off the beaten track" to places that you, as a lone backpacker, wouldn't know about or be able to get to. Consider guided tours for all or some of your South American adventure. You may find it almost impossible to get into the Amazon or up to Machu Picchu without being on a guided tour anyway!
Ok, ready for some country by country highlights to get your Latin fever burning?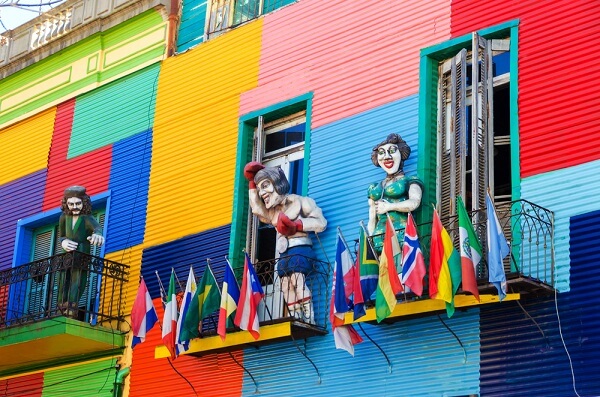 Argentina
Famous for their steak and red wine, Argentina's also famous for inventing the fiery dance of lovers – the Tango! Spanish is the official language and pesos are the currency. Top spots include: Buenos Aires – the city that never sleeps (seriously, don't even think about going to a bar until 11.30pm); Iguazu Falls – enormous, breathtaking waterfall; Mendoza – wine country, also known for excellent hiking and skiing in winter; El Calafate – small village at the foot of the Perito Mereno Glacier, a UNESCO world heritage site; and Ushuaia – southernmost city in the world and a common jumping off place for Antarctic cruise tours.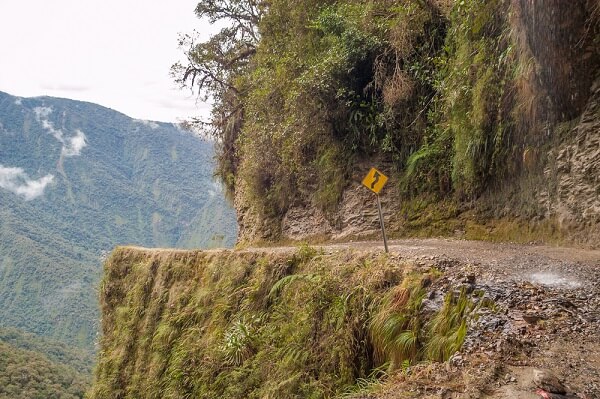 Bolivia
Often referred to as the Tibet of the Americas, Bolivia is one of the most remote countries in the Western Hemisphere. The currency is Boliviano and the official language is Spanish, although Spanish may not be spoken in rural and remote communities. Having said that, if you're looking to study Spanish abroad, Bolivia's a great place to do it; their accent is clear and makes picking up Spanish easier. Learning Spanish in a home stay situation is popular with visiting tourists and, as such, home stays programs in Bolivia abound and are usually very safe and reputable. Top spots include: La Paz – Bolivia's capital and the highest capital city in the world, sitting at 4100 metres; Death Road – a 69 kilometre gravel road famous for its ratio of deaths per kilometre (200-300 people are killed on this road each year); the Amazon – yes, you can get to the Amazon rainforest in Bolivia and it offers some of the best, most accessible wildlife viewing too; and, Salar de Uyuni – the stunning Bolivian salt flats (they are way more spectacular than they sound, just Google them!).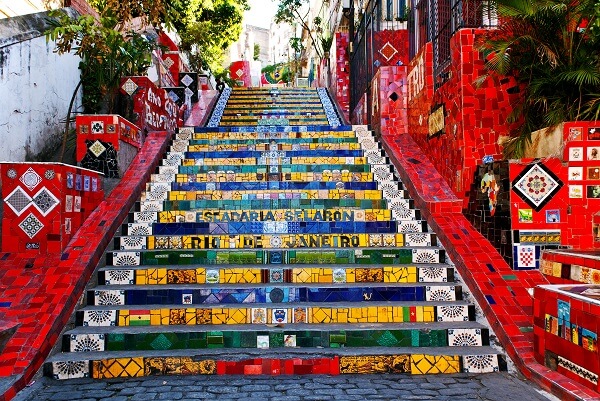 Brazil
Famous for Rio Carnivale, long stretches of beaches full of beautiful people and the Amazon rainforest, Brazil offers visitors of wealth cultural, historic and natural must-see destinations. Portuguese is the official language, Real is the official currency and football is the unofficial religion. Brazil is vast; both Sao Paolo and Rio de Janeiro are bustling, dusty, crowded, thriving urban centres full of nightlife, shopping and eating. Top spots include: Iguazu Falls – (you can access them via Brazil or Argentina); Salvador – the historical colonial capital, complete with cobbled streets; Florianopolis – a touch of Ibiza in South America, DJ's cranking tunes and pretty people drinking cocktails; and, Manaus – port city in the heart of the Amazon, not only the perfect place from which to explore the Amazon but also an historic centre with stunning architecture.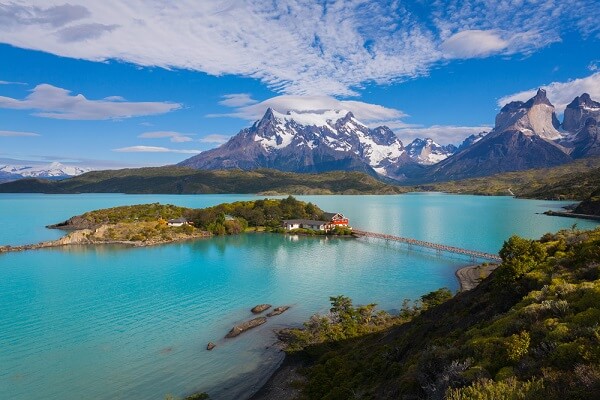 Chile
Famous for its volcanos, glaciers and fjords, Chile is sandwiched between the Andes Mountains and the Pacific Ocean. It's only 180km wide (at it's widest point) but the coastline covers more than 4,300 kilometres, earning Chile the nickname of longest country in the world. Spanish is the primarily language and the currency is the Chilean Peso. The capital Santiago is a small, thriving cosmopolitan city; it's also making a name for itself as a foodie destination with plentiful markets, artisan produce and array of exciting restaurants, not to mention Chile's world-renowned wines. Top spots include: Santa Cruz and San Fernando – world class wine regions with some of the best (and most economical) vintages in South America; Parque Nacional Torres Del Paine – a stunning national park set amidst imposing granite towers, perfect for hiking; Valparaíso – a bohemian haven of colourful houses, cobbled streets and Pacific Ocean views; star gazing near Vicuna – powerful telescopes and clear Chilean skies give you a breathtaking view of the universe; and, the Atacama desert – one of the driest places on earth, it's also volcanically active with crystalline lakes and hot springs to soak your travel wear bones.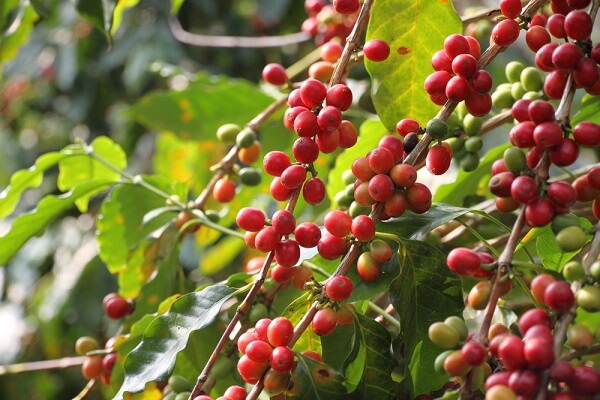 Colombia
Colombia is considered one of the world's megadiverse countries. Spanish (and in urban centres English) is the official language and the Colombian Peso is the currency. Colombia's famous for coffee and infamous for less legal stimulants. It's rich in natural resources and the world's leading source of emeralds. Top spots include: Caño Cristales – the river of five colours; Cartegena – you can't miss this colourful, coastal, colonial port city; the coffee region – the coffee you drink may be grown in the lush Andean regions of Colombia; Bogata – full of historic churches, stunning architecture and the famous statue of Simón Bolívar; the Salt Cathedral – built inside an old salt mine; and Medellin – second largest city in Colombia, is located in the mountains and the views from the Metro Cable are phenomenal.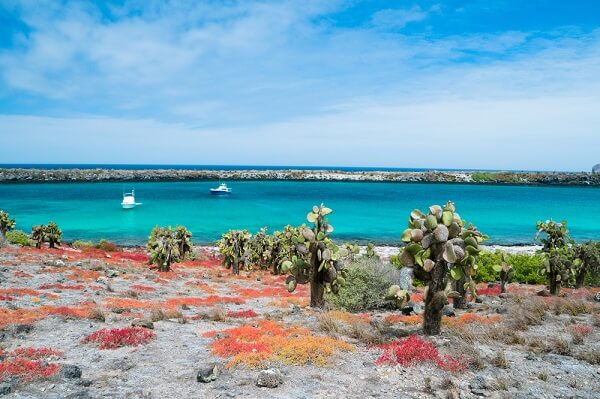 Ecuador
With a little something for everyone, this slight smaller country is a South American pocket rocket of experiences. As bang for your proverbial buck and diversity of experiences go, Ecuador tops the list. You've got beaches, mountains, volcanos, jungle, rainforest, lakes, heritage architecture, pumping nightlife, waterfalls, hot springs, surfing, shopping – the list is almost endless. Spanish is the official language and the currency is the US Dollar. Starting the capital, Quito, every tourist should straddle the equator at least once! Top spots include: Otavalo Market – the largest marketplace in South America, so get your haggle on; Galapagos Islands – it may be a bit pricey, but you've come too far not to visit one of the world's most diverse and untouched natural wonders; the Amazon – yes, from Ecuador too and it's known as the cheapest place to visit the Amazon; Quilotoa Loop – a spectacular, high altitude trek around the crater of a volcano or, if trekking isn't your thing, just make sure you visit Laguna Quilotoa, trust us; Banos – adventure capital of Ecuador, so mountain bike, rock climb and white water raft to your heart's content; and, Mantañita – beach party central.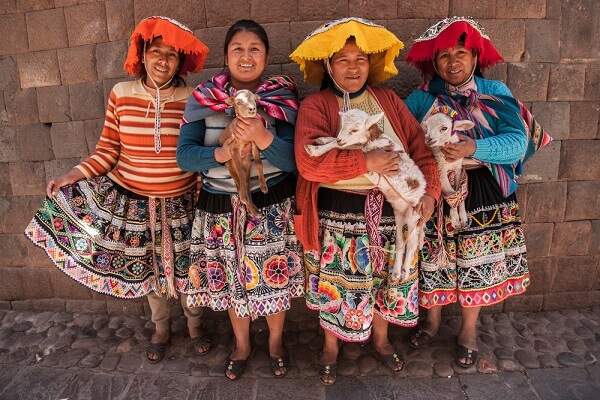 Peru
Famous for the Incans, llamas and the coca trade, Peru's at the epicentre of cultural tourism, particularly of pre-European settlement sites. Spanish and Quechua are the official languages in Peru, with Quechua more prevalent in highland areas; the currency is Peruvian Nuevo Sol (soles) but US Dollars are also accepted in some places. Starting in Lima, take in some of the region's unique, local cuisine and throw back a pisco sour (the national drink of Peru, made with grape brandy). Top spots include: Larco Museum – located in Lima, this museum is famous for its exhibit of pre-Incan erotic pottery; Huacachina – palm tree ringed lagoon oasis, complete with sand boarding; Puno & Lake Titicaca – the lake is the largest (by volume) in South America; Mancora – trendy beaches and bars with great surfing, diving and fishing; Tarapoto – jungle city on the edge of the Peruvian rainforest; Cuzco – the capital of the Incan empire and a great place to haggle for souvenirs; and – Machu Picchu – ruined Incan citadel to which you can hike (several days) or take an overnight train.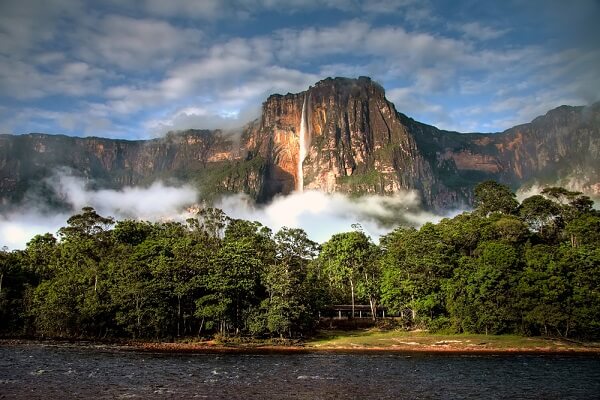 Venezuela
Also a megadiverse country, Venezuela is known for its natural wonders and burgeoning petroleum industry. The national currency is the Venezuelan bolívar and the primary language is Spanish. Starting in Caracas, take in the Cathedral Metropolitana, Museo Sacro de Caracas and El Ávila National Park, eat an arepa (famous Venezuelan corn meal cake) and cool down with a refreshing papelón con limón (raw hardened sugar cane with water and lemon or lime juice). Top spots include: Cueva del Guácharo – national park centred around a 10km long limestone cave, complete with bats; Maracaibo's palafitos – traditional "floating" stilted houses on a peaceful 20 million year old lake; Angel Falls – highest uninterrupted waterfall in the world; Merida – highest city in the Venezuelan Andes, a university town and the country's only ski resort; and, a capybara – a local delicacy, it is also the world's largest rodent (the size of a large dog).
The lesser known South America
Guyana, Suriname, Paraguay and Uruguay are the lesser known but no less interesting countries you may want on your South American adventure itinerary. Guyana and Suriname are located on the north-eastern tip of the continent and are bordered by the Caribbean Ocean; if you're looking for some of the best (and quietest) beaches in South America, head to Guyana or Suriname. They are also jam packed with wonderfully preserved colonial heritage architecture, museums and lush landscapes; they are less popular with tourists, so you may have many spots all to yourself! Paraguay, landlocked in the centre of the continent, and Uruguay, wedged in between Brazil and Argentina, are also more "off the beaten track" destinations for international tourists. Check out Punta del Este in Uruguay, a summer oasis often compared to St. Tropez and do a wildlife cruise down the Paraguay river through the wetlands.
A word on safety…
South America is an enormous continent, full of wonderful people and places to visit; however, it's historically been a site of much internal conflict, political and social upheaval. As a generalisation, poverty rates are high in much of South America, with abject poverty more prevalent in urban areas. Due to high poverty levels, crime is also an unfortunate concern for travellers to South America as many tourist areas are also crime hotspots.
Be smart, use your common sense and don't take unnecessary risks (like leaving your laundry unattended!). If you can, travel with a friend or join up with a group of like-minded travellers; there's usually safety in numbers. Keep your passport, ID documents and money on you at all times, don't flash cash around and don't wear ostentatious jewellery or clothes.
Bureaucracy and corruption are rife in certain parts of South America, so always ensure that your paperwork (including visas, transit stamps, passport validity etc.) is in order before you leave Australia.
Whether it's altitude sickness in Peru, malaria in the Amazon or falling off your mountain bike on Yungas Road, be mindful of unexpected illnesses and accidents. Apart from your passport, travel insurance is the most important item to pack for your South American backpacking adventure. Policies vary, so make sure you compare your travel insurance options and select one that covers you for all the countries and activities you want to enjoy on your trip (some snow and adventure sports carry extra charges). Happy backpacking!