Reaching 50 is a milestone in anyone's life. You've worked hard and you deserve a break – it's time for a holiday!
So why is travel insurance important for over 50s travellers?
Well, although you've reached the midway point in life, your holiday plans shouldn't be half thought out. Picking the perfect holiday destination and booking your tickets is only half of the necessary planning towards enjoying the perfect holiday. Getting the right travel insurance cover is the other half.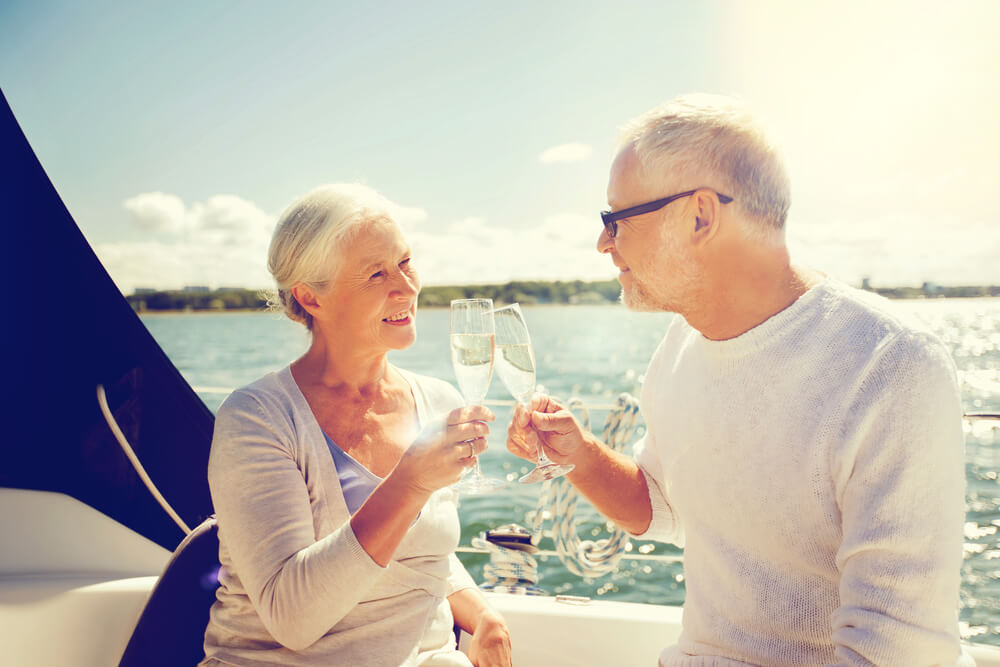 Why should over 50s consider travel insurance?
You can plan every detail of your holiday meticulously, but there is no way of predicting unforeseen accidents, illnesses, and unfortunate events while travelling. You can however plan the right travel insurance to ensure that when something unexpected happens on holiday, you're covered.
You don't want to finally be overseas, enjoying the finer things in life (like great wine), and visiting the places you've always wanted to go (like the Seven Wonders of the World), only to wonder: "what happens if something goes wrong on my holiday?"
According to the Australian Department of Foreign Affairs and Trade (DFAT), in 2016-2017 the department helped 1,701 cases of Australians hospitalised overseas – and the top 5 countries with the most Aussie hospitalisations were some of Australia's favourite holiday destinations:
Thailand (195 cases)
Indonesia/Bali (155 cases)
USA (117 cases)
New Caledonia (103 cases)
Vietnam (71 cases)
More and more travellers over 50 are choosing to go cruising because it's easy, fun, and all-inclusive, with everything you need for a holiday in one place.  New Caledonia is a popular cruising destination from Australian shores, and Aussie traveller hospitalisation cases in New Caledonia have recently risen 37%.
When you go on a cruise, it is important to remember that once the ship leaves the dock, you're generally not covered by Medicare or your private health insurance – and some travellers don't take to the sea very well. This is why getting a travel insurance policy which is tailored for cruising is essential to cover you for medical expenses on board if necessary or even for cruise cancellations.
USA is the third highest destination for Aussie traveller hospitalisations, and according to figures from the World Health Organisation, overnight bed costs for hospital stays can add up to around $750 per night, which might not include any other associated medical fees.
The last thing you want to do is to have to pay up-front fees out of your own wallet, when you could have been covered with travel insurance that would cost a fraction of what you would pay in overseas hospitalization and medical costs.
What does travel insurance cover for over 50s?
Having the right travel insurance provider and policy can generally help cover the costs of hospital fees or medical treatment from any health related incidents, like sickness or injury, that happen while you're travelling. Travel insurance also provides protection and can cover the costs of property (and its value) that you take overseas, including:
travel documents if they are damaged, lost, or stolen during your trip
phones, cameras, tablets, and electronic devices
wallets and purses, including the money or credit card(s) inside
luggage being stolen or lost
If you encounter any minor or major flight cancellations or delays that impact your holiday, travel insurance can generally cover the costs of buying another flight ticket or sometimes even appropriate accommodation, so you don't need to suffer an uncomfortable sleep in an airport.
While you may need to get specialised extra cover for specific cases, some travel insurance providers may also automatically include:
cover for cruises (cover for medical expenses while you're cruising on board, and for cancellations due to weather or personal reasons before you head out to sea)
cover for personal liability (in the event that you accidentally injure someone else or damage or lose their property, however there will be a monetary limit)
cover for a variety of accepted pre-existing medical conditions (accepted conditions will differ depending on the travel insurance provider)
cover for car rental excess (in the event you have an accident while driving overseas)
While travel insurance will generally cover hospital and medical fees, flight cancellations and delays, and property expenses, each policy and provider will have different limits, inclusions, exclusions, and extras with their cover.
Before you begin your travels and purchase travel insurance, it is recommended that you read and understand the product disclosure statements (PDS) so you know what you are and aren't covered for when you go on holiday, and to determine if you need a different policy or higher level of cover.
Different levels of travel insurance and what they cover
Over 50s travellers can generally opt for a single trip policy (which can usually cover you for a day or up to a whole year), or an annual multi-trip policy (which will cover you for every domestic or international trip you make over the year, but which may have trip length limits – usually 45 consecutive days).
There are also generally three levels of travel insurance to choose from including: