Reaching 50 is a milestone in anyone's life. You've worked hard, and you deserve a break – it's time for a holiday!
So, why is travel insurance an important consideration for travellers over 50?
Although you've reached the midway point in life, your holiday plans shouldn't be half thought out. Picking the perfect holiday destination and booking your tickets is only one part of the necessary planning towards enjoying the perfect holiday. Getting appropriate travel insurance cover is another.
Why should over 50s consider travel insurance?
You can plan every detail of your holiday meticulously, but there is no way of predicting unforeseen accidents, illnesses and unfortunate events while travelling. You can, however, purchase travel insurance to ensure that when something unexpected happens on your holiday, you're covered. Be aware that the level of cover will depend on the travel insurance policy bought.
You don't want to be overseas, enjoying the finer things in life (like great wine) and visiting the places you've always wanted to go, only to wonder: "What happens if something goes wrong on my holiday?"
According to the Australian Department of Foreign Affairs and Trade (DFAT), in 2018-2019 the department helped in 1,506 cases of Australians hospitalised overseas. The top five countries with the most hospitalisations were among some of our favourite holiday destinations:
Thailand (178 cases out of 564,300 visits)
Indonesia (141 cases out of 1,310,900 visits)
New Caledonia (88 cases out of 23,400 visits)
USA (85 cases out of 1,073,900 visits)
Vietnam (68 cases out of 325,500 visits)1,2
USA is fourth on the list of destinations with the highest number of Aussie traveller hospitalisations, which isn't great news when you consider that hospital stays in the USA cost an average of USD 10,400.3
The last thing you want to do is to have to pay up-front fees out of your own wallet when you could've been covered by travel insurance.
What does travel insurance cover for over 50s?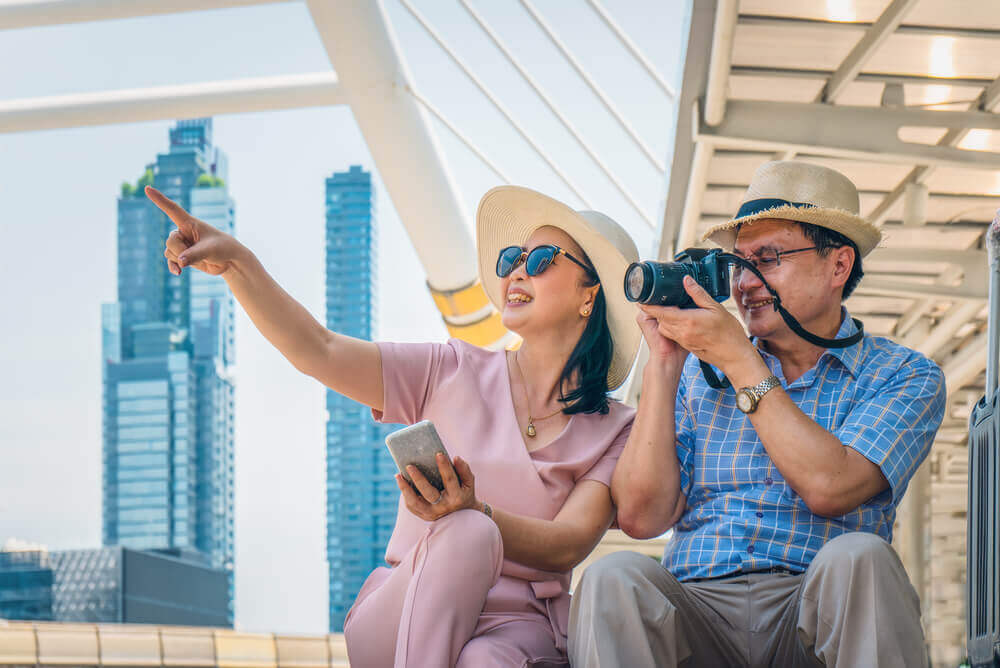 Having the right travel insurance policy can generally help cover the costs of hospital fees or medical treatment resulting from any health-related incidents that happen while you're travelling.
However, it can cover much more than that! For starters, the value of the property you take overseas can be insured for damage, loss or theft, such as:
travel documents
phones, cameras, tablets and electronic devices
wallets and purses, including the money or credit card(s) inside
luggage.
If you encounter any flight cancellations or delays that impact your holiday, travel insurance can help with related expenses. For example, if your flight is delayed due to bad weather and you miss your tour bus, travel insurance may cover the additional travel expenses to ensure you don't miss your entire tour. For long delays, travel insurance can even cover appropriate accommodation (so you don't need to sleep in an airport).
You may need to get some additional cover for specific cases, such as:
While travel insurance can cover hospital and medical fees, flight cancellations, delays and damaged/lost property expenses and more, each policy and provider is different. They will all have different limits, inclusions, exclusions and extras for you to consider before you buy.
As such, it's important to read and understand the Product Disclosure Statement (PDS), so you know what you are covered for.
Different levels of travel insurance and what they cover
Over 50s travellers can generally opt for a single trip policy, or an annual cover policy, which can cover you for every domestic or international trip you make within 12 months. However, these policies will always include trip length limits, sometimes called maximum trip lengths, such as 30 consecutive days.