Australian outdoor therapy
Everyone needs a mental health break from time to time. Many people find that enjoying the great outdoors is an excellent way to take your mind off of the things that are stressing you out, all while relaxing, burning calories, soaking up some gorgeous Australia sunshine, or simply getting in touch with nature.
If you live in Australia, you're in luck. Our sun-kissed country is a top travel destination for tourists hailing from any corner of the globe, and for good reason. The country's breathtaking scenery creates the perfect backdrop for those who love the outdoors.
And as a resident of Australia, you get to take advantage of all the country has to offer any time you're in need of a mental health break!
With so many options in Australia, it's tough to decide where to spend your precious day break, especially if you get few such days to unplug and recharge. That's precisely why we've put together this comprehensive guide to the best day trips, attractions, adventures, trails, and more that you can do in a single day or less.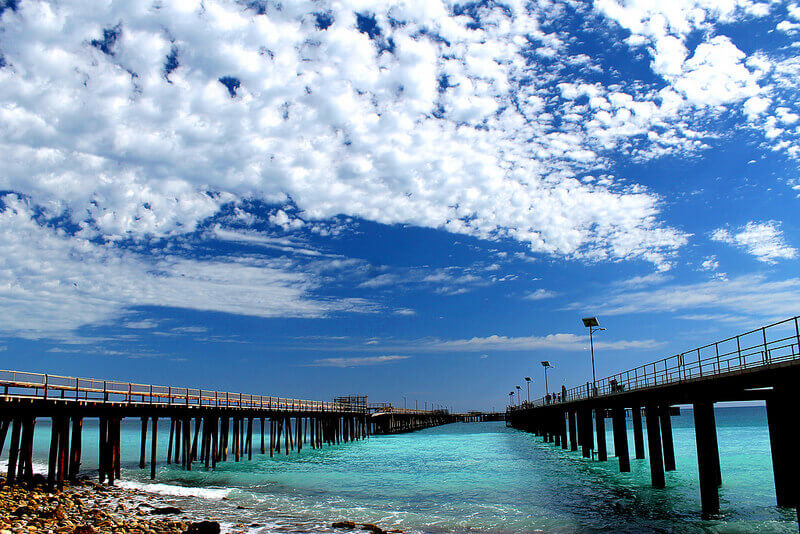 Rapid Bay South Australia – Image via Flickr by Les Haines
What you'll find in this guide:
Parks and wildlife reserves to visit in Australia
Trails to trek in Australia
Must-see scenic routes in Australia
Landmarks and attractions to see and experience in Australia
Parks and wildlife reserves to visit in Australia
Australia has no shortage of parks and wildlife reserves in nearly every part of the country, providing easy-to-access opportunities to get away from your day-to-day responsibilities when a single day is all you have to unplug. The following resources offer information on some of Australia's best parks and wildlife reserves that you can visit and experience in just one day or less, along with some off-the-beaten-path and lesser-known locations that are worth visiting when you need a short mental health break.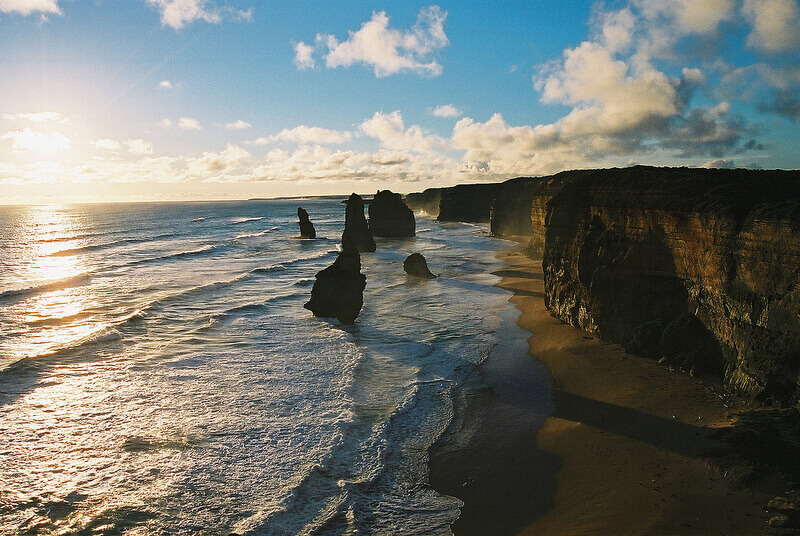 12 Apostles – Image via Flickr by gingerboximages
Take in the glorious view at the Bay of Islands in Victoria. The Bay of Islands Coastal Park offers the ultimate combination of fabulous ocean views and impressive geological features. It also offers accessible designated viewing areas with paths for access by individuals in wheelchairs. The Bay of Islands is located just beyond the widely recognised 12 Apostles on the Great Ocean Road, so you can stop and view this famous landmark on your way there. The many accessible beaches are often deserted, accented by cliffs, rocks, and wildflowers. If you're looking for a great day trip for clearing your head, make sure you stop in.
Visit Tower Hill, near the Bay of Islands and the 12 Apostles. The Tower Hill Wildlife Reserve is situated just beyond the 12 Apostles, so it's worth checking out if you've planned a day trip to the Bay of Islands but want to hit up a few different places. It's just to the west of Warrnambool, and according to the Tower Hill website, is considered "one of the most fascinating geological formations in Victoria." It continues, "Tower Hill is an enormous volcanic crater rimmed by beds of volcanic ash. The swampy floor of the crater is punctuated by conical hills which, after good rains, virtually become islands surrounded by a shallow lake." The inside of the crater and the island hills now comprise the wildlife reserve, where you can see koalas, kangaroos, echidnas, waterbirds, emus, and more.
If you love penguins, Phillip Island Nature Park in Victoria is the place to be. Phillip Island is about a two-hour drive from Melbourne, featuring wild surf, cliff-top walking trails (for the adventurous), and lovely coastlines – not to mention penguins, which are one of the main draws that bring more than three million visitors to Phillip Island each year, and the other is its motorbike racing scene. The Koala Conservation Centre near Cowes is also found here, where you can get in close proximity to the koalas living there.
Visit Barron Gorge National Park near Cairns in North Queensland. Barron Gorge National Park is the perfect day trip for appreciating wildlife, culture, and history. The area is also well-known for its tropical rainforests. A casual walk through a rainforest exposes you to light, misty rain and the perfect melody of the abundant birds and butterflies in the area. What could be better for getting in touch with nature and giving yourself a much-needed mental health break?
Visiting Wilsons Promontory in Victoria is an incredible, soul-soothing activity. While many opt to camp here, a day trip is possible with options for bushwalks ranging from just an hour to three days. "The Prom is one of Victoria's most loved places," the park website boasts. "At the southernmost tip of mainland Australia, it offers spectacular scenery of huge granite mountains, open forest, rainforest, sweeping beaches and coastlines." Even if hiking isn't on your agenda, the amazing views and the ability to feel at one with nature is worth making a trip to simply relax on the glorious beaches at the Prom.
Trails to trek in Australia
Australians are known for loving the great outdoors, and with so many scenic trails located around the country, anyone can find the perfect trail within a reasonable distance if you're looking to get away for a day. The following resources offer information on the best hiking and walking trails in various regions throughout Australia. Whether you're a casual walker or a serious hiker, these trails are a must-try when you need a mental health break.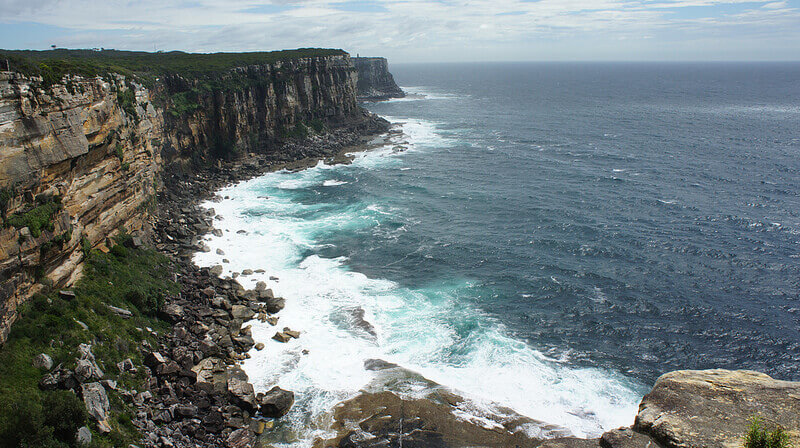 Sydney Harbour National Park – Image via Flickr by Senning Luk
Tasmania's Dove Lake Circuit in Cradle Mountain National Park takes you around a scenic lake and through a bustling national park. This trail can be walked in about two hours, so you'll have plenty of time to work in other activities for a fun-filled day, or it makes a great choice for a quick, half-day reprieve from the hustle and bustle of daily life. You might even decide it's worth a return trip to experience the six-day alpine walk, Overland Track.
Victor Harbor, SA, is home to some of the most beautiful walking trails in Australia. Walking trails are a great choice for a day trip, allowing you to burn off both calories and some stress, all while taking in some of the most breathtaking scenery Australia has to offer.
A walk through the Sydney Harbor National Park lets you take a day break without really leaving the city. Manly to the Spit Bridge is a 10-kilometer walk that can be completed in about three hours, and you don't even need a guide to enjoy the sky-high views of Sydney Harbour.
Kosciuszko Walk in New South Wales is the perfect trail for a day-trip adventure. Take the Kosciuszko Express chairlift at Thredbo, and walk it out for about five hours on the return trip. The landscape is must-see, with Lake Cootapatamba, wildflowers, and granite outcrops accenting the views as you venture your way to Australia's highest peak at 2,228 meters. Between June and October, it's generally covered in snow, so this is a trip best planned for the summer months.
Kings Canyon Rim Walk, Northern Territory is an excellent trail to trek when you're looking for a way to get in touch with nature, burn off some steam, and give yourself a much-needed mental health boost in under a day. The walk lasts between three and four hours if you keep a steady pace, though there's ample opportunity to slow things down and simply rest and take in the glory of the nature that surrounds you. If you have more than a single day, consider a stay at Kings Canyon Resort and take advantage of a nighttime or guided tour on one of the many fantastic trails nearby.
Must-see scenic routes in Australia
Glorious scenery is pretty much abundant in Australia, and there are tonnes of ways to take in the fabulous views from different perspectives. Whether you're game for taking a drive along a scenic route or are looking for something a bit more adventurous, the following resources offer excellent ideas for day trips that are sure to give you a much-needed mental health boost.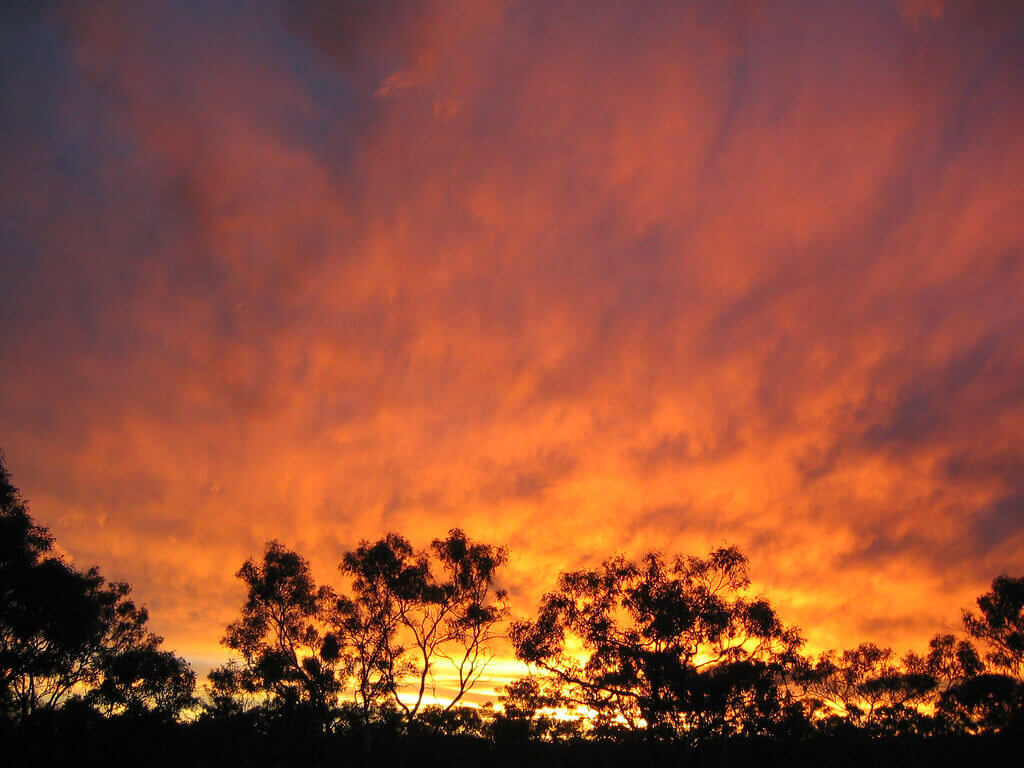 Gibb River Road, The Kimberley – Image via Flickr by Phil Whitehouse
Take a ride on the Queenscliff Sorrento Ferry. A 40-minute trip that links two of Australia's most impressive coastal regions, the Bellarine Peninsula and Mornington Peninsula, the Queenscliff Sorrento Ferry makes hourly crossings from 7:00 a.m. to 7:00 p.m. in all weather conditions. And, the Queenscliff Sorrento Ferry is a great add-on to the rest of your day-trip activities, thanks to the many recreational opportunities nearby. The website notes, "From Sorrento on the Mornington Peninsula, it's a leisurely 2-hour scenic drive to Phillip Island and the famous Penguin Parade. From Queenscliff on the Bellarine Peninsula, you're very close to the glorious Great Ocean Road."
A hot air balloon ride over Cairns is truly an unforgettable experience. Scenic tours are charming in their own right, but why not consider a scenic route from above? A hot air balloon ride isn't something you can do every day, and it's the perfect adventure for experiencing a bit of tranquility while seeing things from a new perspective. The website makes the experience sound like a fairytale: "As the balloon gently glides through the sky, and the sun rises over the forest clad hills, there is an exquisite feeling of harmony and oneness with nature that no other experience encapsulates. Feel the extraordinary exhilaration as you share the sky with other hot air balloons, and marvel at the amazing heights the balloon soars over the lush green Cairns countryside." Thirty and sixty minute rides are available from Cairns and Port Douglas. Not much for heights? Visit the launch or landing areas and experience "the unique carnival atmosphere of a balloon festival each morning."
The Skyrail Rainforest Cableway is a must-have experience when visiting Cairns or Port Douglas for the day. According to the website, "You'll glide just metres above the rainforest canopy before descending through the canopy layers and deep into the heart of the forest at Skyrail's two rainforest mid-stations for the ultimate tropical rainforest experience." It's about a 1.5-hour trip one way and takes 2-2.5 hours for the return trip, making it the perfect way to have a safe and relaxing adventure while experiencing the magic of the rainforests in the region.
Take a day to drive through one of Australia's many scenic routes. With so many scenic routes available, there are ample opportunities to take a casual drive while taking in the breathtaking views of the Australian landscape. From Indian Ocean Drive to Explorers Highway, Red Centre Way, Gibb River Road, the Great Eastern Drive, and more, this resource offers directions, tips, and more for taking advantage of one of Australia's many scenic drives near you.
Take a drive through Ferguson Valley, Old Glenn Innes Road, Lions Road, or Mt. Glorious. This resource names several scenic routes that make for great day trips or half-day adventures when you just need a break. There's nothing like a nice long drive with the windows down and the sun shining on the scenery to give you a mental boost when you need it most.
Landmarks and other attractions to see and experience in Australia
Rich with culture and history, Australia has plenty of landmarks and attractions that offer a glimpse into the past or the chance to experience a natural wonder. From exploring the Great Barrier Reef to getting pampered at a spa, you'll be surprised at the many experiences you can have in under a day. When you're looking for a way to take a mental break but have only a day of freedom from the status-quo, the following resources offer many ideas for an experience of a lifetime.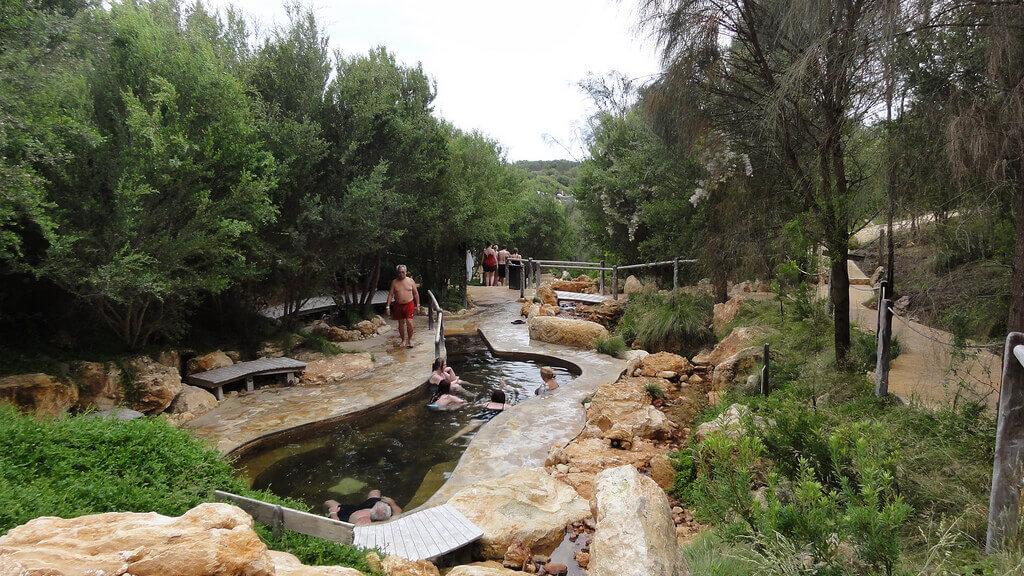 Peninsula Hot Springs – Image via Flickr by ThinkGeoEnergy
Get up close and personal with the Great Barrier Reef with a day trip to Reefworld via Hamilton Island. A trip to Hamilton Island is the perfect adventure if visiting the Great Barrier Reef is on your mind. A great day trip for families, you can snorkel with a variety of brilliant tropical fish, see coral formations that you won't see anywhere else on earth, and participate in a variety of other activities both in and out of the water.
Spend the day in the lap of luxury at Peninsula Hot Springs in Victoria. Few things are simultaneously mentally relaxing and invigorating like a luxury spa treatment. But Peninsula Hot Springs is a step above your typical day spa, as it's the only natural thermal mineral springs bathing and day spa facility in Australia.
Wine lovers will enjoy a day trip to Mudgee, NSW. The ideal day trip for food and wine lovers seeking a mental health break, Mudgee, a 3.5-hour drive from Sydney, is home to "more than 40 family-owned cellar doors producing a variety of wines, beers, and spirits," according to the website. Get a wine map directory before you go and plan your day ahead of time. Olive groves, cheese makers, a distillery, and a honey farm top off the total Mudgee experience. Remember, though, everything in moderation!
Visit the Sydney Harbour Bridge. One of the most well-known landmarks in Australia, the Sydney Harbour Bridge is no ordinary bridge. Rich with a history all its own, the bridge was first opened in March of 1932. BridgeClimb began in 1998, allowing tourists to climb the monument and enjoy spectacular views of Sydney.
Get in touch with Australia's history with a visit to the State War Memorial. Visited by more than 40,000 people each Anzac Day Dawn Service, the State War Memorial is one of Australia's most important historical landmarks.
Go whale watching, relax, take in the views, and clear your mind at the Byron Bay Lighthouse. An iconic image overlooking the Byron Bay, it's a working lighthouse that is one of the brightest in the southern hemisphere. Burn some calories and get all your daily stressors out of your system by trekking the Cape Byron Loop Walk, with the Byron Bay Lighthouse at its peak. Got time to spare? Take a tour of the inside of the lighthouse and find out what a day in the life of a lighthouse keeper is like.
There is no shortage of adventures to be had throughout Australia. When you're looking for a short day break to get away from the mundane and clear your mind, these landmarks, activities, scenic drives, trails, and other adventures await you.